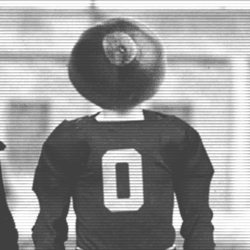 SnooBucki
---
Member since 18 March 2013 | Blog
Helmet Stickers: 148 | Leaderboard
Recent Activity
Yowzerssss!
Representin Southeast Ohio!
You must not be married The Rill Dill. Happy wife = happy life. The arguments just aren't worth the headache!
It's a man's world! She probably wanted to beat his ass after that and the fact he shot at his wife.
Lets get this week in sports started off right my friends. I believe! But I can't believe the Reds lost last night giving up one hit, a single.....
I believe both Doran and Curtis Grant are going to be seniors this season.
Might be an older woman driving!
Yea Strawberry White is from my hometown of Cambridge, Ohio. He was a beast. Got into trouble and never made it pro but could of been great. He's been in and out of jail but I believe he's trying to get his life together on the right path now.
I don't know about anyone else but I am anxious to see what Jalin Marshall is going to do. I thought he was going to be a beast in this offense and there hasn't been any talk about him like he's the forgotten man.
I hope I'm wrong but I don't see how having a crappy offense this year then losing our best scorers that we are going to be better. Freshman very rarely come in and put up great numbers. Sam and Shannon better put in some work this offseason. Loving has to take the next step as well.
I don't think he committed but Gibson did tweet this..........S/O to the #1 running back in the country @Damien_D1Harris he is showing high interest in Tennessee #VolNation
Playing the recruiting game
Haha I want to know what people are on picking us to make the championship game!
We can't shoot much worse so we have that going for us......
What the heck is wrong with Griffey?
How are D1 players such awful shooters
Our guys are scared to death to shoot and you can see why. No confidence at all
What is Slam's field goal percentage outside of the paint?
Let's get fired up boys and get back on track! #Intensity
I'm still licking my wounds from Friday night but its hard not to be excited about the future. We are getting the recruits and I have faith that Urban is going to get the right coaches in place to take us where we want to go. I just want to get that National respect back. You would think we are the biggest joke in college football the way people talk.
I hope your right but we don't have a whole lot of nice wins either. Just thinking about how we almost lost to Northwestern and Michigan have me feeling not so confident.
I got a ticket in Sarasota for running a red light while on vacation. It was yellow when my wife was underneath it so it was some BS. $150!
Haha I just remember because my buddy had a friend who wanted to introduce him to Roy Hall and he didn't want to meet him because of that play.
Wasn't it Roy Hall that took out Teddy's ankle?
Here you go my friends...
http://damncoolteez.com/view/1172026/marcus-hall-ohio-state-middle-finger-football-t-shirt