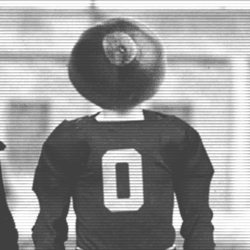 smartfootballrankings
---
Member since 17 December 2012 | Blog
Helmet Stickers: 70 | Leaderboard
Recent Activity
It's harder to find the basket than flight 470.
No option to fire him. Reminds me of Colbert-
"George W Bush - Great President, or Greatest President?"
This "Hyde works, nothing else does" is nonsense. Brax was getting 9.8 yards per attempt. Huge TDs or almost TDs on big passes. Hyde works to set up those kinds of plays, that actually do damage. Constantly feeding Hyde and not deviating ends up in long drives that end up with FGs or punts. You must give him the ball enough so that they must stack the box, but not so that Hyde can pound the ball, but so we can make big plays. Big plays win games, not 3 yards and a cloud of dust.
There is zero reason to be pissed at Boyd. Guy played a hell of a game and was everything we wanted Braxton to be.
Urban showing him the respect he deserves.
When you play from behind, you have to go against your strength.
Someone please shop Fickell's head with Urban sitting down.
They were stopping Hyde plenty once they realized that's all they had to stop.
Hyde Carries by length and Q
1st Q - 6, 2, 5, 9
2nd Q - 2, 2, 3, 8
3rd Q- 18, 6, 3, 11, 10, 8, 12, 6
4th Q- 4, 3
Certainly Hyde needs to be a big part of the offense, but you can't just give it to him constantly and expect it to always work. Especially on obvious situations where they know he is coming up the middle. MSU too good to let that happen. They need to be spread out and threatened downfield for Hyde to be able to get solid yards.
Notice he is pretty much neutralized in the first half. 2 big runs, 2 decent runs, and 4 crap runs. Against MSU, who won't let a big run through, you are eventually going to have to punt with that kind of yardage. This is typical Silver Bullet D, bend but do not break. Eventually he gets stuffed and it's 3rd and long. You have to keep getting consistent yardage, and MSU defense is too strong to not get a good stop once or twice a series.
So what happened in the 3rd Q that made him look a lot better? Let's look at the play before a Hyde big run.
18 yards - play before was incomplete pass to Heuerman.
11 yards - 1st play of drive, but previous drive had Brax pass and Brax run for TD.
10 yards - 1st play of drive, previous drive had 2 passes and a Brax scramble.
8 yards - Hall Rush for 13 yards
12 yards - Pass to Philly
You have to set Hyde up for success. If you cannot get any other offense going, Hyde isn't going to be that productive against a good defense like MSU. If you can, and they need to play the whole field, Hyde can have a decent game. It's even harder when you are also playing from behind, where huge clock-eating drives are your enemy, and a punt after a long drive is disastrous.
Hyde ran on 18 out of 63 plays. Brax ran on 20 (a few were pass plays that he ran on), and there were 25 pass attempts or sacks.
Seems to me that the offense did the best they could against that talented of a D, Hyde maybe could have gotten a hair more, but it's not like he was gashing them every time he touched it.
To all the fools blaming this on the offense-
http://www.smartfootballrankings.com/teams?team=518&season=2013
Look at the "ratings" column. Our offense performed 50% above an average FBS offense does against MSU. For the entire season, FSU performed an average of 40% better than an average offense (and they were #1 in offense).
Our defense performed at a level 17% worse than an AVERAGE FBS defense would against MSU. This would have been 109th place, just ahead of Cal, if we did that poorly our entire season.
The offense put up 24 points against the best defense in the country. They did their job. Scoring 24 on Sparty should be enough to win. You cannot count on getting more against them. Only 2 teams did all season - Indiana did with the benefit of 2 turnovers and getting blown out (1 TD in garbage time), and Nebraska did (another garbage time TD, in a blowout). Nebraska was the only team to get above 6 YPP on MSU (we got 5.937, Nebraska 6.125, and their next closest was 4.743 against Indiana).
You should look up how the bowl games are selected. There is an order. No one wants UCF, so whoever gets the last pick picks UCF. Baylor is locked to Fiesta. So that means that UCF vs. Baylor.
Pick order is (assuming FSU is #1, Auburn #2):
1) Orange
2) Sugar
3) Orange
4) Sugar
5) Fiesta
Alabama will likely be top 4, so they have to be picked somewhere. No other SEC teams can go, so that leaves Ohio State, Oklahoma, Clemson, and Oregon (maybe ASU if they stay top 14) as the likely eligible teams. Orange takes Clemson to replace FSU, Sugar takes Bama, Orange takes Ohio State, Sugar takes Oregon or Oklahoma, and Fiesta takes UCF.
If you let Sparty score 34, you aren't gonna have a good time in a BCS game.
Hopefully Fickell is updating his resume. Who do we get to replace him? Who goes with him?
Orange vs. Clemson seems most likely.
And there we go, Bollman with his awesome offensive line coaching a Sparty Shuggarts.
At least no False Shuggarts on our opening drive.
We are getting outoffensed by Jim Bollman.
Which will be a near lock unless they lose 84-0.
Neither of us are playing for it. Sparty should be going to the Rose no matter what. We are going to make Orange Juice of Clemson or get Jameis'ed in Pasadena.
He just was assuming dumb things. It's really tough for a 1 loss team to be ranked ahead in computers unless their schedules are vastly different. Simply because there are usually multiple 1 loss teams, and they are all competing for that spot. Auburn still has to compete with Alabama for the best 1 loss spot, along with Oklahoma State. They lucked out a bit with Clemson losing.
The voters could try some nasty stuff like voting Ohio State 8th or something (one dumbass from Detroit already did this), and with the end of the BCS, there is little to lose as a coach, but either way, Auburns potential win next week isn't better than what they already did, and they didn't move much, and Ohio State's game next week is close enough to Auburns that it's very unlikely to matter.
Cannot stop the screen. Michigan figured it out. This is not gonna be fun.
Everyone blaming this on the media -
Why is it that Baylor is higher than the Ohio State in nearly every computer ranking system (including those that include margin of victory and those that don't)? Are they biased by ESPN?
http://www.masseyratings.com/ranks.php?s=cf2013
Also, Baylor is higher than Alabama in most, as well. I agree with this assessment.
Nit point, but Neutral game in Dallas.
The interesting thing is Baylor's defensive performance was actually *worse* than Ohio State's against Illinois when looking at it from an adjusted YPP standpoint. But Baylor's offense did a lot better (partly because we went into conservative mode for a while). This was actually the 2nd worst Offensive game for the Buckeyes (adjusted for opponent), and the 4th best Defensive performance. Baylor had their 3rd worst offensive performance, and 3rd worst Defensive.
Final scores are rarely telling of how teams played on the day. Unfortunately, it's hard to dissect the information that is actually useful with so many games going on every week.
The AP poll is consistently better than the LOLUSATODAY poll, though. It's not part of the BCS because the BCS is retarded, not the other way around.
The ranking matters less than the points. If OSU is 3rd with 1410 votes, and Baylor is 4th with 1409, it doesn't really make a difference, they are effectively tied.
It's hard to argue Baylor's body of work isn't better than the Buckeyes right now, unless you are wearing scarlet and grey colored lenses.
I love the Buckeyes, but let's be realistic and logical here. Baylor has been destroying everyone, has a better offense than us, and a significantly better defense. They are a really good team. I think they are better than Bama.