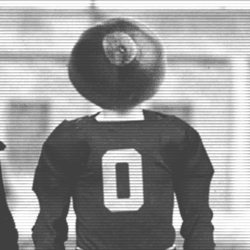 slovak71
---
Member since 01 September 2010 | Blog
Helmet Stickers: 90 | Leaderboard
Recent Activity
I love this section. Much appreciated and excellent information. Thanks!!

Best of luck to Mike and his family. Wish him nothing but the best.

Actually was there tonight. In ring announcer said we have a special guest tonight and Urbs and his son (and son's friend) maybe even daughters were there in the front row. First match was Prime Time Players (Titus O'Neill) played for Urban at Florida. Gave him a hug.
Orlando: You know one man is responsible for us being here.
Lloyd: Yep. Tell Coop I said, "Hello."
Did we last see these during the Penn State game?
Having relatives in Toronto I have grown up watching many, many games and also attending several. It's football. Plain and simple. Good game. Several quality players people would recognize. Buckeye fans would notice several former players who have played in recent memory. (Troy is the only Buckeye currently in the league) (Although faux Buckeye Duron Carter is/was listed on their practice squad). Last year, Rob Rose played several games with Hamilton. Also, Ken Yon-Rambo wrapped up a very successful career and had to quit after inuries. Others who recently retired within the last year or two were Brent Johnson and Rob Murphy. These guys enjoyed prolific careers. Johnson, who is Canadian, will be a future HOFer for sure. He may be the career sack leader for BC. Also, Murphy was continually one of the top OL during his career.
The game is more accessible than ever with the advent of NBC Sports. (And I believe the Deuce may have a game or two).
Montreal was coached by Dan Hawkins, who was recently fired after only 5 games, I believe. Hawkins is known for making Boise State, Boise State before taking the $$$$$ and ruining Colorado. He took over for Marc Trestman who is now patrolling the sidelines for the Chicago Bears.
Peruse the rosters and college football fans (and even NFLers) will notice several names of note. (Korey Sheets - Purdue alum is leading the league in rushing).
Didn't get a chance to watch, but who were the punters? Or did they even do that?
That is great!! Congrats to Brady!!! Well deserved!!
But are they better than Hoosier basketball Sweet 16 rings?
It's April 2, right? Go Bucks! Go Deshaun! I mean, please stay Deshaun!! Classy Buck.
Nice way to bounce back after Friday's loss. Make some more noise at the Joe!
In regards to the pic of Ginn. I really miss watching the Ginn Gait during his Buckeyes days.
This would only get better if they had a walrus named Jim or JB or Bollman.
I know an Irish fan who had the audacity to say that No. Illinois in the BCS was a f*ckin' joke. Some nerve!
Also, perhaps raiding the ACC is a way to tell ND to go F themselves.
I saw this shortly after Maryland/Rutgers. Somebody also mentioned UNC as a possibility. Perhaps that is why a couple of days ago UNC declared they are happy to stay in the ACC for the next 60 years.
Here's the pattern: put up 70 points against Portland, Arkansas State, Pac-10 teams where defense is non-existent. Ohio State (L), Auburn (L), LSU (L). That's the pattern. When they face a good team they lose. I was drinking the Kool-Aid this year and thought they were the best team. However, there are no standout teams this year.
These posters are soooo incredibly bad-ass. BTW, where can I get one from the Purdue game?
#45: "Keee-rist!! That chick is hot. What line could we use?"
Greg: "We're professional NBA ballers".
#45: "It will never work."
These are badass. Really impressive.