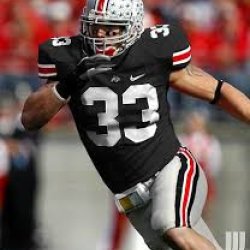 sirclovis
---
from Columbus, Ohio
Member since 30 September 2012 | Blog
Helmet Stickers: 365 | Leaderboard
Voting Record: 78 / 7
Favorites
SPORTS MOMENT: 2002 National Championship Game
COLLEGE FOOTBALL PLAYER: JT Barrett
NFL TEAM: Either Ohio team
MLB TEAM: Reds
Recent Activity
I'm thinking the main draw for ODU is its proximity to the airport.
Hahaha what is this from?
If true, this is incredibly good news!
I'd like to see the defense be aggressive, but not predictably aggressive.
I agree, I just hope the defense is not dialing up a lot of run blitzes. When that happens, we are essentially guessing (hoping) where they are going to run the ball and the long TD runs will be coming if we guess wrong. Rather, I hope everyone on defense plays within themselves at their position. No over-pursing, being out of place, or being a superhero by trying to win the game all by one's self.
I think a good game plan is bringing in an extra interior D-lineman (Schutt/Munger?) to take up space and to take on blocks, which our linebackers have had trouble doing at times this year. This also puts less pressure on Michael Bennett who has been lined up as a NT all year but does not have the size to be a true space-eating NT. Ideally, using a more 5-3-1 defensive scheme would lead our linebackers to make plays at or around the LOS. It also dares their offense to pass, which increases the likelihood of getting a turnover for the defense leading the B1G in turnovers.
Uhhh did you see how Braxton injured his shoulder? He was sacked on a pass play.
I think the reverse... Mississippi State is going to be exposed and their soft schedule is going to be shown through it. Gotta side with Saban in a a big game like this.
But people will continue to complain about Kyle Clinton kicking it out of bounds occasionally. There is a reason why Urban thinks this is a non-factor because statistically we are the best in field position and a lot of that is attributed to our kickoff strategy. You boot the ball a little short towards the left corner of the field and you roll with the odds, which has been in our favor from this stat.
Nice! I'm going to guess that the title is a Pearl Jam reference.
I can't believe you didn't tie in new transferee Jeff Greene! I thought you were going for the pun in your title...
Well looking at that second picture, if you send the running back on a bubble route to the near flats and then have a 2 receiver do a shallow slant and maybe just sit in the middle of the field 8 yards or less. The running back would evacuate the MLB, emptying the short middle of the field for the 2 receiver. Though employing a 3-4 version gives you 2 MLB's which might leverage this small but apparent weakness. EDIT: Thinking about this even more, if there was some sort of play action, the 2 Receiver on the play action side could still do a skinny sla-go (first few steps of a slant route followed by a go route) or a slant-flag route. I think this would take advantage of the safety to the 2 Receiver's side having to deal with run support. Its really all predicated on a good run game so that the safety bites on the play action.
Uhh did you read the post you replied to? There are several big time sports analysts that don't overcompensate like Kirk does. I still like the guy though. I mean, if your in his role its better to overcompensate then to show your bias.
I always thought OSU should add another deck to the south stands to make it look similar to the rest of the stadium. Since adding the new scoreboard, its not looking like this will happen that anytime soon. But if they did Iwould have to imagine that would add at least 10,000+ seats which would obiviosuly make Ohio stadium the largest in college football.
I do believe Vico is doing these segments in order of commitment. So unfortunately, it appears that Vonn Bell will be last.
I would say this is even more applicable:
Fitting title because Justin Timberlake's Columbus concert tickets went on sale today...
I will always remember Amanda-Clearcreek because I tore an ACL in a scrimmage against them. Arghh... Anyways the people always seemed really nice and they have a very loyal fan base.
The guy is definitely tall but all those recruiting websites inflate measurables/40's.
Thank you for all the great work Ross! Its always one of my favorite aspects of 11w. I like the follow-pivot play a lot because it seems to occupy the OLBs and give the quarterback some room to run up the middle.
Definitely a tall reciever. When he hits his stride, he has some decent speed too.
Freaking awesome! But I hope this didn't ruin 9Routes suprise tomorrow...
This is one of the most incredible polls
Freaking awesome!
Nice shirt Stoney
I really like the randomly scheduled evening games at like 5:00. I think it is the perfect blend of afternoon and nighttime.
Well could still accomplish that this upcomming season!