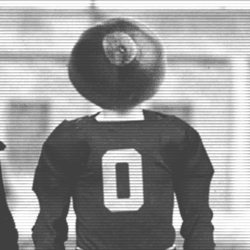 simpson203
---
Member since 07 March 2012 | Blog
Helmet Stickers: 113 | Leaderboard
Recent Activity
I love hearing Buckeye basketball players saying "25-10 is unacceptable." Basketball school?
I keep hearing people taking issue with midnight ramp and I think this tradition needs to be understood in context. The point of this is to be prepared to perform in front of a crowded stadium, for which there is no dress rehearsal. It's not like the band can sub mid show for a member who wilts in this situation (unlike the football team). If you can do it in your underwear, you can handle the crowded stadium. This isn't to say that the tradition hasn't morphed into something else over the years; just referring to it's original purpose. And to be clear, I was not in the band, but have heard of this tradition and it's origins from actual band members, so any TBDBITL members feel free to correct me if I'm mistaken.
When the "business" portion of the cut is that short, believe it's called a millet... Military in the front, party in the back
I had an experience with a culture change in my time with OSUMGC, and it was nothing like what we're talking about here. This was merely bringing in a new director with a different way of doing things and some of the older guys didn't take it real well. I'm not sure what the long term effects of it were, but I know some older memebers chose to leave the group after 1 or 2 quarters with the new guy
One thing I will say is that there was a "group within the group" in OSUMGC for those who participated in our "rite-of-passage" and the cost of admission was to participate (to an extent). But I don't ever remember a time in my 4 years that anyone was pushed from Club for not participating.
Oyster, I agree. This was definately a lack of respect issue. I was in the OSU Men's Glee Club and we have similar traditions, especially the first-year "hazing". It was definetly a rite of passage, but it was always voluntary participation, always done in good fun, and there was always a line. That line was not established by the director; it came from the older members who understood the importance of the group's reputation. It also probably helped there were no women in the group, as it's a little awkard to over-sexualize in an all male group.
That said, those holding up the University as "doing the right thing" in this situation are somewhat deluded. I have no doubt the university was aware of some of this stuff for years and chose to ignore it. Especially midnight ramp. You're telling me that in a post 9/11 world, in one of the largest and most significant landmarks in Ohio, if not the country, a group of 220+ students could go in and march around in their underwear and the University PD, facilities management, and leadership would not be notified!?! Com'mon man!!! Think that through!
This stuff is nothing different than what happens when you put any large group of college kids together where comraderi is an essential. Maybe some of this stuff crosses the line, most of it sounds worse than it really is.
My college roommate was a TBDBITL member, as well as several friends. Nothing mentioned in the article is new; I heard about it when I was at tOSU (99-04). My take: the University has known about this stuff, Drake is just trying to make a statement.
Gene Smith, as the AD, is rewarded for the success of tOSU's athletic department. It's no different than a CEO getting a bonus based on the success of the company he/she runs.
Not to mention Sam's 5th foul. Hayes drops his shoulder and runs through him and they call Sam for God knows what. Definitely a Bo Ryan call there.
"You guys had me at blood & semen cupcakes and Viagra."
I was thinking about this the other day...
Can you image what it'll feel like to be the poor hapless bastards that have to face us in the Rose Bowl if we get left out. You thought Urban created a pissed-off football team last year? And odds are we'll face Oregon... If they were dominated by Standford's power run game, imagine what El Guapo will do to them...
By that same logic, why hasn't FSU passed 'Bama?
#narrative "Because they were last years champs and remain 1st until they're beaten"
Oh, so we count last year too? tOSU went 12-0 and are now 22-0
#narrative "last year doesn't count.... they didn't play anyone... they weren't eligible"
So, despite having scholarship reductions and nothing to play for in the way of a championship, UFM still got his team to win every game, and that's not an accomplishment? I think this is the common conversation we tOSU fans are tired of. It's an obvious double standard.
Man, I love seeing this. Nothing like watching a big man dominate a defender and throwing it down like a Grown A$$ Man.
Also it makes me sad because Amir plays like such a vagina and could be so much better. Here's hoping he grew a set over the summer.
I sometimes refer to him as the the "Rosey-cheek Bandit"
Might have got away with a hold. Sincerely, Chris Speilman
I got to stop reading The Situational at work... People look at me weird when I'm laughing my a$$ off at my desk.
Also, thanks Ramzy for the bourbon segment. Its inspired me to expand my palate beyond beer into the realm of this wonderful libation. My girlfriend, however, does not thank you, as my nights of drinking bourbon are apparently sponsored by the letter "f."
Isn't that a special at TeeJay's?
"The punishment will affect the fans, the businesses around the university and the depth of the B1G..."
These parties are not being punished, the university is. They are collateral damage, which results from every scandal. The PSU players, students, and fans are no different then everyone else thats affected by a scandal. One only need to look back to the Enron and World-com scandals of the early 2000's to see a "real world" example of this. Think of how many people lost their jobs and had to start over because of the illegal acts of a few at the top of their companies. If I've learned anything in my 30+ years, it's that life is seldom, if ever, fair. The innocent parties deserve our sympathy but that that does not make them immune to the fallout of this scandal.
Good point in most cases. But here, this hurts JoePa's legacy and actually serves a purpose.
One of the reporters actually asked "What should other universities learn from this?" Really moron... how about "don't let one of your coaches violate little kids and cover it up."