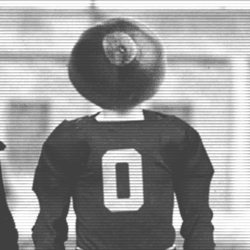 simpson203
---
Member since 07 March 2012 | Blog
Helmet Stickers: 64 | Leaderboard
Recent Activity
Not to mention Sam's 5th foul. Hayes drops his shoulder and runs through him and they call Sam for God knows what. Definitely a Bo Ryan call there.
"You guys had me at blood & semen cupcakes and Viagra."
I was thinking about this the other day...
Can you image what it'll feel like to be the poor hapless bastards that have to face us in the Rose Bowl if we get left out. You thought Urban created a pissed-off football team last year? And odds are we'll face Oregon... If they were dominated by Standford's power run game, imagine what El Guapo will do to them...
By that same logic, why hasn't FSU passed 'Bama?
#narrative "Because they were last years champs and remain 1st until they're beaten"
Oh, so we count last year too? tOSU went 12-0 and are now 22-0
#narrative "last year doesn't count.... they didn't play anyone... they weren't eligible"
So, despite having scholarship reductions and nothing to play for in the way of a championship, UFM still got his team to win every game, and that's not an accomplishment? I think this is the common conversation we tOSU fans are tired of. It's an obvious double standard.
Man, I love seeing this. Nothing like watching a big man dominate a defender and throwing it down like a Grown A$$ Man.
Also it makes me sad because Amir plays like such a vagina and could be so much better. Here's hoping he grew a set over the summer.
I sometimes refer to him as the the "Rosey-cheek Bandit"
Might have got away with a hold. Sincerely, Chris Speilman
I got to stop reading The Situational at work... People look at me weird when I'm laughing my a$$ off at my desk.
Also, thanks Ramzy for the bourbon segment. Its inspired me to expand my palate beyond beer into the realm of this wonderful libation. My girlfriend, however, does not thank you, as my nights of drinking bourbon are apparently sponsored by the letter "f."
Isn't that a special at TeeJay's?
"The punishment will affect the fans, the businesses around the university and the depth of the B1G..."
These parties are not being punished, the university is. They are collateral damage, which results from every scandal. The PSU players, students, and fans are no different then everyone else thats affected by a scandal. One only need to look back to the Enron and World-com scandals of the early 2000's to see a "real world" example of this. Think of how many people lost their jobs and had to start over because of the illegal acts of a few at the top of their companies. If I've learned anything in my 30+ years, it's that life is seldom, if ever, fair. The innocent parties deserve our sympathy but that that does not make them immune to the fallout of this scandal.
Good point in most cases. But here, this hurts JoePa's legacy and actually serves a purpose.
One of the reporters actually asked "What should other universities learn from this?" Really moron... how about "don't let one of your coaches violate little kids and cover it up."