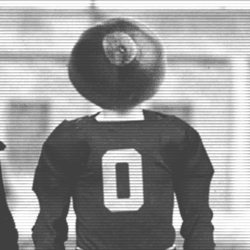 SilverState
---
Member since 16 January 2013 | Blog
Helmet Stickers: 4,344 | Leaderboard
Favorites
SPORTS MOMENT: National Championship/Braxton's Wisky TD Pass
COLLEGE FOOTBALL PLAYER: Eddie
COLLEGE BASKETBALL PLAYER: Craft
Recent Activity
Yeah, seems like a pretty good match with what he's saying he's looking for.
Some interesting bits from his blog:
Tennessee is my leader, but I'm headed to Ohio State tomorrow for the Friday Night Lights Camp; I don't know what'll happen after that as far as who will be in the lead. Just gotta see what happens when I get there. I don't know if there's anything that they can do really; I already really like Ohio State, I think it's just a feeling that I'll get. We'll see.

I'm definitely looking forward to the visit though. I really want to check out their business school because that's what I really want to study in college. I definitely want to see all of the facilities and everything like that too.

I know it would be a good fit for me because me and Braxton Miller are like the same people and the offense really fits me perfect. A lot of people tell me that I should pick them. I just want to see how the vibe is when I go there. I'm looking forward to it; can't wait!

The coaches at Ohio State said they're real excited to get me down there too.

Coach (Mark) Pantoni is hilarious! He'll says cool lingo; stuff like, "Holla atcha boy!" or something like that. Then he said that he's gonna hit that "Nae-Nae" when I show up on campus Friday so that should be funny!
http://socialhub.usatodayhss.com/portal-page-athlete-blogs/item/2274-the-torrance-gibson-blog-july-24
Probably not possible, but would be a cool option to have personalization with our 11W handles...
What a way to start the day:
As much as I hope to see Torrance Gibson come to the Vols, he'll end up going to Ohio State.

— Tawd Cox (@Tawd2k) July 22, 2014
Lol. I don't know, but he thing I do know is the new FAQ page definitely needs to emphasize the "How do I see if a thread on X topic has already been made?" Lol.
Didn't expect it to bring the news any faster. Just thought it odd hadn't heard anything with the potential visit 3 days away.
Anyone heard anything? Staff maybe?
Teck's Barber Shop = awesomeness. They do it right.
Reminds me of a bad prank call. He needs to connect with Bass to see how it's done.
Same here...soon as I hear his voice.
If I could give an up-vote...
Someone tweet the link to Mr. Gibson.
Would be real interested in a Bo Jordan interview. What his personal goals are for the season. Who he's training with. Etc.
It's Throwback Thursday, Brady.
That's the week of the Tennessee-Alabama game, fwiw.
Anyone who has ever thought about maybe watching a wrestling match, this is the season to do it. The Buckeyes have a legit shot at the title.