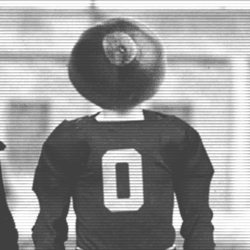 Silver Bullet 10
---
Member since 24 January 2014 | Blog
Helmet Stickers: 566 | Leaderboard
Favorites
SPORTS MOMENT: 31-24 2OT
COLLEGE FOOTBALL PLAYER: Ezekiel Elliott
COLLEGE BASKETBALL PLAYER: Amir Williams
NFL TEAM: Browns
NHL TEAM: Blue Jackets
NBA TEAM: Cavs
MLB TEAM: Indians
SOCCER TEAM: Crew
Recent Activity
http://247sports.com/Board/30/Contents/Big-Tim-Settle-News--28305433
now he's definitely a lock for the Bengals
Disclaimer: Any following posts containing speculation on the matter do not reflect the views or values of 11w.
The rich get richer and Michigan still sucks!
Just wanted to say I enjoy reading on this site. It's a great way to start my morning. I really appreciate 11W's work!
I am a moron, i think. I just went on a recruiting rant yesterday, but i just predicted we land a top 10 class. Oh well, Urban would be proud. cant get complacent.
Okay.... :(
oh and PS, i wasnt referring to Urban making excuses. I am done making excuses myself. Thats all
And Jeffery Holland just named Auburn his leader, and Calvin Ridley committed to Bama. Im patient, but come on Urban, step your game up and go offer the dang Ohio boys who want to be Buckeyes. We have 2 commitments. Pathetic. Urban better finish strong because this is starting to look weak. Done with the excuses.
I wouldnt say flipped because he was never a hard verbal in the first place. More like his leader just changed.
Wonder when he flips back.
He said there is an 85% chance he leaves Florida for college.
Probably because he just committed earlier this morning.
Torrance Gibson scheduled a visit to Ohio State, I think. (American Heritage twitter just hinted at this).
I really have no idea though lol
Probably wants to commit sometime tonight. Idk but that's my guess.
Why the heck is this kid not a composite 5 star? Dude has almost 60 offers from literally all around the country. He's college ready from a physical standpoint, and I think he could be a starter as a freshman at many schools. Dude plays like Khalil Mack. Imagine DeBerry and Raekwon together on the field. Then choose one of Berger, Lee, Booker, Johnson, SKL, and Hubbard etc to throw in there. Then imagine Bosa, Spence, Washington, Lewis and the rest of our D-line playing up front. And Webb/Apple/Conley/Lattimore/Dean/Reeves/and
etc at corner. And then Bell/powell/Burrows/edwards--- okay you get the idea.
I never bought into his commitment. Committing to UNC early was just bizarre.
Although unlikely IMO, this is a really good question.
This is the best GIF ever.