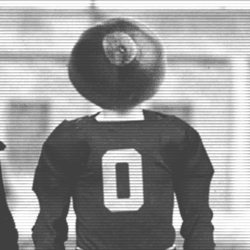 Silver Bullet 10
---
Member since 24 January 2014 | Blog
Helmet Stickers: 1,213 | Leaderboard
Favorites
SPORTS MOMENT: 31-24 2OT
COLLEGE FOOTBALL PLAYER: Ezekiel Elliott
COLLEGE BASKETBALL PLAYER: Amir Williams
NFL TEAM: Browns
NHL TEAM: Blue Jackets
NBA TEAM: Cavs
MLB TEAM: Indians
SOCCER TEAM: Crew
Recent Activity
It's a great, humorous community.
Rutgers' best contribution to the Big Ten thus far and it's not even close. Congrats to the Big Ten and Mr. LeGrand.
It's simple: we want Torrance Gibson to play ball at Ohio State
As bad as they were they embarrassed us last November. Inexcusable for such a sorry soft team. That was not a good football team . Not a traditional Michigan team. Tressel would have blown them out of the water. Urban has much to prove.
Collier, Hilliard, Apple. Tressel is still helping us build a national title team. His legacy is truly being felt, especially in recruiting.
I can't imagine there being 65 players better than him. He has an argument for #1.
I just didn't like Pryor as a football player while he was at Ohio State. I don't think he was all that great. He was a disappointment to me and many others. Nothing personal, just didn't think he was great quarterback. Heck of an athlete. That said, I don't hold any grudge or personal dislike against him.
Bennett with 15 points and 7 rebounds
Wiggins is the lead scorer with 18 points. Parker and Giannis with 17 a piece.
Bennett starting to look tired. Terrible possession offensively. Jumper is off.
Wiggins with some quick hands on a steal
Bennett runs the floor well and looks much more energetic. Looks more like a leader out there. Does not look like a rookie. Still makes some mistakes, but much improved from last year
Bennett has 8 fouls, but this really is just pickup basketball on the big stage
Anthony Bennett is starting to take over
Bennett with two monster slams, a three, and he has been a rebounding monster. Aggressive, and in better shape. Good defender. Andrew Wiggins is the best player out here. Just stud. Stepback, dribbling, turn around, jumpshot, dunks, assists, rebounds, defense. He can do it all. Jabari Parker and the Greek Freak have impressed for Milwaukee. That said, Canadian LeBron is the real deal.
That is indeed a possibility. Good point.
This is the biggest BS/Smokescreen yet. Laughable. Besides the fact Lebron and Gilbert forgave each other and moved on years ago, as evident by LeBron's interviews and attending Z Night, this is nothing but BS put out by the LeBron camp to make his return for nobody but the city of Cleveland itself. It's only to make LeBron look better.
Wasted opportunity. At least it will open a scholarship up for a kid who will value the blessing to play for the Buckeyes.
That was a GREAT list. Oregon vs. Oklahoma should have been substituted for Rutgers-Louisville IMO.
Buckeye Defense will be back.
I've witnessed a crash like this as a bystander, and it is incredibly scary. Prayers with Devin.
Whew! I thought this was a decommitment thread.
We shall call it "Skid21 Day"