sidz-z
---
Member since 17 May 2012 | Blog
Favorites
SPORTS MOMENT: Tigers win 1984 World Series !!!
NFL TEAM: Tampa Bay Buccaneers
MLB TEAM: Detroit Tigers
Recent Activity
Thoughts and prayers with this little angel and the Carr family.
I wonder if this just means he's 100% committed ?
I really like Birm's list, hopefully it's on insight and not just wishful thinking. Birm has been right, before.
This is why I hate social media ! Stupid people say stupid things and when they get called out on it the cower like a little B!T&H !!! Keep your comments to yourself @brianreynolds13 nobody REALLY cares !!!
I wanted him in the class basically because he was considered the #1 RB in the country. Urban makes good running backs, great running backs. Back when Zeke committed, I wanted Greene in the class basically because of his 5*. Zeke was under the radar and few believed at that time he would be as good as he is. Greene is pretty much a flop, and Zeke is a stud, and if I remember correctly he was a 3* when he committed. We'll be fine no matter how the class finishes up. Urban is an amazing recruiter and his coaching speaks for itself. We have Weber ready to step in when Zeke leaves, and I'm sure Williams will be as good if not better than Walker when it's all said and done, not to mention Sibley in '17. All I can say is lead, follow, or get the F#*K out of the the way. This train will keep rolling.
If the Lions get the #1 pick.
Birm also said in the TV interview that was posted in this forum about Walker's SCUM visit that he believes that Kareem will stay with tOSU. I think the interview was before the visit.
I believe there are HIPPA rules against that.
I like that Wade is coming too !!! Both are going to be studs for the Scarlett and Gray !!! (When their commits become public) Shhh !!!
Could the interest in Williams be more due to the possibility of Hill de-committing and less about Walker ?
I can see Walker wanting to keep his options open, but SCUM still has anywhere from 2-4 RB's already committed. Unless SCUM is going to pull the scollie's from at least one of those kids I really can't see Kareem de-committing from us and committing to them. Does that mean that Walker is exploring other options, I guess so, he is taking all his officials, but then again, he has been all Buckeye since he committed, and has said all the right things. IF he does de-commit, we will be OK, great coaches make great players. Next man up !!!
I wouldn't be too worried, I guess "Technically" scum has 4 running backs already committed / 2 RB's and 2 ATH that run the ball. Let Walker take his visits. If I remember right he took a visit to Arizona St. a while back and everyone got all excited. Since his commitment he has said and done all the right things.
I think we may want to pass on Smith, I just couldn't find myself yelling Go Blue !
This is why I hate social media !!!!
I heard it's for the second half, and that's if they're ahead by 10 or more, if not they'll make it the week after.
Potential doesn't win championships, great players do !!!
Bell -1 Peppers - 0
Seems to be a pattern here ....
http://detroitjockcity.com/2015/03/19/michigan-football-harbaugh-no-stranger-to-recruiting-tricks/
I know he can beat this guy !!!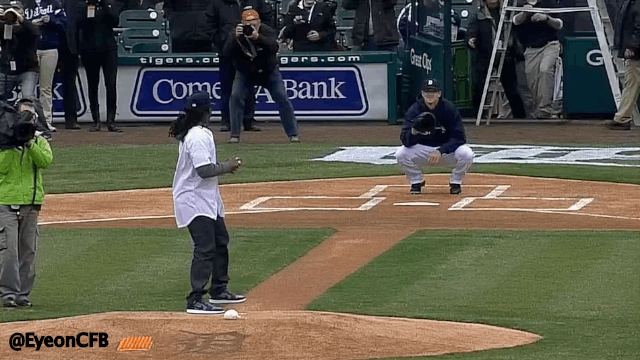 Clean shaven - Couldn't grow a beard or even a mustache if I had to ! (I'm in my 40's)
I thought this was kind of interesting ...
"I'd say two standout; Ohio State and probably Alabama," he added. "I have a great connection with the Ohio State staff and I loved my visit to Bama last month. The staff and the facilities were just amazing."
What coaching staff does Watts have the best relationship with?
PROBABLY Alabama ?
Saw this on another board, and couldn't have said it better myself.
Dean sat out his entire junior year in HS with a knee injury from a game as a sophomore. He played his senior year and then decided, at our encouragement, to enroll early at OSU. THEN, he played prior to enrolling, in a HS championship/exhibition game, in which he reinjured the knee.(no one knows what the injury was for certain, but Dean at one point was tweeting about looking for someplace to do a meniscus replacement). This was in the fall of 2014.

The NCAA prohibits schools from medically examining prospective students/recruits until they are officially enrolled, which took place in January 2015. One week after Dean was on campus, he was evaluated at OSU for the knee , and was told he would not be medically cleared to practice with the team and would not receive a future medical clearance. He was offered a medical hardship that would allow him to remain on full scholarship at OSU and earn his engineering degree. In March, OSU announced that he was not cleared and would not be cleared, had been offered the scholarship, but that Dean wanted to pursue other schools and OSU had agreed to give him a release from OSU after the semester as per NCAA rules, so that he could begin contacting other schools.

We have no idea if Auburn has seen him in person to evaluate him. They have apparently given him the option of enrolling at Auburn per his tweet with a consideration of playing for their football team. If they determine that he can play safely according to their standards, then he'll likely be on the team. He may have the same risk/reward he had with us, if he enrolls and they find he is not going to have the knee stand up to D1 play, they may offer him a hardship and he can earn his degree. Or they may play him for a while, and if the knee doesn't hold up, they can do the same thing.

Our doctors may simply feel that based on their experience, the knee is too fragile for playing, and they would not agree to clear him to play for OSU, removing the responsibility of permanent disability off of OSU. Auburn's MD's may be more optimistic about the knee, and not as concerned about liability, responsibility, etc. It's a difference of opinion.

If he truly had been simply burned by OSU, with the knee as an excuse, 1. Dean would have said something about it 2. Auburn wouldn't have been the only school interested. Other D1 schools would have been rumored to be in the mix with his talent.
I guess I just realized Joey's composite rating on 247 sports was 4 star with a rating of .9809 and Nick is a 5 star with a rating of .9947. I know you really can't put too much into stars and ratings, but knowing the beast Joey is, I think Nick is gonna be REAL GOOD !!!! Can't wait till he gets here !! Really hope we see the Bosa brothers play together in Scarlett and Gray !!!
I give you props for stepping up and facing your problems head on. I think we all have demons that we deal with. I once heard that life is 1% of what happens to us, and 99% of how we deal with it.