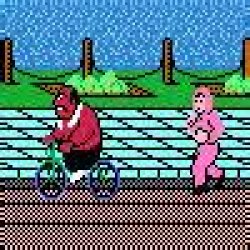 sharks
---
Cleveland 'burbs (via Cleveland)
Member since 12 February 2013 | Blog
Helmet Stickers: 5,190 | Leaderboard
Cleveland born and bred, alum of St. Edward, then Indianensis Universitatis, then Cleveland State.
Favorites
SPORTS MOMENT: 10 seconds later: there's a flag down in the endzone!!!
COLLEGE FOOTBALL PLAYER: Katzenmoyer
NFL TEAM: Browns
MLB TEAM: Indians
Recent Activity
After Florida A&M, I'd imagine there is zero tolerance for hazing activities in bands...
Blackmon just got arrested for pot. Goodells going to waterboard him
Has to be bassdropper, right?
Guys like Hatin Ass Spurrier and Big Game Bob are throwbacks, in that they give genuine answers, not politically correct canned phrases designed not to offend. His program was lawless, but Bobby Bowden was the same way. Jimmy Johnson too, now that I think about it... Also, good art by Mr. Maks. Between unique and interesting topics and ticking off the hacks on other sites, you're on your way to becoming a must-read for me...
Does this mean a bunch of recruits committed?
Anyone who qualifies for VA insurance earned it. Good for you, must be a heavy weight off your shoulders
I like it when posters dont realize that ads are targeted now based on browsing history, cookies, etc: "Holy cow, 11W...why are you allowing midget porn companies to advertise here? What if kids visit the site?"
We bag on the SEC, and rightfully so, but I'm pretty sure a Wisconsin recruit raped a student while on a visit last year...
The Deadspin article about LeBron (linked above) is itself about an ESPN fluff piece authored by Brian Windhorst, who (in my opinion) is known in Cleveland/Akron for riding LeBron's coattails to higher and higher profile writing jobs. Wherever LeBron goes, Windhorst is a few steps behind him (and has been since James was in grade school). When he announced his return to Cleveland, it appeared that Windhorst, his pet reporter, had no idea. It will be interesting to me to see if Windhorst is now out of the loop and has to step out on his own for once and do some actual reporting, rather than just acting as a PR shill for James.
And Denny, it's hard to knock Windy's hustle, other than by wishing that reporters move up in the industry on the strength of their writing, rather than their ability to gather scraps at an athlete's table. Not mad at him, just dont respect him as a journalist.
Ahh, Brian Windhorst. Gravytrained LeBron into a job at the PD, then again to a gig at ESPN (that awful, awful Heat Index). LeBron decides to return to Cleveland and Windy either had no clue or was on vacation that week. No way he gets a job in Cleveland, I'll be looking for his b/r listicles soon.
Also, hatin ass sharks loves him some Spurrier. No filter whatsoever on that man.
This Nanni guy is a Spencer Hall wannabe, and Hall is a Drew Magary wannabe. Upvotes for everyone who was dv'd.
Oregon is a sucker bet every year, including this one.
I read earlier that he could easily have died. Hope he's OK and able to have normal use of the arm soon
Free Seafood University
Florida is so bad he decided to catch a quick nap.
Wonder if Lewan has an alibi- he likes to suckerpunch people in bars...is he socking teammates now?
He botches the 'handspring into backflip' as far as the judges are concerned, but the athleticism on that flip is unreal. That dude might be a cyborg.
If I was smart, I'd sell brown duct tape strips with 'Manziel' written on them (and white tape with brown writing). Just stick it on the back of your Couch jersey and you've saved $100.
Why not interview this guy? See what makes him tick?
Forget legacy, he's playing for a paycheck next year. He has the size, talent, and experience; now he has to put it all together.
I don't think he was with the team when they played in Cleveland. If he was, he'd have gotten a hell of an ovation...
My unsolicited two cents on this- I generally use UM and Michigan. TTUN, *ichigan and the like are fine too. I think scUM, Meshitagain, Meatchicken, and similar are needlessly disrespectful (and/or just lame), and play into the hands of Wolverine fans who think we're all a bunch of mouthbreathing rednecks.
Only my opinion though, and I obviously don't work here
I (I) .. live in Americaaa