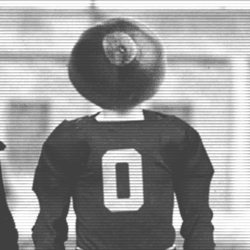 setman
---
Member since 30 June 2012 | Blog
Helmet Stickers: 340 | Leaderboard
Favorites
SPORTS MOMENT: The end of the second overtime January 2003.
COLLEGE FOOTBALL PLAYER: Antoine Winfield
COLLEGE BASKETBALL PLAYER: Jimmy Jackson (Aaron Craft is catching up)
NFL TEAM: Browns (but my therapist says I am making progress
NHL TEAM: Blue Jackets (same therapist says I am screwed)
NBA TEAM: San Antonio Spurs (too long to explain)
MLB TEAM: Boston Red Sox
SOCCER TEAM: The Crew
Recent Activity
Give the kid a break. His imaginary girlfriend had just broken up with him.
I would also lean towards Miles for COY. And after last year, does anyone doubt that Crean will come up with some cockamamie reason for his team to cut down the nets in Assembly Hall?
They weren't sure if they might not need that win to be bowl eligible.
The scheme is the one that was run at NC when Withers was there. It is safe to assume that was one of the reasons that Urban brought Withers in and named him co-DC in the process. Urban wants this scheme as the overall defensive game plan. Luke has always been part of a more aggressive blitzing scheme before and would most likely be running a similar one now if it were up to him. If you are not a fan of the scheme, blame Urban. And that is why Urban has had Luke's back despite all of the criticisms from random pizza delivery guys, and online messageboard experts. Now, that being said, execution is where Urban expects more and is pushing for more from his defensive coaches. Missed and broken tackles, blown assignments are all things that I am sure are driving him crazy. But that blame can be spread around that entire defensive staff. Finally, what seems to be the biggest deficiency for the defense this year is upperclass leadership. Shazier for all of his excellence is a lead by example guy, rather than a "pump your teammates up" type of guy. No one seems to be taking on that Zach Boren/John Simon type of leadership on that side of the ball. The offense has plenty of leadership, defense (for all of the talent) seems to lack it.
Most crucial: Herman/Narduzzi Most interesting:Bollman/ Fickell. Especially with the anecdote about Vrabel's confrontation of Bollman after a staff meeting that year. Could make this a grudge match on both sidelines when their offense is facing our defense.
What got me was the camera angle from the direction of the line of scrimmage. It seemed like half the fans in the stands that the play was being run toward, had their backs turned to watch it on the scoreboard rather than watching it live right in front of them.
+1 for sheer balls. Lol
I would love to see the BTN have a weekly show dedicated to the weeks band performances around the conference during the halftime shows. Performances like this really warrant such attention, far more than replaying the same game of the week for a fifth or sixth time.
Not possible as they are in the same division.
So when Nick Saban referred to agents and their runners as "pimps", he was actually referring to his own staff? The irony is just too good to be true.
Yeah, it does put a possible new slant on things. That maybe Sumlin had considered suspending him for his conduct in the off season, and got "overruled." If that in fact did happen, I hope that if it does blow up and sanctions against A&M result, that Sumlin isn't the one left holding the bag.
Most any of the NCAA 's rules were created as a response to some school/coach trying to gain an advantage through a loophole. With regards to the eligibility of the marine wanting to play at MTSU, keep in mind that many schools recruit internationally. How would you feel if TSUN started recruiting hockey players from Russia's Red Army team? The truth is many countries use their militaries to pay their "amateur" athletes. The NCAA's rule was likely an attempt to head off future problems. That being said, the rule was applied, and with a quick examination of the facts, the NCAA determined that for this particular case, no competitive advantage would result. In fairness to the NCAA, they acted quickly and the athlete missed no playing time. If it was able to investigate and act so quickly and decisively (and justly) more often, people would still find things to bitch about.
(since everyone in their conference roots for their whole conference, they won't see Bama or Auburn fans piling on TA&M like PSU and TSUN fans did on Ohio State).
Obviously you never read some of the conspiracy threads during the Cam Newton debacle that were started by Bama and LSU fans.
Before the Hyde suspension, I would have said no. But combine that with other backs getting more PT, I really don't see anyone else getting more than Miller.
It wouldn't stop it. But it would force them to keep options open for the kids. One of the things that seems to make people point the finger at SEC schools, is the way that kids transfer out, are kicked out for team rules violations, or given medical waivers, the week before summer camp begins. This is far too late in the process for these kids to have options available to them. They still have to sit out a year. Rarely is there a school that has open scholarships available that late in the offseason. So if they want to go somewhere else, it is on their dime. And, with those kind of hurdles, it becomes more likely they drop out of the system.
With a four year scholarship, essentially a written contract, the coach has to make sure his actions can withstand a lawsuit. That will definitely reduce, even if it does not eliminate, the blatant oversigning.
Uzelac was a jerk, no doubt. I remember what he did with Kent Graham, who went on to a decent (for OSU quarterbacks) NFL career. What a waste.
However, there was a lot more to the Robert Smith story. The summer after he walked off the team, I was in a Physics class that Robert Smith was enrolled in. Other than the first day of class, and exam days, you never saw him. He had a young lady taking his notes for him. The Lantern about that time did a story about him working a summer job doing construction in Dayton, instead of attending class.
I agree with the concept of convincing a majority of ACC members to dissolve the GOR. That is highly unlikely, but is about the only way the B1G would proceed with targetting those schools. Delaney and the B1G has no interest in challenging a GOR agreement in court, as it is just such an agreement that protects its own conference. The last thing that the B1G would want is to successfully get an FSU out of such a contract and then lose a maryland or nebraska whose new administrators might have decided that the move hasn't worked out as well as was hoped.
And for those who.purchase the books on tape version, voiced by Jeff Foxworthy, they will throw in a couple of yellow hi-literz for marking the crucial passages.
"I'm not even supposed to be here today!!"
I understand the argument that North Carolina fans see themselves as southern. And if this were the ACC of ten years ago, I could see no way that they would leave that predominantly southern conference. However, the expansions of the last decade, have really removed much of that conference identity. BC, Pitt, Syracuse, Miami, even Florida State all brought in to strengthen the conference, might ironically have eliminated the conference identity, making the unthinkable, possible
I figure Mike Bianchi's column tomorrow will somehow blame this on Urban as well. After all, Florida and the SEC never had a player arrested or even miss their Sunday school class until Urban took over at Gainesville.
agree. It is as if Kentucky basketball started when Cal hit town. For crying out loud, you're Kentucky! At least act as if you have won something before. It really stood out with the mural in the hallway.
in addition, it could be some very expensive remodelling in there, if the NCAA ever decides there was something shady going on. Considering Cal's track record, I would make sure I keep the contractor's phone number on my contact's list.
All that being said, it is a cool set up.
With the schedule shaping up for next year, I really question whether Braxton will get a fair shake either. Heisman campaigns, particularly over the last twenty to thirty years have been boiled down to "a heisman moment." And that usually has to take place in a game where the lack of said moment will have a disastrous effect (i.e. a loss). Next year, the preseason schedule is very weak. Sparty and Nebraska drop off the schedule, and we add Northwestern and Iowa, neither of whom is likely to be ranked. Purdue has a first year coach, and could very well be two to three years away from national rankings. Indiana is also unlikely to be ranked next year. The recruiting sanctions will start to be felt next year for Penn State. Cross them off of the list. Wisconsin with a new head coach, post Monte Ball, with no established QB returning, will likely struggle to be ranked. And finally Michigan, post Denard, might find themselves in that same boat. And Illinois is best left as a punchline.
So potentially, Braxton could face his first ranked opponent next year in the B1G championship game. If that is the case, he will be off the national radar and out of the running by mid October.
and Malzahn. figure him to finish 5th in the SECwest each year at best. lol
Sadly, most of the commenters to that article are sounding like the guys over at Black Shoes Diaries. "We do things the right way." "Everyone else is cheaters." etc.
Coming from a fanbase that supported the Fab 5, it is just surreal.