ScarletNGrey01
---
from Columbus, Ohio
Member since 02 July 2013 | Blog
IT Consultant, terrible tennis player, health and nutrition is a hobby. Picture is a gif designed by Erik Knutson and used by permission.
Favorites
SPORTS MOMENT: The win over Miami on 1/3/2003 but then bested by the undisputed CFP win against Oregon on 1/13/2014. Best live moment was 11/30/2011 in the Schott when OSU beat Duke 85 - 63.
COLLEGE FOOTBALL PLAYER: Chris Spielman
COLLEGE BASKETBALL PLAYER: Jimmy Jackson
NFL TEAM: Browns
NHL TEAM: Blue Jackets
NBA TEAM: Cavaliers
MLB TEAM: The Tribe
SOCCER TEAM: Columbus Crew
Recent Activity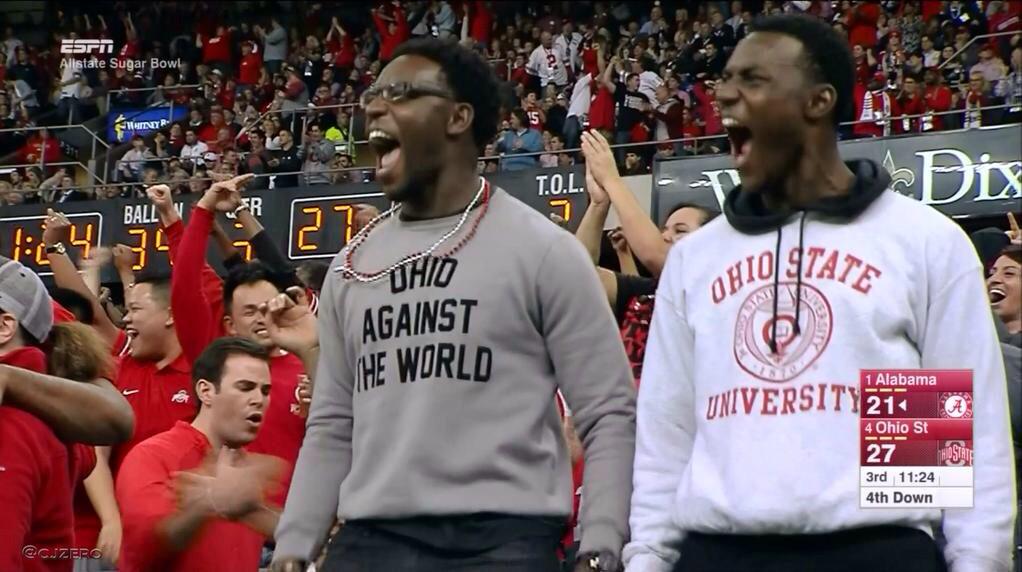 But there were rumors that LSU was going after Urban so by association ipso facto ... oh never mind.
Spoken like someone who doesn't have a daughter.
I get it but I still feel sick. That kid had buckeye passion like no other.
We're all rooting for you Mr. Clark.
So you realize that was a real individual (somebody's daughter) in a real situation, not a sitcom right?
And a chick is a baby bird.
Sometimes the middle school mentality of some of the posters on 11W gets annoying.
So maybe Les Miles will have his choice of the ND or the PSU head coach position? :P
TP is deceptively fast, he has that long stride. He is so athletic and versatile, he needs to be on the field. He will never have an arm like Drew Brees but he gets the job done.
I like the kid, even when he messed up I couldn't stay mad at him for long.
Fair enough NorCal respect your opinion and a UV for you sir.
I'm not buying Louisville stock at this point I mean look at who they have played, Charlotte, Syracuse and Marshall. The FSU win was a good one.
Same for Wisconsin, has everyone forgotten the game against Georgia *State* already?!
Don't like Lewan but when players are flying down field it's hard to stop sometimes. Don't understand why Herbstreit is acting like that. Didn't he get a local radio personality fired who was trolling Desmond Howard and made an inappropriate comment? I think that's being a bit hypocritical.
Don't think he'll be out of a job for too long.
MSU lucky to stay in the top 25 I think.
Great thing about the bucks is they are going to keep getting better, they have a challenging schedule coming up a little later on in the season, should be a fun and at times nail-biting time.
LOL how embarrassing to be them right now.
[somebody] damn the pusher man ...
Steppenwolf
So the bucks travel to Creepy Valley this season eh?
LOL yep I'm a huge Jim Tressel fan TNT and I agree with you wholeheartedly. Having a big lead and a strong defense and eating up the clock can sometimes be a good thing, but everyone these days love the big scores Big 12 style and I get that.
Although the 2002 season was exciting, in part due to all the close games. The last drive against Purdue was insane ... Holy Buckeye!
Urban has a psychology degree?! Well that explains a lot. :P
I didn't even realize he had four touchdowns
Is that to be believed? I've never coached at any level, maybe you get so caught up in coaching each down you don't keep track of one of your player's catching 4 TD's?!?!
Don't forget the bucks would have probably scored on the last drive, but took a knee. Playing Tresselball not necessarily a bad thing when you have a big lead like that and a strong defense.
What kind of country would we have if everyone rode bicycles dammit?!
Don't know if you are are aware of this folks, but Meyer has a degree in Psychology ...
Agreed that all those tweets don't help anything.
I'm sure you are proud of your kids and did a great job raising them, but sometimes things are out of your control. Parents have a big influence but not as much as they'd like to give themselves credit for when things go well (so far) for their children, and the other side of the coin they have too much guilt when a child makes a bad decision in the moment. For example, you can have two children, one is a good student and walks the straight and narrow and the other is a wild one. So what is the assessment, the parents did a super job raising one kid but dropped the ball on the other one? It doesn't work that way.
Yeah I misread that too, thought it was Episode "Taser" so I imagined something really shocking ...
Teddyballgame wins the internet on this topic but of the three catches the Devin Smith one has such an amazing vertical and grabbing the ball with one hand, unreal. All three amazing.