ScarletGrayFire
---
Member since 14 April 2012 | Blog
Favorites
SPORTS MOMENT: Attended the January 2003 National Championship game in Tempe, Arizona.
COLLEGE FOOTBALL PLAYER: Braxton
COLLEGE BASKETBALL PLAYER: Craft
Recent Activity
Who is number 98 at the 1:06 mark?
I look for Campbell and Booker, both top athletes from ASVSM, to bust out this year.
Is there a reason Matta does not prefer a motion offense? Every time I watch, it seems like there's not much motion going on away from the ball, and we rely far too much on an individual one-on-one offense.
And only do this when it's 3rd and long, and make sure there are only 3 guys in the route, and make it a slow-developing deep drop, and make sure JT holds the ball a beat or two too long - in the rain...and we're behind.
This picture always reminds me of Darth Sidius! "Now witness the power of this FULLY OPERATIONAL 9STRONG!"
So, Washington is a SOPHOMORE in that video!? Sheeeeeeee-iiiiiiiiiit...
Game plan is the primary problem (need to be completely unpredictable - on 1st down especially).
Barrett makes his decisions 1-2 beats too slowly (and seems unable to throw a wet ball with precision).
Where is the dink and dunk passing game when we need it?
'Twas a nice sphincter-tip catch
Sincerest thanks for all your great work! Kindest luck forward!
Has there been any discussion about Billy Price at DT?
Darth Combs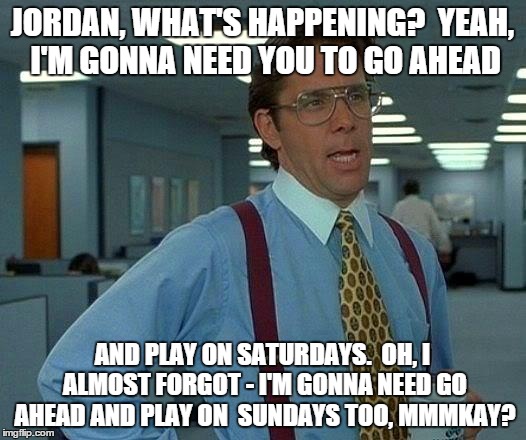 Don't forget:
...top-five in the State twice in the long jump, runner-up as a sophomore in 2010 … Personal-best leap of 23 feet(!), also ran hurdles and 400 meters, and played basketball.
Holy shit, Darron Lee would love this kid's highlights, as will you!
Rourke's release and competitiveness remind me of Philip Rivers. Wow.
Don't forget Parris. I can't wait to see him turn on the jets the first time he gets it in the open field. The young man can flat out burn.
Every time Miller took the snap, I felt the best play would be for him to hand the ball off, because EVERYONE knew he was going to run it. Not once IIRC did this ever happen.
One of my favorite Dylan/Dead moments...
Can't wait to see Parris, or Dontre, or Noah, or Terry, or James, or Johnnie get in the open field. I'd love to see them lace up the spikes on a track to see who is fastest. The high school highlights for Campbell reminded me of Herschel Walker at Georgia when he didn't even pay attention to the defense because he knew he could beat them all to the edge. Shouldn't be hard to better the team receiving yards gained from this year.
Indiana's defense is ripe for domination by a systematic attack that changes the play at the line to exploit whatever they're giving you with each formation. This game reminds me of the grisly demise of Tressel/Bollman ball against USC back in the day. We seem to think we can run into the teeth of their defense "as long as we just execute". We're being out-schemed BIG TIME. It's awesome to watch - as long is it's not your team being punked.
I have to respectfully disagree. When they line up 8-9 guys in the box, we should dink and dunk all day long.
Execution is part of the problem, however.