ScarletGrayFire
---
Member since 14 April 2012 | Blog
Favorites
SPORTS MOMENT: Attended the January 2003 National Championship game in Tempe, Arizona.
COLLEGE FOOTBALL PLAYER: Braxton
COLLEGE BASKETBALL PLAYER: Craft
Recent Activity
Darth Combs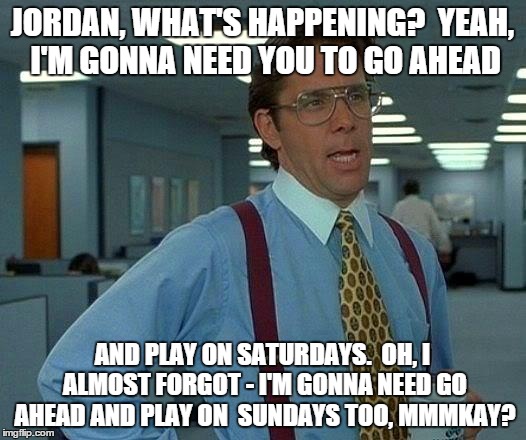 Don't forget:
...top-five in the State twice in the long jump, runner-up as a sophomore in 2010 … Personal-best leap of 23 feet(!), also ran hurdles and 400 meters, and played basketball.
Holy shit, Darron Lee would love this kid's highlights, as will you!
Rourke's release and competitiveness remind me of Philip Rivers. Wow.
Don't forget Parris. I can't wait to see him turn on the jets the first time he gets it in the open field. The young man can flat out burn.
Every time Miller took the snap, I felt the best play would be for him to hand the ball off, because EVERYONE knew he was going to run it. Not once IIRC did this ever happen.
One of my favorite Dylan/Dead moments...
Can't wait to see Parris, or Dontre, or Noah, or Terry, or James, or Johnnie get in the open field. I'd love to see them lace up the spikes on a track to see who is fastest. The high school highlights for Campbell reminded me of Herschel Walker at Georgia when he didn't even pay attention to the defense because he knew he could beat them all to the edge. Shouldn't be hard to better the team receiving yards gained from this year.
Indiana's defense is ripe for domination by a systematic attack that changes the play at the line to exploit whatever they're giving you with each formation. This game reminds me of the grisly demise of Tressel/Bollman ball against USC back in the day. We seem to think we can run into the teeth of their defense "as long as we just execute". We're being out-schemed BIG TIME. It's awesome to watch - as long is it's not your team being punked.
I have to respectfully disagree. When they line up 8-9 guys in the box, we should dink and dunk all day long.
Execution is part of the problem, however.
Campbell, McLaurin, Greene, Clark
Hey, go light on those Polar Bears, LOL!
I played there for a year...
Yeah, 6'4", 254 and this:
...top-five in the State twice in the long jump, runner-up as a sophomore in 2010 … Personal-best leap of 23 feet(!), also ran hurdles and 400 meters, and played basketball.
Agreed! Lewis is a beast. I'm not so sure that Sprinkle hasn't moved inside, now that he's listed at 6'3" 290.
I see what you did there...
Your dilemma reminds me of some words I hold near and dear:
Though we travel the world over to find the beautiful, we must carry it with us or we find it not. – Ralph Waldo Emerson
And I might add that if you do carry it with you, you'll find it everywhere. Moved to Raleigh NC for 6 years, and would offer the following:
It sure is nice to play golf in shorts in January;
Ocean - 2 hours. Mountains - 2 hours.
There's something truly satisfying about being a remote Buckeye and sporting the flag in "foreign" territory.
With modern transportation the way it is, you can get home quickly when necessary.
Coming back to Ohio to raise my kids was just as exciting as leaving on the NC adventure.
"Which of you to gain me, tell
will risk uncertain pains of Hell?
I will not forgive you
if you will not take the chance"
The sailor gave at least a try
the soldier being much too wise
strategy was his strength
and not disaster
Nothin' left to do but smile, smile, smile...

All your coach are belong to Urban
Fixed that for you
Miller went all pick six
Oh what a sweet memory that will always be...
Below is an article with some experienced surgeons weighing in on Braxton's injuries, and a quote that suggests that AT BEST Miller's recovery would be complete between late May and late August. Assuming that this is when he could BEGIN football workouts, the idea of him transferring seems remote. It also calls into question his ability to compete for the tOSU starting QB position until well after Spring practice has ended, and potentially even after the first game. I am a HUGE Braxton fan, and hope these opinions are overly conservative, but we saw how risky an overly-aggressive recuperation plan can be.
http://www.cleveland.com/osu/index.ssf/2014/08/my_eyebrows_raised_a_little_to.html
That's what Miller will face. His injury came six months after the first surgery, but Meyer said the second recovery time will be more like nine months to 12 months. That timetable made sense to the doctors, who were, while unsure of the severity of the initial Miller surgery, a little surprised he was throwing after six months.