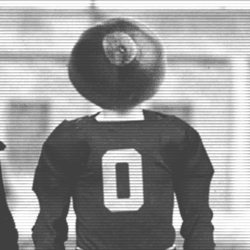 sb97
---
Member since 24 August 2012 | Blog
Helmet Stickers: 1,312 | Leaderboard
Recent Activity
We cant have nice things.
Before I met my wife (July Wedding) I was in a serious relationship with another girl. At one we talked a bit about marriage and I found out she wanted a fall wedding with "Blue and gold" as her colors. She was an Ohio State grad. There were some "tense" discussions.
I agree with what so many others have already said. I have been living in Austin Texas for the last 5 years. Great town. Lots of energy. But Columbus is still my home
The poll was labeled the non MSU division.
I voted Va Tech but really it is a tie between VaTech and PSU. To me PSU is a rival even if most people only want to put that label on Michigan. PSU at night tends to be a great atmosphere. On the other hand we play PSU every year. The VT grame is also exciting. Partially because of the novelty and partially because VT has been a solid program for a long time.
If I remember right, there wasn't a ton of hard evidence to back up the allegations and Okie State didn't own up to anything. The NCAA had nothing to work with.
Hi there. Pleasedtameetcha! I am looking forward to more basketball coverage. Its going to make a great site even better. I have long thought the Ohio State fans do not give the basketball teams the support they deserve. Hopefully 11w can help rectify that :)
So you spent time working with the Rivals.com/Yahoo! Sports network... Did you ever get to work with Forde, Wetzel, Robinson and the rest?
I voted Lebron. This will change once training camp news starts rolling in. Then will change back once basketball camp news starts again.
Voted no opinion. On TV, the atmosphere looks a little more intense for night games. Its good for recruiting I guess. But for me, I also like noon games. I liked watching Ohio State do their thing and then keeping an eye on the teams ranked near them afterwards.
Of course last year, there were a bunch of people that were saying we would win the Big Ten Championship because "It is just MSU". In the last 5 games between the two schools there have been two games decided by 10 or more points. From all appearances, Dantonio has built himself a solid program. I would not count on "blowing" Sparty out. I am picking Ohio State to win but not in a blow out.
I have to admit... I also thought Antonio Henton was the next big thing.
How likely are the cocaine charges to stick?
You know about a year ago we were all set to throw Hyde in jail and kick Roby off the team because one "knocked a girl out at a bar" and the other "assaulted a bouncer at a night club". Once things calmed down a bit we found out that the initial reports were... off. Now, I understand that things are different here since Sprinkle was apparently was caught with cocaine but even so I would advise a bit of patience.
Given that LBJ is a pretty big Ohio State fan I am going to have to disagree there.
If the Heat had won the title this year I would have considered LBJ a lock to go to Cleveland. Now, I really don't know. But I don't watch the NBA so take that opinion with a grain of salt.
Troy versus Pryor is an interesting case. Generally speaking, Troy was a much better QB during the regular season but Pryor's performances in the Rose and Sugar Bowls were amazing.

So you list 4 teams.
Dayton - Made it to the elite eight and also bumped off Syracuse on the way. Its time to give them the respect they deserve. They were a good team with a good coach.
*ichigan - Just had three players drafted as compared to our none. It sucks to say this but they were the better team last season.
Nebraska - Actually finished ahead of us in the conference but we were 2-1 against them last season. I don't know if they can sustain it but again this was a solid team last year.
PSU - These are the only ones that can be considered a bad loss.
To be fair, the article was pretty clear that last year really sunk his rating. I have to be honest, I see Matta in the top 2-3 in the Big Ten and certainly top 10 nationally. People seem to forget just how stagnant the Ohio State program was when he got here.
I wouldn't mind having another Cameron Heyward. I still think about how badly he was beating up Arkansas.
Interesting username for this comment.