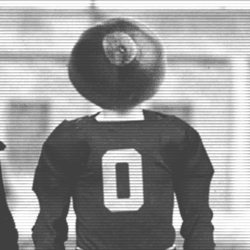 sb97
---
Member since 24 August 2012 | Blog
Helmet Stickers: 1,101 | Leaderboard
Recent Activity
I appreciate the Basketbucks recruiting update! Thank you.
I know it is cool to say I trust Urban and point out the success of the last few recruiting classes. I get it. I really do. But I am concerned that no one has committed after three big recruiting weekends with lots of visitors. My problem is that we are recruiting nationally and slow playing some Ohio guys. I would hate to lose some of those Ohio guys because we waited too long. I know Urban's abilities as a recruiter. We wont get a terrible class.
The OL certainly looked pretty poor but I have faith that once we get a starting 5 identified they will start improving quickly. For now, they are just a bunch of disparate parts but as the rotation becomes solidified they will gel and be able to clear up some of the mistakes. Even so, I was still worried about guys like Dodson being beaten off the edge
First, I rehashed some of the great OSU tourney moments, most specifically the triple Ron Lewis splashed forcing overtime against Xavier to the orgasmic delight of Gus Johnson. Then, upon realizing there aren't that many electrifying moments Ohio State's NCAA tournament history, I started reliving other shining moments.
Sorry going to go off topic for just a bit... This quote had me thinking about what we could call shining moments in Buckeye Basketball Tournament history.
Ron Lewis late game heroics versus Xavier
Greg Oden swatting away Tennessee's last shot
Aaron Craft game winning 3 over Iowa State over Niang
LQR hitting the deep three with two minutes left to beat Arizona
WInning the 1960 NCAA title
After that I am not so sure. Would love to include Oden's "dunk" over Jeff Greene of Georgetown but it didn't go in. Would also love to include Oden humbling Dorsey from Memphis but that isn't really a moment. I intentionally left out the O'Brien's final four run. I cant really think of anything from the Eldon Miller/Gary Williams/Randy Ayers eras.
OK resume the personal shining moment recollections.
The question is will the Big Ten be better or worse next season.
This is such a huge get for us next year. Lee is listed as a forward so I assume he would play the 4 primarily but does anyone know if he can play the 5?
I suspect at a minimum he will be the 5 when we go small like LaQ and DT have the past couple of years. I am so excited about this pickup.
Now, I think Braxton is/was our best player, but no one other that Hyde had any business getting the ball on 4th and short. Still pisses me off.
I absolutely agree with you but there was an article on 11w after the season that did at least open my eyes as to why they may have gone with Brax instead:
http://www.elevenwarriors.com/ohio-state-football/2014/03/34043/carlos-hyde-still-impressive-when-using-advanced-metrics
Interesting enough, the numbers say Carlos Hyde struggled against stacked boxes in short yardage situations. Peshek notes while Carlos is good in yards after contact, his struggles against stacked boxes "raises questions about which part of his game will translate to the NFL."
Personally, I still think the ball should have gone to Hyde.
I cant really think of one. The closest would be the Hunter/Kuofos combo. Apart from that combo, the 4s I can remember were Ivan Harris, Lighty/Turner, DT, and LaQ.
Its great to hear that Jones is getting his shot. A lot of us were down on him after that stupid twitter comment and it is so easy to overlook a guy like him that has been largely out of the spotlight for the past 3 years (Except his twitter account of course).
So is anyone pulling for Dayton to keep advancing? I kind of want to see them continue their run despite all the smack talk.
I hate commenting on my stories but you've sucked me in.

This is a piece about jealousy. It concludes by explaining that the jealousy is misplaced; we're comparing the 2014 Buckeyes to previous, more successful editions, not the other teams still playing. I think this what you're getting at - the end sort of ah ha's that as a revelation
Gotcha. I may or may not have put in my reply before I finished the entire original post.
A year ago Michigan freshman Nik Stauskas began his career pigeonholed as a sharpshooter. When he attempted to put the ball on the floor against the Buckeyes, Craft absolutely smothered him. A year later Stauskas is the reigning B1G MVP in a contest that probably wasn't that close, having diversified his game and emerging as a 3-point specialist, expert distributor and a threat to - gasp - drive to the basket. When was the last time an Ohio State player made an improvement like that in one season?
First, I think the question of when the last time a Buckeye made that kind of improvement is unfair. It is extremely rare for any team. How many times have MSU/Wisconsin, or nationally Duke/Kansas had players make that kind of leap after one season. I would say the last time a Buckeye player did something close was Evan Turner.
-We all remember the player of the year version of Evan but we should also remember that as a Freshman, he led the team in turnovers despite being a 4th or 5th option on offense. He was basically a guy that would occasionally slash in from the wings to hit some big buckets but was more of a role player on a team that featured Jamar Butler and Kosta Koufos. I remember everyone in my section of the stands referring to him as Evan Turnover. There weren't a lot of indications that he was going to become a dominant player.
Its kind of tough to gauge where we will be next season since Freshman will play such a pivotal role. You could have the Oden/Conley situation where they come in ready to play or the Diebler situation where he really struggled as a freshman. The most likely case would be like Evan Turner who developed a lot over the course of his Freshman season. What I really like is that we have three Freshman that are supposed to bring scoring and the ability to stretch the floor. I imagine at least one will be able to contribute. In any case, I do think Scott will improve a considerable amount now that he wont be sharing the PG spot anymore.
If we see some consistent outside shooting it can open up lanes for guys like Scott and Thompson which would lead to better balance on offense. We certainly have a chance to do well in the conference and make the NCAA tournament.
LOL the abridged version? Really? Did you really consider that a long post?
I generally don't follow twitter feeds for OSU athletes. I just find it creepy but I did follow ADV's feed. That guy just seemed to genuinely enjoy being a college athlete and college life in general. It was very refreshing during a time when so many people want to focus on the dark side of college athletics.
I would rather see Bell play and McDonald redshirt next season to give us two guys with some experience the following season.
I imagine some people would feel like he was getting the job due to his celebrity and not his qualifications.
This year is a bit easier on me than last year. I really liked watching Trey Burke and Tim Hardaway Jr. play. Now that they are gone it is much easier to cheer against them.
Their performance in the BTT should have *ichigan fans concerned. They nearly lost to a bad Illinois team, nearly choked away a big lead to a flawed Ohio State team, and then were beaten by a battered MSU team. I was surprised with how good *ichigan turned out to be once McGary went down. Unfortunately for their fans, this tournament is likely to be remembered as a what might have been if they had McGary. By that, I mean they will likely have a run but I don't think they will get to the final four.
Actually that is the precise reason he may take it to us. He will want to show that he could have made it here. There doesnt need to be animosity for someone to play out of their mind.
I agree with Fickell's defenders in this thread but your comment made me laugh. Well done and enjoy this upvote
Right now, I am thrilled with the potential at every position on our football team. Even in problem areas like OL, Linebacker, and Safety we have a number of good candidates.
To me ET is not the type of player that was going to lead a NBA team in a bunch of stats. I always saw him as more of a guy that would make the rest of the team that much better. Philly is the pits right now and was before he ever got there which is why they had the second over all pick to begin with. They needed a different type of player.
For my money, I would just like to see the team clean up its act on the defensive boards. Amir gets a lot of grief but boxing out is a team effort there are others that need to step up here. Honestly, I have a hard time calling this an elite defense when we give up so many second chances.