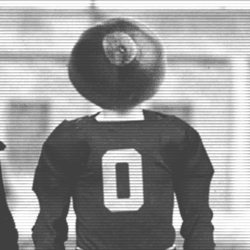 SavannahBuck
---
Member since 19 August 2012 | Blog
Helmet Stickers: 216 | Leaderboard
Favorites
SPORTS MOMENT: Playing 18 holes at Augusta National
COLLEGE FOOTBALL PLAYER: Eddie George
COLLEGE BASKETBALL PLAYER: Ron Lewis
NFL TEAM: Browns
NHL TEAM: Who Cares
NBA TEAM: Worse than Hockey
MLB TEAM: Indians
SOCCER TEAM: Nope
Recent Activity
Amir just caught a pass one handed?! Now i've seen everything!
If Sam Thompson can continue to be aggressive, I really like this team's chances to make a deep tournament run. Q is starting to be the consistent scorer that has been needed, and it's not just him shooting three's either. They have been more aggressive getting to the rim. If Amir keeps playing with intensity, and is a presence on the defensive end, they will continue to beat up on bad teams, and beat some good ones too!
I thought about Robinson when I was typing, but i thought to myself, nah, the line is good, but you really cant have too many good offensive linemen. I still feel like the Browns need some pass rush. Too many games where QB's had all day to throw in '13
I dont care as long as its not Manziel. Seriously though, I agree that I don't see any of these QB's worthy of a top 5 pick. Watkins would be an awesome pick. He would be the perfect complement to Gordon's size. Linebacker help would be good too. Hell, what if Clowney is there? I think he would be a great Will in the 3-4.
Jake Delhomme took a team to a Super Bowl. Weeden was an asshat draft pick. Jason Campbell was brought in as a backup, McCoy a project that didnt work out. The Browns have drafted terrible quarterbacks,and have signed some bad ones in free agency. I for one, would like to see them buck that trend, and I feel Manziel with the 4TH!!!!! pick, is a bad draft pick. If they were going to draft him in the second round or beyond, or even late first round, then we can talk.

If by electric you mean I can electrocute him, then i agree. As far as Manziel and Hyde in the same backfield, Hyde is a no brainer, and Manziel has no brain. I relinquish my Browns fandom immediately if they draft Manziel.
It would renew my faith in humanity (and the Browns) if Cleveland drafted Beastmode Hyde. Then again, if the Browns draft Johnny Manziel, you may be looking at the world's next supervillain(you heard it here first!)
While I'm am not supremely confident that his shots will go in, I am still confident enough with his long range shooting that I want him to shoot when he is open. What gets me is, he is very good at making a shot for himself, which is something this team sorely lacks. But he keeps missing these short shots game after game. I almost want to see him stay behind the 3 point line and be the recipient of a dribble drive pass from craft or scott
Um....did Della Valle play in the second half? If i'm him, i'm lighting that locker room up! WTF!!!
College coaches going to the NFL doesn't work out more times than not, but what Tressel preaches absolutely works in the NFL. He wants a good defense, special teams, and not turn the ball over...last I checked, when the Steelers were at their best, recently, they pounded the ball down your throat, played great defense, and had good kickers that could make field goals and flip the field when needed. I think he would do well in the NFL, and would be ecstatic if the Browns hired him. We all know that won't happen though. It's the Browns, an organization devoid of good decision making
This is so fun to watch, regardless of outcome...How about Loving?!
GOD I LOVE B1G BASKETBALL!!!!!!!!!!!
Yeah, because traditionally its easy to go into the Breslin Center and win B1G games...that makes absolutely no sense
These boys can fight...illl give em that
This is good, and Michigan State cant miss, but damn these refs are light in our favor
does Matta teach boxing out?
Id say at least 4 of the turnovers were fouls on Michigan State...Of course they arent called
Tom Izzo will go into the hall of fame...as the biggest whiner ever in the B1G...guy cries more than any coach ive ever seen
I see MSU is employing the hack a buck strategy, and the refs are letting them do it
This game cements for me that Ohio State's defensive scheme is to blame for most of the defensive woes this year. Both defenses are ATTACKING!!!!! We sit back in our pussy zone all day letting teams have their way
Best coaching staff my ass!!!!
Is Herman watching the game at all? They are running the exact same defensive play on third down....ADJUST!!!!!!
Millen just said the Buckeyes were sitting is zone on first down!!! Fickell is in charge right? I'm sick of this soft fucking zone!!!
Agreed. I hate to say it, but i'm switching your score. I hope the defense proves me wrong. Nothing would make me happier than to eat crow tomorrow, but I don't see this defense getting more than 2 or 3 stops against Clemson.
I thought about changing the channel, but I just couldnt bring myself to do it...same feeling i had during B1G Championship Game