Sauce Bauss
---
Member since 04 February 2012 | Blog
Helmet Stickers: 1,611 | Leaderboard
Voting Record: 2136 / 14
Favorites
SPORTS MOMENT: Anytime TSUN Loses.
COLLEGE FOOTBALL PLAYER: Troy Smith
COLLEGE BASKETBALL PLAYER: Sully
NFL TEAM: Browns and Bengals
NHL TEAM: Jackets and Canucks
NBA TEAM: Cavs and Spurs
MLB TEAM: Indians, Reds, Yankees
Recent Activity
Mr Wallace. Come on down!!!
Honestly, I didn't think your post was out of line at all. If anything, I commend you for stating a good observation that may be against the majority. I think people are reading too much into the post since, as you may have seen, Braxton Miller is kind of a touchy subject here. Now that's not entirely why I'm posting, but I think In that post you did make two great points:
First: I agree with you that I think one of our biggest threats to repeating is how the QB situation is handled. For example, let's say Braxton starts and OSU comes out of the gate slow or, heaven forbid, loses a game. You know there will be people calling for Cardale or JT. This can happen to ANYONE we put behind center, heck we did the same thing with Bauserman 4 years ago and I'll be the first to admit I thought Guiton should have started over Miller. With that said, I feel it's our job as fans to respect the coaches decision and support whoever they pick to run this offense through good times and bad. I'm trying to start this campaign early so we, as fans, don't exacerbate the situation should the QB Urban picks comes out slow.
Second, and this may be the most interesting of your points: you noted in the last paragraph that Meyers love for Miller may be our saving grace or our downfall. If anyone's followed Brims recruiting articles, it seems to me this has "head vs heart" decision written all over it from Urban. In my "way too early objective mind reader arm chair coach" opinion his head says JT or Cardale based on their passing abilities, but it's pretty obvious from his presser comments that his heart is with Miller. It will be interesting come August/September if he goes with his head or heart. If I remember Birms articles correctly (and please feel free to correct if I'm wrong) heart usually wins over head. Let's just hope if he does go heart, it doesn't backfire on him considering it's already been reported that the decision is weighing on him.
Have a big lead late in the game, lose it, lose the game by 1. Where have I seen this before? Shades of the 2015 Cotton Bowl. Right, Baylor?
Why stop at 3 when you can have 21?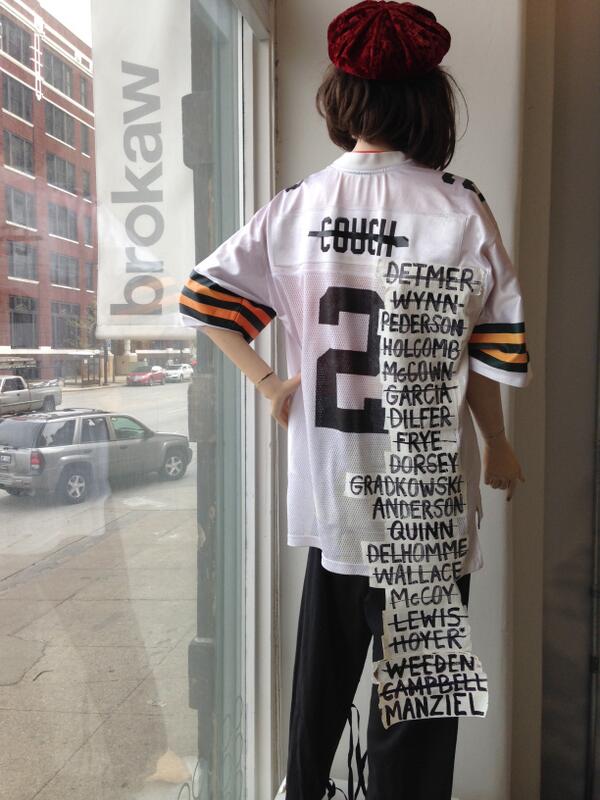 Well he (Bradford) did attend Oklahoma......
Give me any good SEC team in Columbus in the middle of November and I will be happy.
Thank you sir! I appreciate your prompt response.
Who ran with the first team at right tackle?
BSMSE, The Ohio State University, 2013
Also a MatSE! Ohio State 2013!
I believe Braxton is the best athlete of the bunch but the offense performs "worst" (I feel weird writing that considering we scored 45+) with him at the helm.
Its interesting you say that, because I absolutely agree. I felt that, at times, the offense was too dependent on Braxton Miller and we mostly were just waiting, relying on him to make a play. To Braxton's credit, 9 times out of 10 he did make that stellar play we needed, but there were also times that the offense could not move the ball against teams that, while we won, should have dominated based on quality of athletes alone.
With JT and Cardale, we did not ask them to win games for us. rather facilitate and get our athletes the ball in space. That way the defense has to key in on multiple great athletes rather than one elite athlete.
I agree with you that it was really unfair of people to pin the Orange Bowl loss squarely on Braxton given we basically let Watkins do whatever he wanted on the field, but what I did not really agree with QB wise was the final drive. It was painfully obvious, to me at least, that health wise Braxton was struggling to finish that game. I remember Braxton getting slammed by Beasley on the final drive and wondering how/why he is still playing after that? Even more frustrating to me is we had, at the time, one of the premier back up quarterbacks in the league on the bench ready should something happen and he never came in.
I believe that if Urban would have subbed Kenny G in on the last drive not only do I think we would have had a better chance of winning than with a 50% at best Braxton Miller, but Braxtons shoulder most likely would not have been damaged to the point of needing "remedial" surgery. Then he not only starts vs Navy but plays all of this past year.
Anna Kendrick = Upvote. It's sad I can't give more than one.
Hey Big Ten:
Id much rather the surgeries happen now than in the middle of the season...just sayin
NY Strip (Med Rare)
Shimp (Grilled with garlic butter sauce)
Moms homemade Mac and Cheese
Wedge Salad (w/ Blue Cheese Dressing, Blue Cheese crumbles, and fresh thick cut bacon bits)
Moms homemade Italian dinner rolls w/ butter
A piece of tarimisu with caramel ice cream and moms homemade Buckeyes
Reeses and butterfinger milkshake and a frostop root beer (in a frozen mug) to drink
As I eat this last meal, on the TV will be the 2002 National Championship game so the last things I see and taste would be victory
What I don't understand is Lucas Oil Stadium is an indoor stadium so why would they need to acclimate to the weather when chances are the only time they will be outside is entering and exiting Lucas Oil?
To add to that, why would Jameis need to acclimate to the time change when Tallahassee is also in the eastern time zone along with Indianapolis? Same with Petty, Waco is only an hour behind. Does it really make that much of a difference? I can kind of understand if they are coming from the west coast, but give me a break....
Personally, I need to see a little more from Penn State and TSUN before I crown the BIG East better than the SEC West. I look at the matchups between the two divisions (1 vs 1, 2 vs 2, ect) and they go like this:
Bama vs OSU: Ohio State (Proven)
Miss St vs MSU: MSU
Ole Miss vs Maryland: A healthy Ole Miss wins this game, the way they are currently I'll take Maryland
Auburn vs Rutgers: Auburn
LSU vs TSUN: LSU
A&M vs Penn St: A&M
Arkansas vs Indiana: Arkansas
Thats how I see those games going if they play. Feel free to debate if you wish, but what I see is the bottom half of the BIG East right now is lacking behind the SEC west. If we revisit this after next year with an improved TSUN, Penn St, and Maryland then we may have an argument. I think all you can say right now is the BIG East has two playoff caliber teams but depth wise lack behind the SEC west. However, I think the gap is a lot thinner than the so called "experts" believe.
The person who down voted you must have been a vegetarian. Or for some reason hates narwhals....
The title made me think of this Newman clip:
Excellent points. The other thing to consider is that the earliest pick the Browns have the 12th pick. Mariota will not be there at 12 so at worst they have to trade up to #2 to get him which is no guarantee they will get a deal in place (Price too high, Eagles come with a better offer, ect). Personally, I'd go for a FA QB and draft skill position/linemen. Then if the FA doesn't pan out, get a QB next year.
In this particular case, I think this is a non issue because even if they did draft Mariota, a head start on the playbook isn't going to compensate for the fact that he has no weapons.