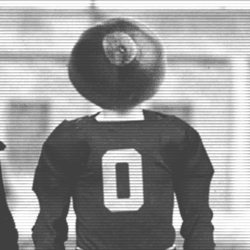 SaltyD0gg
---
Columbus (via Marion)
Member since 19 December 2011 | Blog
Helmet Stickers: 548 | Leaderboard
Favorites
SPORTS MOMENT: 2002 National Championship game
COLLEGE FOOTBALL PLAYER: AJ Hawk
COLLEGE BASKETBALL PLAYER: Perry Carter
NFL TEAM: Browns
NBA TEAM: Cavs
MLB TEAM: Indians
SOCCER TEAM: Crew
Recent Activity
Love is a top 10 player now and he's only 25. Make the trade.
Maybe he read my letter :0)
Thanks. Nothing wrong with holding out a little faith in humanity.
I'm more concerned about him breaking our hearts...
Wait... is that 'icy'? Just to clarify...
I'm sure it was the scooter's fault.
I have also been thinking about how positively this reflects on the US team. We only lost 1-0 to the same German team that massacred Brazil. And the argument that they didn't have Silva and Neymar doesn't hold up as you know Brazil would have been favored against the US even without them.
And it could have been worse. Germany had several more easy chances - ozeil's to name one.
Cincy is just owning OH football right now. Where are the Glenville guys we could count on year in and year out?
Who exactly is surprised? Tone deaf is the nicest possible thing you could say about the incompetent and incoherent NCAA.
And really, with all the money he's making couldn't Emmert afford a better haircut?
Cleveland or bust. Donte Whitner and Lebron lead a Cleveland comeback for the ages!
I saw Coop at Costco yesterday looking non the worse for wear. Then I nearly threw up when I thought about those heartbreaking defeats with some of the best Buckeye teams you'd ever want to watch.
Over Jim Delany's dead body. Unless... he becomes the boss of the SEC.
Not that it will matter when they all join D IV.
I think you mean the highest paid state employee. Guessing there are a few people in the state pulling down more than UFM.
I'm still just baffled by how slowly this class has started off. I'm not sure I'd call this recruiting with their hair on fire, but what do I know.
Will he choke you to win at a game of checkers? That's the real question here...
It's not how you start, it's how you finish.
Auburn wants their uni's back. BEE ONE GEE
We didn't have a choice! Regionals were there this year. Glad to see there's at least one other gymnast here :)
I was at the Gymnastics finals as it was held the same weekend as my son's regional gymnastics competition. While it was an achievement for them to be there, they really fell far below their potential in this meet. The had 2 uncharacteristic falls on floor. Multiple falls on parallel bars and horizontal bar. Realistically, the had the talent to finish third or even as high as second. No one was catching UM this year - though it breaks my heart to say so.
The upside is that the vast majority of our talent are FR and SO which Michigan loses nearly all of its significant contributors - most notably, Sam Mikulak, who just decimated everyone again this year.
I actually thought Jake Martin got robbed on horizontal bar. He had a great routine and aside from missing on handstand position lost out on a national championship in that event by .05 to a guy from IL.
All in all a good year. Watch out for these Bucks in the next couple years, they're just going to get better!
Lastly, THANK YOU 11W for finally sharing some OSU Men's Gymnastics news!
Now we know exactly how many times he owned someone on that out of bounds play.
Very little could compare to what that seal team went through. The entire read was riveting and made me humbled to be protected by such men of valor.