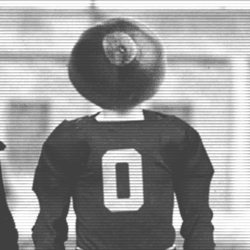 SaltyD0gg
---
Columbus (via Marion)
Member since 19 December 2011 | Blog
Helmet Stickers: 486 | Leaderboard
Favorites
SPORTS MOMENT: 2002 National Championship game
COLLEGE FOOTBALL PLAYER: AJ Hawk
COLLEGE BASKETBALL PLAYER: Perry Carter
NFL TEAM: Browns
NBA TEAM: Cavs
MLB TEAM: Indians
SOCCER TEAM: Crew
Recent Activity
Auburn wants their uni's back. BEE ONE GEE
We didn't have a choice! Regionals were there this year. Glad to see there's at least one other gymnast here :)
I was at the Gymnastics finals as it was held the same weekend as my son's regional gymnastics competition. While it was an achievement for them to be there, they really fell far below their potential in this meet. The had 2 uncharacteristic falls on floor. Multiple falls on parallel bars and horizontal bar. Realistically, the had the talent to finish third or even as high as second. No one was catching UM this year - though it breaks my heart to say so.
The upside is that the vast majority of our talent are FR and SO which Michigan loses nearly all of its significant contributors - most notably, Sam Mikulak, who just decimated everyone again this year.
I actually thought Jake Martin got robbed on horizontal bar. He had a great routine and aside from missing on handstand position lost out on a national championship in that event by .05 to a guy from IL.
All in all a good year. Watch out for these Bucks in the next couple years, they're just going to get better!
Lastly, THANK YOU 11W for finally sharing some OSU Men's Gymnastics news!
Now we know exactly how many times he owned someone on that out of bounds play.
Very little could compare to what that seal team went through. The entire read was riveting and made me humbled to be protected by such men of valor.
Comments on the Skully:
1. If that 6th grader can dunk, he should have had 153 points in that game, some of those kids were about Frodo's size.
2. But, yeah, he did hit a jump shot 3 from about 75 feet.
3. Oh, and his handle is pretty sick.
Is it just me or was the NAIA dunk contest better than the NBA dunk contest this year. That dude was ridiculous.
Rather inglorious way for AC to go out. Feel bad for the kid.
How many turnovers does Ross have now? About 60?
Downvote me all you want, but it's playing to script.
Shall I recap the rest of the game for you?
LSJ will shoot (and miss) in volume. We'll go on a run to give us some hope then we'll break down near the half. They'll come out strong and be up by 12 with 10 to go in the second half and then we'll rally to keep it close down the stretch. it'll be a 4 point game with under 2 to go. Craft will make several reckless drives. We'll miss free throws and create turnovers.
I won't spoil the final...
As the smart people have said, without a legit QB this is all just window dressing.
Ok, ok, this has been bugging me an I just can't take it anymore. I HATE that every one has to qualify his as an outstanding ON BALL defender. Yes, I understand why it's said, but it just bugs me. The kid is a ridiculous defender, period. No qualification needed. Watch him when he's not on the ball and his guy is miserable. Inbounds, miserable. Help-D, miserable. Granted he's not blocking shots at the rim. But there's no single player in OSU history I'd take on D before Craft. For as good as he was, Oden didn't change a game as dramatically as Craft does.
You can see it happen. It's as if Craft can decide when he wants the turn over to happen and he just wills it to happen. We may never see another one like him. Special, special kid.
Not to mention that the OSU men's gymnastics team is ranked 4th in the nation and just had one of their own, Sean Melton, named to the US Men's National team. The non-revenue generating sports are killing it.
I was at an OSU women's gymnastics meet a few weeks back and none other than Gene Smith came and sat down beside me to take in the action. Was so good to see him out supporting the small sports.
Conley would take your lunch money. Craft will take your soul.
I must have missed that Hubbard is 6'6". That's a ginormous LB.
Oh and, "a leg up on the competition"...
You mean 2 loss Alabama?
Really impressed with Sparty's D last night. Never gave them a ton of credit in the past, but they were legit. Just makes me wonder what's going on with our D. You have to think we have better athletes....
Looks like a good matchup for us, on paper anyway. Their experience and scoring comes at the guard position. We all know what this team does to guards.
Nice little mid-day treat!

This had to represent WAY more than the team. If they had 100 players from each team that's 25lbs of food each. #notpossiblewithouthokepresent
That gets funnier every time I watch it.
46 sacks 2 years ago. 17 this year. Wow. 3 sacks per game less is a major difference. Those are generally drive killers. As impressive as 7 ypc is, this may be an even bigger key to the success of the offense this year.
Darius Davis: running by fools. Wow, turn on the speed.
Best Buckeye comeback I've ever seen. One of the best shooty hoops comebacks I've ever seen period. Resilient to the end.
Those 3s in the tourney were cold-blooded. Just watch the clock and remind yourself how ridiculous those shots were in the moment.