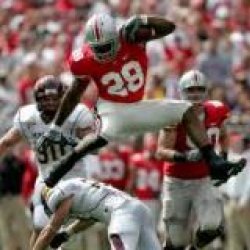 saltybuck61
---
Salt Lake City, UT
Member since 24 July 2013 | Blog
Helmet Stickers: 473 | Leaderboard
Favorites
SPORTS MOMENT: The 2007 game against TTUN. It's the only game against them I have been to. The O-H-I-O chant in the Big House is something I won't forget.
COLLEGE FOOTBALL PLAYER: AJ Hawk/Ryan Shazier
COLLEGE BASKETBALL PLAYER: David Lighty
NFL TEAM: Detroit Lions
NHL TEAM: Detroit Redwings
MLB TEAM: Chicago Cubs
Recent Activity
Laser rocket arm was a reference to a Sprint commercial he did about 8 years back.
I thought Rashad Frazier was possibly deserving, but Tyquan Lewis was excellent as well. Tough to choose.
Teddy Bridgewater is another quarterback who throws with gloves.
Blackledge also called Marcus Hall Maurice Hall. Twice.
Perhaps you are correct. I know that they do hate each other. I am just speaking from experience. My whole life I have seen MSU fans happy for Michigan when they beat Ohio State. I will say that Michigan fans hate Ohio State much more than MSU does. However, when MSU and OSU play, the Michigan fans that I know will cheer for MSU. The players may think differently, but most UM fans I know hate Ohio State much more than MSU.
I agree completely. The Samsung Galaxy has definitely been the best one I have used so far. I haven't tried all of the smartphones out there, but the Galaxy has been my favorite thus far. It has a long battery life and runs smoothly.
I don't know, I would still say that the Buckeyes are UM's biggest and most hated rivals. Having lived in Michigan for several years, I can say with confidence that the only time when UM fans and MSU fans get along are when either play Ohio State. They are united by their hatred of Ohio State. If the MSU rivalry was full of more hatred, then this would not be the case.
Definitely agree with you on point two. The relationship between Ted and Tracy never materialized in the eyes of the viewers. Perhaps this was the purpose of this episode though. Maybe the point was to downplay their relationship. This meshes with his kids' observations. I personally would have liked to see the two have a relationship in the show, especially because it seemed like they had so much in common. She also seemed like the love of his life. Her death and life with Ted seemed to be diminished when they put the emphasis back on Robin.
I am not sure if I liked the finale. I loved the show, and the ending was interesting. However, it certainly wasn't what I was expecting.
If I remember correctly LSU had recruited him as a wide receiver, but he played QB in the high school all star game he was in (can't remember which one). He didn't go to LSU as a quarterback. Gibson wants to go to a college as a QB. He could switch to WR if it doesn't work out. One of MSU's guys did it a couple of years back.
You might be thinking of Jalin Marshall. Dontre Wilson has been healthy.
That is absolutely fascinating. I had always enjoyed the movie because it was so ridiculous it made me laugh. However, I would like to watch the movie again after reading this. Wonderful insight.
I am not sure where you are hearing that Rod Smith has disappeared. Several times the coaches have mentioned him as a guy that has been performing well. Many of the fans forget about him, but I wouldn't be surprised if he started next year.
Rod Smith definitely fumbled a bit as a freshman, but his past two years haven't been that bad. Now, he didn't have a whole lot of opportunities last year, but he has not fumbled in a while. Let's hope he continues that trend. Besides that, I completely agree with you. He has quite a bit of talent and has a chance to step into the starting role this year. I would love to see him have that breakout year this fall.
You make an interesting point about a 10 second race not defining what a man or a race is worth. I agree with this. However, it is essential to understand that Hitler didn't believe the African American race (or any non-Aryan race) could possibly compete with "the master race." Not only did Jesse Owens compete, he beat everybody by a landslide. I understand that he probably wasn't out to defeat Hitler, but he not only became an American hero, he became a global hero for his performance.
While it doesn't seems important after what the world went through with WWII, it still holds weight today. Winning in the Olympics and proving Hitler wrong may not be the greatest accomplishment of all time, however, I personally believe that in a sports category, it is the greatest accomplishment. I could not think of a sporting accomplishment that could top it.
I've said this before, but I actually believe that Armani Reeves had his best game of the year against Clemson. It was one of the first times all year when he didn't look completely lost. The rest of the games were not good, that much is true. However, I would not be shocked to find out that he has turned it around. On top of that, the whole defensive backfield as a unit was terrible last year. Perhaps an improved scheme will help Reeves as well.
I don't know if scheduling four difficult out of conference foes would be a good idea. I know that they aren't all strong teams, specifically Pittsburgh. However, if they lose two of those games (which is not unfeasible because they are most likely going to be back to back), then they are out of contention for the title. If Ohio State were to play one strong out of conference team, I would like to see USC again, or Florida, like you said. Making any SEC team come up North relatively late in the year would be ideal.
After living in Utah for a while, I can confidently say that Urban Meyer is a well known commodity out here. They know what he has done over his career, and revere him for what he did at Utah. Although he may not know a whole lot about Ohio State yet, I would not be surprised to see Andre James become a Buckeye.
Charles Woodson was excellent, but there are a few others who may be just as deserving, but far more well accepted on this site. Like Troy Smith, the Heisman Trophy winning quarterback who beat Michigan three straight years as a starter. Or perhaps Jim Brown. I do not know if he would qualify for this list though.
Regardless, there are plenty of Buckeyes that people would rather see. Also, putting him at a 2 or a 3 seed is far too high. Lebron James is only a 6. There is no way Charles Woodson would be higher than Lebron.
He also got stuck in a bathtub, which, although embarrassing, is an incredible feat on its own.
It will be tough for Rose I am afraid. The majority of people here are Ohio State fans, and there is a split here with MLB. Therefore, regardless of who deserves it, I think Tress wins in an overwhelming vote.
I think that the MSU game will be a prime time, high caliber game, but I agree with you, I think that they lose too much. If Ohio State can fix the pass defense, I think that they will shock everyone with their performance against MSU. That is a big "if" however.
I agree. I find it unrealistic to expect an undefeated national title run every single year. However, looking at this year's schedule, I don't really see a loss. Now, there will most likely be a loss somewhere in there, but it is hard to pick out where.
Here is to hoping that I am wrong, and that Ohio State does go undefeated.