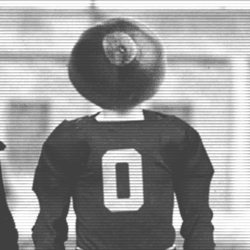 saevel25
---
Member since 26 April 2013 | Blog
Helmet Stickers: 73 | Leaderboard
Recent Activity
It would be awesome to see Wilson go down to a student.
Watching those lineman go through the agility drills with Johnson makes me think about how crazy that D-line can get when they get their bodies working more optimally from an agility stand point, and how to harness all that leg power. Look forward to a lot of offensive lineman being blown up next season.
Screen passes are either hoping the offense throws to a situation were you have a +1 scenario. If not then the defenders have to shed their blocks better. The DB's didn't do that at all. Screen passes are really not about scheme, its about a player being able to dominate their space and make a play.
I wouldn't put this on Fickle. Urban has shown that one person can not run a whole team. Basically Fickle overseas this position coaches. To me the issue is the DB's coach. I am not entirely sure if Combs is over his head or not being a DB's coach. I don't mind him being special teams. Fickle is a good linebackers coach. I think Vrable has done a good job on the defensive line. The weak link is combs, which I hate to say because I like the guy.
I think it is a bit of both. I think Braxton doesn't read pressure well. He doesn't read delayed blitzes, he gets easily frazzled under pressure. I think he waits to long on passes, which tells me that he takes way to long to read the first WR. He should know by the coverage and by the DB if the number 1 receiver will be open, and should be going to 2 & 3. He locks on to 1, and waits to see if the WR gets open. That is bad because now the timing is off for the other receivers. I also think he doesn't like to throw in tight windows. Let the WR make a play. All you need is half a step, and a few WR were a full step ahead of the DB last night. Braxton could easily thrown a ball and at least give it a shot. Now the only pass he likes to throw is to the TE when no one is with in 30 yards of him. At least in the big ten championship game he threw a perfect over the shoulder pass that was broken up by a better play by the MSU DB. Braxton didn't try to throw it 500 mph, he laid it in the WR hands. He has the ability to put touch on the ball. He just needs to DO IT!!!
I hate to say this, because I am a Braxton fan. I wonder sometimes what the offense would look like with Kenny G. back there who actually knows the playbook and knows how to go through progressions.

So which Buckeye running back would you take if forced to choose one for a single game? It's easy to make an argument for any one of them based on the numbers alone. Regardless, Hyde has a case to be included amongst the great running backs in Ohio State history.
I would take Hyde. Last year I would have taken Wells. I think Wells had much better vision to Carlos Hyde version 1.0 (last year). Especially his ability to hit the cut back for big gains. This years Hyde version 1.2 (the beast). He was able to weave his way through the line, when line was blocking in the 2nd level he was able to cut and hit the big gain to the outside. His vision and speed have improved, and he developed some game breaking speed.
I agree, I think the DL has done well. They have done great in run support. They have let Shazier fly to the ball. They have gotten after the QB. The problem is DB's have to hold coverage for at least 4 seconds. That is the internal clock of the QB, 4 seconds to go through the reads, then you start worrying about the offensive line. Cause the problem is, of all those sacks, how many this year were COVERAGE sacks.
I remember in the Tressel era they would have a few coverage sacks a game. Meaning the DB's held their coverage for more than 4 seconds, allowing the D-line to get a sack. We maybe had like a handful all year, that is sad.
I think it was Cam Newton who did this read. You don't read the end, you read the safety. What OSU should have done is, put in two TE's. Motion one to block, and keep the other in the slot. Read the safety, if he drops into run coverage, then throw the seam, if not then hand the ball off to hyde or keep the ball himself. I would run a seem pass every play possible. Just torture that one safety all night. It would force linebackers to shade towards that side if they don't bring the safety down. You got to attack something all night, just to wear it down. That would have been the focal point to me. The DB's are to good for Michigan. I would test the safeties, who have been known to let coverage get behind them. Heck, throw Wilson in the seam, tell him "RUN TO THE END ZONE MY CHILD".
Soft zone is a mentality, not a scheme. Look at Missouri, they play primarily zone. Yet when I watched them against Texas A&M, they broke on the ball right when Johnny football was throwing it. Meaning they understood their assignment, they were playing free of conflicting, and they were reading the QB. Our defense gets back into the zone, but their is no reading and reaction.
To me it almost seems like, Ok get into the zone, our line will take care of the rest. Yet the DB's need to actually cover the person in their Zone. Its crazy.
This is crazy. You know Saban is starting a sophomore at DB. Guess what, the kid was so-so at the beginning of the year, now he's flying around the field making plays. There has been no player development at the DB position at all this year. D-line got better, Linebackers got better. Grant picked up his game. Perry picked up his game. The only unit the whole season that didn't get better was DB's. Tells me one thing, the position coach needs to change. Coombs clearly doesn't have what it takes to coach DB's. Coombs was DB's coach at Cincinnati,
Split G Att Comp Pct. Yards Yards/Att TD Int Rating Att/G Yards/G
All Games 13 483 291 60.2 3394 7 17 16 124.27 37.2 261.1
All Games 12 370 240 64.9 2808 7.6 25 8 146.6 30.8 234
All Games 13 420 267 63.6 2993 7.1 16 16 128.38 32.3 230.2
All Games 14 478 268 56.1 2897 6.1 18 17 112.3 34.1 206.9
All Games 13 493 295 59.8 3302 6.7 15 26 115.59 37.9 254
The Cincinnati defense wasn't't that great against the past. Stats look a lot like waht OSU is giving up, especially in the QBR.
OSU needs to find a new DB's coach. If this means Coombs has to leave, then that is what it is. Clearly he doesn't have the game to coach DB's at OSU.
Since MSU likes to play tough man coverage on the outside. I would like to see a lot of 2 TE in the game. Send them down the middle on play action passes splitting the safeties who jump up in run support. The good thing about Man Coverage as well, is that it opens up run plays on the outside. Since DB's line up on the WR, the WR doesn't have to go search for a DB to block. I can see a lot of quick screens, bubble screens, and jet sweeps.
To me OSU should go with the game plan they had against NW. Get the RB out near the sideline for an outlet pass. Since it is man coverage, a Linebacker or Safety will have to cover him. I think Hyde has an advantage their.
The thing I love about this Ohio State team, they run the ball. That is what will keep them in games. Against Oregon and FSU, I think Urban can put together 2-3 long slow methodical drives to give the defense a rest. Also, this defense goes up against a high speed offense every week, and they are 2 deep on the D-line.
So what's the term to describe OSU, VERSATILE.
They can power run it, they can finesse it, they can throw it deep, short. I still think Braxton needs to work on the middle of the field passes, but he's at least trying them this year with some success.
I think this team has the man power and variety of plays and styles to compete under any situation.
I think he ends up being a coach later on in his career. Maybe a future buckeye head coach after Matta ;)
They think we ran up the score, out of the last 25 offensive plays called, only 2 were passes. If you can't stop the run, you deserve to be scored on.
I think the extra bye week is huge for the coaches. They get more time to scheme. As for the players, I think it might be bad. They are use to routine, then you break it. I would say, try to keep things as close to the same, I might even throw in a scrimmage on a Saturday, then go into the next week as it was business as usual.
When he got hit, and went sideways, I just thought we got the first down. Then it was basically, "NO WAY", "OMG", "YEA!!!!"
He's like a diesel engine though. He doesn't really start strong, takes a wile to get up to temp, but man once he gets in a groove during a game, he's just a tank out there.
I agree, I thought the defense did much better in the 2nd half. I do agree that Iowa threw us some curve balls with that two and three tight end set. You really get a game plan going, and suddenly they pull out the dink and dunk offense.
The linebackers got exposed in pass coverage, and loosing Roby to a BS call cost us.
We better get our shit together next week, we got PSU and them off a bye week. That game might be a shoot out.
That should have been a interception on that NW 60 yard pass. How do you over pursue a route like that.
Here's the thing. Oregon is tough in season. Its nearly impossible to prepare for them in 1 weeks time. If you get them on a bye week, maybe. When you are given 4 weeks with practices, they are beatable. They have not run rampart on any teams in their bowl games.
They beat an over rated Kansas State team last year.
They were suppose to be to fast for Wisconsin a few years ago, and only won by 7
They don't even crack 20 points against OSU and LSU two years before that.
Their offense is a novelty, but when you give defensive minds a month to prepare, they are beatable.
Its great when as a football fan, i am excited for Basketball season to start as well. Never use to say that before, but now its really fun to have OSU become competitive in two major sports.
can't wait to see craft give players hell again defensively.
Except for a few big passes by Braxton against Wisconsin, both Wisc. and NW have done a good job forcing OSU to go the length of the field. I still think Braxton struggles with timing routes over the middle. He's good at hitting curl routes against Zone, but quick slants, and attacking the middle of the field with seam and crossing routes, he still lacks. So i think he still forces a few bad passes, cause they are the ones in his comfort zone.
Two monsters up front, i love it. Can't wait for this D-line to click. Who'd have thought that the weakness for OSU would be its secondary, that's just absurd.
I have 50/50 with Braxton. I don't he regressed, because last year instead of dropping the ball off to Hyde on an outlet pass, or not throwing the short out routes, he would have taken off. He's shown some maturity in going to his 3rd and 4th reads, and taking what the defense given him.
I do think he needs to try to attack the middle of the field more, some more crossing routes. But, compared to last year, those few drop off passes to Hyde that gave us first downs were huge. Last year he would have tried to scramble. Also knowing were he was and making a throw for 15 yards instead of taking the 1 yard 1st down. Just to show his mentality is always down field now.
I think Northwestern threw Braxton into an uncomfortable place taking away his deep threat. He was use to hitting a few of those per game, and it bothered him. he will get better, but he needs to take care of the rock first and foremost.
Here's what I would like to see, put Hall and Hyde in the same backfield. Hyde has been shown to be a great blocker downfield on Braxton's counter plays. Why not have him be a fast fullback. You can hand it off to him for a quick strike, or have him block a linebacker for hall. You can have hall go out into the flat for a pass. you can also have braxton run it.
I like the offensive analysis done on a previous post, showing that we clearly didn't have numbers when we ran the football. I honestly would have like to have seen us stretch the field sideways more. If they were playing man coverage, go to the outside because the DB's will be turning to follow the receiver.
I think our OC got caught playing some old cards, going with the ground and pound with Hyde. Wisconsin did a great job.
What i like is, Wilson doesn't run out of bounds. He fights for every yard. He's going to be a special one.