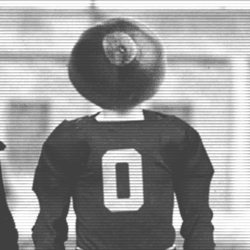 Rural Meyer
---
Member since 13 June 2012 | Blog
Helmet Stickers: 260 | Leaderboard
Recent Activity
I've heard a slew of people saying Daniel Cage got an offer. Can you confirm he does not?
What is the overtime rule?
That was my point exactly Derek, why would quick not make a decision in front of his home crowd
Does the "quick decision" favor us or Bama Alex?
Me and you are on the same page my friend
Craft needs to come off the bench, he couldn't even score of a break away steal from half court against NKU. Hes a junior and still looks like a high school player on offense, for every turnover he creates he makes an awful play on O. Scott looks like a whole new player this year and looks light years ahead of craft, the kid should at least split minutes with craft.
Ulmer is where it's at and who I want in this class.
I'm glad there are other buckeye bourbon drinkers
What are we going to do with all of these DB's?
Will Allen destroying Willis McGhee
Nate Williams to a true LB position
The fact that they havent shifted either Decker or Fragel to another postion speaks well about the depth we now have. If we were really that thin I would have imagined one of them would start at another postion or would take some pratice snaps at another postion at least.
lol josh perry is bigger then Joey O'conner
IDK about Richt, has a top tier program and hasnt won anything in years. Bill Snyder should be at 10 IMO
Also noted Devin Smith spent much of the early off season working with the tOSU track team. Great read chris
Awesome read, it could be insane what a FB might do this year in the running game with braxton making more defenses run in contain. Its such a weird thing having ole Urban in, a year ago we would never dream of this happening.
That projection is wack. Zeller was 1.... He has a wingspan of a T-rex
I think this is eluding to Urban converting Billy Price to the o-line now that we have another DL prospect
Paul Chryst to Pitt is the deciding factor for this kid, I think Pitt gets the hometown kid. I think the chances are better that tOSU gets Quick and/or Foster are better then that of Dorian.