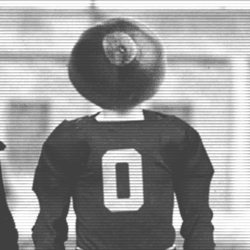 RunningFree
Toledo, OH (via Liberty Center, OH)
Member since 30 July 2013 | Blog
Helmet Stickers: 267 | Leaderboard
Favorites
SPORTS MOMENT: January 3, 2003
NFL TEAM: Browns
NHL TEAM: Red Wings
NBA TEAM: Cavs
MLB TEAM: Tigers
SOCCER TEAM: Columbus Crew and 'MERICA
Recent Activity
Could be worse, I guess...
Beer with a "kick" to it. (See what I did there?)
0:45 mark in Gerald's video... pretty sure he just killed a guy.
Buckeye Cable Sports Network. So basically... just the Toledo area (and only if you have Buckeye Cable).
Definitely not a stretch considering Devin is already an Honorable Mention All-American with OSU's 4x100m team last year. We've definitely had some speed over the last decade (Ginn, Gonzalez, and Saine are all guys that could have been potential all-NCAA in track).
As long as they don't try to claim the 1865 National Championship...
</em> Hmm, did it work? Everyone is so sarcastic today...
Teams should consider this: drafting Craft will automatically be a benefit to your starting PG. Practicing against Craft day after day is going to make a better offensive player because he's being challenged.
And Kyrie's high on him... Cavs should bring Craft in during the second round to be his backup. (and try not to screw up the first round again this year, OK? 2013 had to be the worst first round of any team... ever.)
That may be the worst attempt at trolling a Wikipedia page that I've ever seen.
If I had to guess what happened, this would be it. Personally, I feel much more out of it after a long day of no sleep as opposed to having a few drinks.
Pulled these stats (because everything on the Internet is fact!): A study by researchers in Australia showed that being awake for 18 hours produced an impairment equal to a blood alcohol concentration (BAC) of .05, and .10 after 24 hours; .08 is considered legally drunk.
We're getting taller, and they're getting shorter. And it's Friday.
Today is a good day.
Horford transferred out and there's still talk of McGary declaring as well. If he does in fact declare, that leaves them with no guys listed at over 6'9" returning... and that lone guy at 6'9" didn't play a single minute this year.
Any teams with a decent enough big man are going to have some fun against Michigan next year.
Hope he has a comfy couch come December 6...
This is one of the top five college football programs in the country.
Excuse me Mr. Ash, I think you mean THE top college football program in the country. No bias or anything...
I know they'd probably look horrible on modern uniforms, but I'd love to see one inspired by the 1890 outfit. (who needs numbers anyway?)
I will not confirm nor deny I ever wore the orange and black...
Wait... Henry County in Ohio has D1 talent? I don't believe it.
Cleveland should have a pretty solid per capita number too (thanks Glenville!). Showing up red on the original map and having a population of just 390K.
You mean they didn't come to play school?
Personally, I feel like some sort of minor league system should be set up, separate from the university's budget, if an education is not considered to be acceptable payment. Ultimately universities are still a place of education and learning, where 99.9% of the students are there to "play school."
So maybe some sort of business relationship? Make education an option, instead of the only thing. Most football players will ultimately need that degree anyway.
I want to see athletes treated fairly, but at the same time I don't want to see the value of an education be diminished either.
Aaron Craft was named a finalist for the 2014 Collegiate Wooden Cup, given annually to a student-athlete who's have made the greatest positive influence in the lives of others.
Opposing offenses would argue he hasn't been a positive influence to them.
I went with Dontre because as much as I love EZE, I don't think we'll have a 1000 yard back next year, with him and Smith sharing carries. Dontre will have more opportunity to rack up yards with either the run or pass... and a greater chance for the big play. I think he has the opportunity to be the only other 1000+ total offense player next year, because I'm expecting a LOT of players to contribute.
Reed had a respectable 2013 season for Findlay. From their website:

67.4%
1791 yds
162.8 y/g
9.4 y/a
11 TD
7 INT
Also rushed for an additional 389 yds and 2 TD for a 5.8 avg.
Those numbers are also based off of 7 starts. I'm not too in tune with Findlay football, but I'd guess he'll be their full-time starter next year. Good to see a former Buckeye having success!
Our FT shooting is still concerning me...
Pretty pass from Scott (and Williams caught it!)