rosycheeks
---
Member since 26 September 2013 | Blog
Favorites
SPORTS MOMENT: Every time Ohio State beats Michigan
COLLEGE FOOTBALL PLAYER: Every Buckeye that's ever beaten Michigan
COLLEGE BASKETBALL PLAYER: Aaron Craft
NFL TEAM: Aaron Craft's favorite team
NHL TEAM: Team USA
NBA TEAM: Whoever will give Aaron Craft a chance
MLB TEAM: Cincinnati Reds
SOCCER TEAM: USMNT
Recent Activity
Well, Dweinz, ideally you want to get rid of Chapman when his value is at its lowest.
Sincerely,
Walt Jocketty
Michigan grad who reads
Haha...good one. Oh, you're serious.
Michigan grad who reads 11 W,"
What is 11 W,"? Is that like Ohio State's record against Michigan in the last 12 years?
WWWWWWWLWWWW
What's that about your enemy's closer?
Meyer noted the offense regressed since Ohio State's victory at Oklahoma.
Take it from me -- a guy who has an OU fan co-worker and can read a box score -- OU's defense made OSU's offense look better than it was.
Curtis Samuel is one guy he's trying to get to touch the ball: "I think he did OK." Said Penn State did some things to take him away early in the game.
I love Urbs, but BS. Penn State can't do a thing about this motion right here: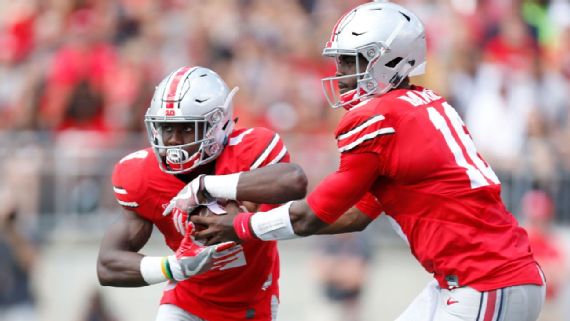 PI no-call aside, does anyone have any confidence James Clark pulls that ball in even if there are no defenders near him? Given what I've seen of deep ball execution this year, and given what I've seen of James Clark, and given that that ball looked like it was bound for Clark's face mask before the DB made contact...I don't. I don't think I've seen a group of WR's look so awkward catching the football as this year's crew. These guys make Devin Smith look like Julio Jones. I noticed it even in the pre-season practice videos...the catches look like my 5yo when I'm lobbing her a ball from 4 feet away.
For those who still follow former 11w staff that have moved on, this article may seem kinda copycat-ish.
Wearing long sleeves in the pic in his tweet. Good choice.
If I become president, I'll get politics back on 11w. Believe me.
Last night I went to Portillo's and got a burger. I waited 15 minutes while everyone else in the restaurant got their food before I finally spoke up. I got my burger a couple minutes later, went back to my seat, opened the container, and found that the bottom bun was soaked in grease on the edges. I got up and marched to the counter and showed the dude. He said he'd replace it for me right away. I said no thanks, I'll just eat it.
Anyway, that's what this reminds me of.
Technically I'm not on the team, so...
Successfully prepare for my role in Ohio State's defense of their national title.
And he didn't impede the official from doing anything important.
I remember the play. I think Barrett kept it, but I did find it interesting.
Agree on Samuel. I don't think he's strong going up and getting the ball...too small, and maybe his arms aren't very long, IDK. But his target is too small. He's a guy they need to get the ball to on crossing routes, but sending him long isn't his best usage unless he absolutely toasts his guy and Barrett manages to not underthrow him.
My plea as assistant to the offensive coordinator is the cut the rotation and accept that Noah Brown, Curtis Samuel, and Dontre Wilson are the best receivers, with Parris Campbell, Terry McLaurin and James Clark filling in the gaps.
I'm with you in theory. Couple slight tweaks. I really like what I've seen from KJ Hill, definitely more than what I've seen from Clark. And I would prefer that one of Hill/Campbell/McLaurin becomes the primary gap-filler when Brown needs a break or when Samuel or Dontre goes to RB. The rotation feels too large right now, so that's where I say I'm with you in theory.
WHERE IS RAEKWON?
In the middle of every play.
Seriously, I look at him like a good DT...frees up others to run and make plays. There's a reason you see Worley and Baker on everything. Well, a couple reasons. One, they're good. Two, Raekwon.
@Danny, he was only 55-4 at the time. Yuuuge difference.
Are we sure he didn't Paterno in his pants?
Lol at Corso in the last one
You and AllIn get together, argue it out, and then fill us in. Thanks.
Awesome
Which AD will be the first to discover the recruiting and competitive advantage of playing the game at night?
This year, Knorr is making $500 per month as a quality control coach
What the...I had no idea. I assumed everyone with a job related to big-time football was making at least 40k. Guess that's the ultimate resume-builder.
Re: Bob Landers, it's really cool to see the network Fickell apparently has built in Ohio. Makes you appreciate the recruiting role he has at Ohio State, and also makes you feel like he could have great success at a MAC school if he ever decides to go that route. (But I'd also have to say that Fickell taking over for Meyer some day would scare me to death.)
He'll have about 20 tackles against Wisconsin. That's assuming Wisconsin is able to run 20 plays.
You're right. Man, that's a bummer.