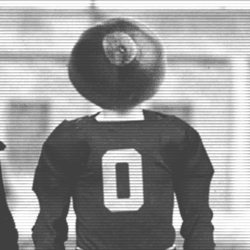 rock flag and eagle
---
Member since 17 June 2013 | Blog
Helmet Stickers: 272 | Leaderboard
Recent Activity
5-2, lost in 2007 and 2012.
I don't know. The best one can say about Jeremy Langford is that he is a workhorse and durable. In terms of how he compares to other backs, according to ESPN stats for qualified RBs (any RB with at least 6.25 carries per game) Langford ranked 125th in the country. He only averaged 4.87 yards/carry. He isn't explosive or elusive. And, he may have a tough time replicating even those modest stats from last season as MSU must replace 3 OL starters.
Agree. Interesting that in Tedford's last few years (2007-2012) his team was ranked 48th, 47th, 50th, 90th, 44th, and 68th in total yardage.
In Dykes first year, Cal had the 34th ranked offense. In his first attempt, with a freshman QB, and with virtually no recruits of his own, he put up more yards than Tedford has in years. When the team and his QB get a little more experience and more familiarity with the playbook, they should be one of the better offenses in the PAC 12.

Auburn's offense was nothing to write home about
Al Borges was the Auburn OC in 06-07. He is not good at coaching football. That's goes to show you. Tuberville beat Meyer in a distance swim, despite having a cinder block tethered to his ankle.
Tuberville is a very good defensive coach. And, his defense certainly shutdown Meyer's offense twice (unless you want to give credit to Auburn's Defensive Coordinator, Will Muschamp. But, I doubt any 11w reader will want to give Muschamp credit for those wins.) So, let's just assume Tuberville is the defensive mastermind. The year before he arrived in Cincy, they were ranked 55th in total defense. In Tuberville's first season, they were ranked 9th nationally in total D.
Unfortunately for Tuberville, he is now at a mid-major with mid-major level talent. I suspect the best odds anyone could give him will be "Closer than the experts think."
I think Oregon wins handily. I keep reading in MSU season previews that the defense will break in a lot of new players but that's ok because the offense will be able to carry the load until the D gels. That's not likely against Oregon. Tell me, where will Michigan State's points come from?
First of all, Bollman is their OC. Their offense will not be designed to carry the load. Secondly, I think Connor Cook is very overrated (thanks to playing OSU and Stanford at the end of the season, two of the very worst passing offenses in the nation last season.)
MSU's passing offense was ranked 84th in the country last year. 84th. Sadly, MSU played some of the worst passing defenses in the nation last year: Indiana (120th), Ohio State (112th), Northwestern (101st), Stanford (98th), Illinois (82nd), and an FCS team. And, even playing these defenses, MSU finished 84th in the nation. Oregon had the 21st ranked pass D in the nation (37th ranked Defense Overall), and they were probably even better than that. That's because Oregon played three top ten passing offense last year (Cal 10th, Wash. St. 4th and Oregon St. 3rd) Despite playing teams that sling it everywhere, Oregon still finished with a top 20 level passing defense. They have the best cornerback in the nation. Connor Cook may have looked good against Stanford's 98th ranked pass D, but Oregon (at home) will present a much bigger challenge.
So, where will Sparty's points come from? Not the passing game. Do people really think Jeremy Langford and MSU's 59th ranked rushing offense is going to keep pace with Oregon? MSU has to replace 3 starters from their Offensive line, and their run game wasn't that good anyway. They were held below 4 yards/carry in 5 games last seasons. Michigan State's rush offense won't be able to carry the day either.
Unless MSU gets 10pts or more off special teams and/or defense, I think Oregon wins comfortably.
I am looking forward to this game as well. I am rooting for Oregon and I am hoping for a 2011 Capital One Bowl redux.
http://www.linkedin.com/pub/sean-merriman/35/3b8/5b8
Michigan State alum
Agree. Use the last suggestion and ditch the passive voice. Dantonio is the coach of the defending Big Ten Champions. He doesn't deserve passive voice.
That's not being a stickler. That is just having a basic understanding of how college football works and how the NCAA operates. You don't have to be a stickler to understand the basics. Thanks for the correction.
Perhaps his "unwavering support" is actually stubborn, predetermined, intransigent patience. Do you recall when Peppers was wavering in his commitment, Brandon released a statement of support for Hoke to quell hot seat rumors? In that statement, he mentioned recruiting a couple of times, and also mentioned the role that Carr's seniors played in Michigan's Sugar Bowl team.
Brandon is a very hands on AD. He probably knows roster and recruiting details inside and out. I suspect his statements of gratitude to Carr's recruiting were a backhand at Rodriguez's roster management and the extremely high levels of attrition which took place under Rodriguez's watch. Why else go out of your way to praise Carr's recruiting and not the whole team? I suspect he is being patient with Hoke because he and Hoke already agreed (or Hoke convinced him) on how much time is necessary to change the roster. It would be consistent with Brandon's oddly involved position vis a vis recruiting. (I mean, he basically wrote a recruiting pitch directly to Peppers.)

He isn't the consensus top player. Consensus means overall agreement by the group. ESPN has Trent Thompson ranked #1. Rivals has Cowart. I think Scout has Rosen. 247 has Sweat. There is no consensus. Composite and consensus do not mean the same thing.
I agree. Defenses had to account for Hyde and Miller on virtually all run plays. That's the problem option offenses present to defenses. In terms of yards/carry, Army has finished in the top 14 in the country for the last three years in a row. Army, a team with no elite athletes, consistently ranks amongst the best rushing attacks in the country. A well organized option scheme has a way of making linemen and o-line coaching look good.
There's obvious examples, but since these initiatives don't involve statues or football, most sports fans don't pay attention to them. They've invested in new research programs and facilities. (The Network on Child Protection and Well-Being) Academically, they've created a new curriculum and strengthened their course offerings. Their library system has innovated reading collections dedicated to abuse prevention. They've attempted to raise public awareness through high profile conferences. They've initiated new training programs for state employees. Financially, Penn State has made huge donations, as well as grassroots level small contributions. Students have launched their own fundraising efforts and awareness campaigns. I mean, if you're expecting the school to give away half of its endowment or something, then these initiatives probably won't impress you. But, efforts are being made.
What kind of battery is used to "shut down" things? Batteries are used to power things. Shouldn't it be something like, "What kind of battery do you need to light up Michigan's scoreboard?"
I don't think Texas blew it by choosing Strong over Dantonio. They are practically the same coach. They are very similar coaches, but Strong is younger and doesn't have Dantonio's history of health problems.
Think about this. Dantonio was part of a national championship team as defensive coordinator. Strong was def-coor for TWO national championship teams. Advantage Strong.
Dantonio's coaching record is 82-46 (.641). Strong's record is 37-16 (.698). Advantage Strong.
Dantonio has 2 Big Ten championships in 7 seasons (no C-USA championships as Cincy's coach). Strong has 2 Big East Championships in 4 seasons. Both coaches have won one BCS bowl game as a head coach. Dantonio beat a two-loss Stanford, Strong beat a one-loss Florida. Push?
And, while Dantonio's Spartans finished 2013 with the #2 ranked defense in the country, Strong's Cardinals finished with the #1 ranked defense in the country.
They are essentially the same coach, except Strong is still going "strong," while Dantonio is four years older and already has a major health scare on his resume.
The "mystery" of the ADJ Line Yard rank is that the stat is adjusted for the strength of the opponent. That's why OSU's rush D had great numbers on the surface, but ended up ranked 96th. It's because they played 13 FBS opponents in 2013 and 11 of them were in the bottom 50% of rushing offenses in yards/carry. Purdue, Cal, Michigan, Buffalo, Northwestern and Illinois were among the very very worst in the country (all ranked 80th or below). The only two above average rush offenses (measured by yards/carry) they played last season were Indiana and Wisconsin. The Football Study Hall ranking is basically saying "despite their excellent performance on mainstream metrics like total rushing yards allowed, we have to rank them this low because their opponents were so bad at running the ball."

It's one thing if both schools are recruiting a young man for that player to disrespect their hospitality and flash their rival's trademark pose. That would be disrespectful. But, that's not what's going on here. Michigan didn't offer Green, so he wasn't rubbing anyone's nose in it. It was just a fun way for him to show off for his future teammates.
Perhaps he was constantly walking into situations where he was replacing terrible coaches and the players weren't coached up on basics and fundamentals (things all players should have regardless of star rankings.)
Here's another thought. Wisconsin had a lot of consistency on defense prior to Ash's arrival. Dave Doeren was co-DC or DC from 2006-2010. The Wisky defense during that time was always decent, if not spectacular. They had top 40 defenses nationally each year. Ash wasn't coming into a chaotic situation trying to "fix" things. He just needed to keep the steady improvement going. Whereas, at Arkansas, he was coming in right after John L. Smith. I wouldn't want to coach after him. Ash was trying to fix the nation's 116th ranked pass defense. While he had similar talent to Wisconsin (recruit ranking wise) he yielded a below average pass defense (73rd.) But, that's an improvement from 116th. The problem, again, is that Ash is walking into a poorly coached OSU unit and has to "fix" the problem. He didn't work wonders at Arkansas, though he did show improvement. Maybe OSU can expect a similar improvement from last year's 112th ranked pass D.
Has anyone followed Ash's career closely? I'm confused by the numbers I see. His secondaries have ranked all over the place. I'm worried that his only decent years (the Wisconsin years) were because the Big Ten is not known for advanced passing attacks.
Here are how his secondaries ranked going back to 2007 (as far back as cfbstats.com goes)
2007-SDSU- 93rd ranked pass defense
2008-SDSU- 69th
2009- Iowa State- 103rd
2010- Wisconsin- 26th
2011- Wisconsin- 4th
2012- Wisconsin-18th
2013- Arkansas- 73rd
Why was he so successful at Wisconsin, and not nearly as successful at SDSU, Arkansas or Iowa St.? I fear it's because the B1G doesn't feature prominent passing attacks. For instance, in 2011, when Ash had his best secondary, the best Big Ten Passing Offenses were Northwestern and MSU (38th and 41st respectively.) The B1G didn't have any top 30 passing attacks. Not coincidentally, Wisconsin didn't play Northwestern, the B1G's best passing team, that year. MSU put up 290 yards and 281 yards the two times they played Ash's Badgers in 2011.
Has anyone followed his teams more closely and can explain why the stats vary so much? Was he integral to Wisconsin's success or did he benefit from not facing elite opponents?
yep. It's the same logic this board applied to Torrance Gibson. "Look, we're in great shape because we're in his top group even though he hasn't visited yet. I bet once we get him on campus, we'll vault to the top of his list." That was optimistic, but Gibson's recruitment doesn't seem headed in the right direction. I wonder if Michigan fans' optimism is equally misplaced.
KLS hasn't visited Michigan yet (to the best of my knowledge) but he is high on them. He has scheduled an official visit for their night game against PSU.
Yeah, but even a poor man's Pryor could be pretty sweet in a Tom Herman offense. I, for one, would really like to see what he could do.
NH, your observation that Meyer demonstrated an over-reliance on QB running/numbers mismatch is especially apparent in tight games. When the game is tight, he tends to shy away from other effective choices and double-down on the QB run. This past season, in games decided by fewer than 10 pts (tighter games), Miller ran an average of 18.6 rushes/game. In all other games, Miller averaged 10.3 rushes/game. Miller rushed 80% more often when games were tight. Opposing defensive coordinators likely prepare for this.
Often you can find success simply by going away from your tendencies on occasion.
I completely agree, especially since Meyer's "tendencies" in tight games are so pronounced.

I don't think the 2013 Iowa game is an example of clutch play from Miller. That quarter was all Hyde. The game was tied 24-24 with 2:30 left in the the 3rd quarter. Iowa never scored again. Ohio State had the ball at the end of the third quarter and the score is still tied. Then 90 seconds into the 4th quarter, Hyde breaks a long run to score the game winning touchdown. I guess Miller's handing off ability was clutch.
Anybody disagree with me? Ohio State was in clock killing mode the entire 4th quarter. (well, the last 13:24) Miller was 3/5 passing, for 12 yards in the 4th quarter. Also, on his last "real" run of the game when all OSU was trying to do was run out the clock, Miller fumbled and Evan Spencer recovered. Miller rushed for 35 yards that quarter. Hyde rushed for 70 and scored the only OSU touchdown.
He has zero MAC championships. I...I just can't take him seriously.