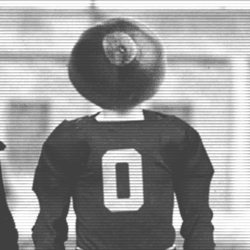 rock flag and eagle
---
Member since 17 June 2013 | Blog
Helmet Stickers: 157 | Leaderboard
Recent Activity
Damn, that's a good comment.
That's so good-it should have been mine.
Andy Staples (Sports Illustrated) did a study a little while back about elite recruits that flip. (By elite, I mean he only studied the kids that were ranked in the Rivals Top 100.) Basically, recruits who flip have a higher washout rate than those who stay loyal to one school.
http://sportsillustrated.cnn.com/2012/writers/andy_staples/01/20/commitment.project/index.html
The decommitment numbers do tell a story, though. Of the players who decommitted, 34.2 percent either failed to qualify, transferred or were dismissed...Of the players who made one commitment and stuck to it, only 18.7 percent either failed to qualify, transferred or were dismissed.
Staples does not speculate why recruits who commit to more than one school tend to washout at higher rates.
You're right. Recruits definitely don't like when coaches play hardball and put ultimatums in front of them. They probably wish every door would remain open for them until they were comfortable with their own decision. Coaches pressure recruits all the time and I think your use of "manipulated" is very fitting. I recall feeling uncomfortable when Meyer played that game with Bri'onte Dunn and told him (re: Michigan) "You are not going to visit there, and if you do, you better like it because that's where you're going to go."
Before he starts trying to outfit himself accordingly, he needs to learn Ohio State's actual colors. His response to the next question was:
SI.com: When do you get used to putting on Ohio State gear after so many years at Penn State?

LJ: .....I've got on the red and look forward to wearing it moving forward.
Penn State is now 2-6 in Big Ten play, with wins against Ohio State (1/29) and Nebraska (1/23)
They play Ohio State for the second time on February 27th.
I don't think Carolina was questioning UC Irvine's academic chops. By saying "bringing up...from the minors" and "we bring in someone who's never been in charge of a university of any size" Carolina meant (I think) to imply that Drake isn't a current sitting president at a University and that OSU should be able to poach a top dog from another research institution.
However, I don't think Carolina realizes that the "Chancellor" position is the University head at UC Irvine. Each UC campus has a chancellor, and Janet Napolitano is President of the entire UC system. The Chancellor is the top administrative office at UC Irvine, so it's wrong to say Drake was "never in charge."
Wow. That's impressive. But, since they are WR in an Urban Meyer offense, all I need to know is if they can block for a running QB.
Aaron Rodgers (2003-04) did not pass to DeSean Jackson at Cal (2005-07).
bamas offense wasn't the juggernaut it usually is this year
Mgoblog confirmed that Nussmeier was encouraged to leave. I'm not disputing that part of your post. But, I don't think you have your facts straight about Alabama's offense. Nussmeier's two year's at the helm were the top two of Saban's tenure in terms of yards/game and pts/game. Alabama's offense from 2007-2009 was so far below what it is now, it's not worth showing the stats. But:
2013- 454 yards/game (Nussmeier OC) 38.2 pts/game, Offense FEI 9th nationally
2012- 445 yards/game (Nussmeier OC) 38.7 pts/game, Offense FEI 5th nationally
2011- 429 yards/game (McElwain OC) 34.8 pts/game, Offense FEI 11th nationally
2010- 444 yards/game (McElwain OC) 35.7 pts/game, Offense FEI 3rd nationally
They averaged more points/game and more yards/game these past two years (Nussmeier's years) than anytime in Saban's tenure. It's clear that this offense hasn't taken any steps back under Nussmeier. In fact, all indications are that Alabama's offense has remained extremely consistent the last four years, always hovering in the top ten of offensive efficiency. You basically said that this year's offense didn't stack up to other years, but that is false.
Perhaps Saban felt that Nuss underachived with the talent on hand and a senior McCarron. But, he certainly didn't underachieve relative to Alabama's recent history.
Fair enough. I shouldn't have assumed you comparing OSU and Stanford. The comment you agreed with (x1,000,000) did. I guess I should have directed my comment to that post.
Thanks for not responding with the impetuous click of a mouse, but rather with a fair comment.
I personally don't think Stanford has been overrated. I think David Shaw is very overrated, but not Stanford. When I watched Harbaugh roll out extra heavy sets, or run power on third and short, I always thought "Damn, that's bad ass." When I watch Shaw do similar things, I just feel like he's doing a gimmicky version of Harbaugh's bad ass-ness. An impression of Jimmy H, if you will.
I don't think it's unreal. Stanford finished ranked higher than Ohio State this year (AP, tied with OSU for 10th in the Coaches poll) and they return more starters than Ohio State (15 to 13).
Both OSU and Stanford struggled in the same area: pass defense. But, Stanford was young and will return all four starters. OSU only returns two, and they are losing their best DB. Stanford will likely improve on pass defense next year due to returning experience. OSU? Who knows what they will put on the field.
Even if you don't agree with Bovada odds, it seems a stretch to call faith in Stanford "unreal," considering that they performed just as well as OSU this year and return more proven commodities.
You were correct. They held Hyde to his lowest yards/carry (4.0) all season. They did the same thing to South Carolina's 1000 yard rusher Mike Davis. They also held Andre Williams to his 3rd lowest ypc of the season.
This performance wasn't surprising or an anomaly. Clemson led the nation in tackles for loss this year and Beasley is their best lineman.
The top defensive lineman in the Big Ten in tackles for loss and sacks was Randy Gregory (Nebraska) with 16 tackles for loss and 9.5 sacks. Ohio State didn't play Nebraska, so Mewhort didn't have to face the Big Ten's best. The second best B1G lineman in these stats was MSU's Calhoun (tied with Noah Spence). He had 14 tackles for loss and 7.5 sacks. That's the best that Mewhort, and OSU's line, faced.
Beasley is miles better than Gregory or Calhoun. He finished the season with 13 sacks and 23 tackles for loss.
Mewhort hasn't faced anyone this good in the B1G and his inexperience showed.
Prognosticative quote from Beasley, Jan. 1, 2014
"That gave me confidence that if we swarm to the ball the way Michigan State played against them, there isn't going to be a doubt that we're going to get the win," Beasley said. "Our strength is getting in the backfield and getting tackles for loss."

http://www.cleveland.com/osu/index.ssf/2014/01/the_play_that_haunts_ohio_stat.html
Beasley had a sack and four tackles for losses against the Buckeyes.
*ingestion
An accidental injection?
Wisconsin doesn't play LSU until August 2014.
You started by saying defining big games is the first criteria. But, I didn't see a second. Don't you have to define "choking" as well? What do you mean? Is choking any time you lose when you were favored to win? Or, is choking when a team is noticeably playing under their potential because of nerves, or because the stage is too big?
OSU losing to LSU in the championship game didn't seem like a choke job. LSU was better at football. LSU was favored to win. OSU losing to USC in 2008 seemed like a choke job. OSU seemed intimidated. The stage seemed too big. They didn't seem like they belonged on the same field as USC. But, USC was still favored to win. Did OSU choke, or did the better team simply perform to expectation?
We can't really answer the question if the term "choker" isn't defined.
I hope the coaching staff has nightmares about this gaffe and makes sure this type of play calling NEVER happens again
It probably never will happen again. Meyer had the easiest playcall of his career (run Hyde, twice if necessary) and he screwed it up. A screw up of this magnitude can only happen when you have the odds incredibly in your favor and you blow it. Since Hyde is graduating, Meyer probably won't have a back of his quality again (can we all agree that Hyde is a once a decade RB?), and therefore Meyer won't have the near certainty of a first down in his back pocket at all times. A screw up like this won't happen again because Meyer won't have such easy decisions after Hyde is gone.
Chad, you wrote several times that one of the measures of the Fremeau Efficiency Index is methodological drives. The term is "Methodical" drives, as in teams that methodically move the ball down the field with precision passing.
It must by the political scientist in you that misread it as methodological. Put APSR down!
I wouldn't have a problem with Hyde being added to the list of finalists, but I don't think Mason is the one he should replace. It's obviously McCarron or Manziel.
Considering that Mason had more rush yards, more receiving yards, more all-purpose yards, more total touchdowns, more impact on special teams, averaged more all-purpose yards per game and led his team to a conference championship and the national championship appearance, I don't understand how you feel Hyde is more deserving.
Swap Hyde for McCarron.
(a) Auburn's offense is unbalanced, not one-dimensional. Yesterday, they had 5 different players with runs with of at least 20 yards. They attack from all angles. Malzahn's attack is not one-dimensional just because it's very run heavy.
(b) Yeah, you're probably right. But, I'd also assume that if OSU got that one-dimensional in the second half, Narduzzi, the best DC in the game right now, would have made adjustments. Just a hunch.
Inspired move by Dantonio.
Well, perhaps you're making assumptions about the voters' justifications. Maybe voters didn't give it to Dantonio because he did more with less. Maybe voters felt Dantonio coached better this year. He certainly coached better than Meyer tonight.
Last year's game was last year. I think MSU is better than last year. They wouldn't be 12-1 if they were the same as last year's 7-6 team.
Auburn has a good football team. Probably the most impressive rushing attack in the country.