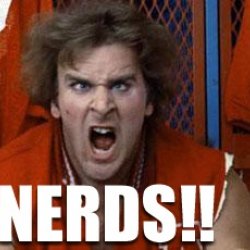 robb1379
---
Member since 23 March 2013 | Blog
Helmet Stickers: 65 | Leaderboard
Recent Activity
Obviously photoshopped....the dog leash is suspended in air
Continuation of the above question...Any chance of any commitment from any recruit to the good guys at the opening?
"On the other hand, who's to say that people can't enjoy a little kazoo action if they want at halftime?"
Finally, a forum in which I can showcase my wicked kazoo skills
And yet the only one to call my phone has been my mom
I think the pregame quick cals are stupid. I like the fan involvement. But how much does it really pump up the crowd when the team heads to the locker room right afterwards?
Agreed. Imagine the start of a bad ass enterance song while the jumbo tron shows video of the locker room door. The doors burst open revealing the entire team lead by the captains. 108k fans going nuts as the team march down the ramp WWE style.
Excuse me, sir. Seeing as how the V.P. is such a V.I.P., shouldn't we keep the P.C. on the Q.T.? 'Cause if it leaks to the V.C. he could end up M.I.A., and then we'd all be put out in K.P.
Really? I've never known Jude Law to wink like that.
"Rod Smith is dealing with a heavy academic load"
This had me raise an eyebrow. Obviously he didn't accidentally sign up for too many classes that conflicted with football. Anyone have any insight on this?
THERE CAN ONLY BE ONE !!!!