Rob Reese
---
Member since 02 July 2014 | Blog
Recent Activity
Buckdubb, my favorite 11Wer. Looking forward to your work from this game on YouTube my man.
Michigan fans are already saying Durkin was asleep at the wheel and did not prepare for us since his mind is on Maryland LOLOLOL
So, Maryland is the reason Harbaugh was Urb's prison bitch today. Riiiiiiiiiiight. I guess the "no head-set" excuse is passe now. Silly, Michigan.
While things still needs to play out for the complete bowl picture, so far it looks like it's unanimous either way;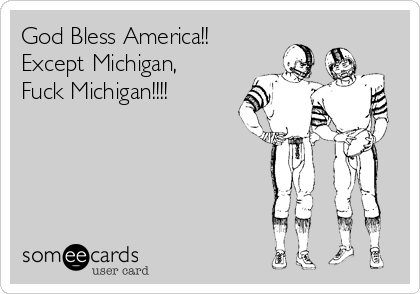 When you're hated, you're doing it right.
Elliott grabbing a selfie with 105,000 sad, sad faced Michigan fans. Priceless. I want that pic. I'll blow it up into an 8x10, track Eze down, get that signed, and place it in my man cave for all to join in and laugh at UM with me.
I'd pitch a tent all week for a U of Florida match-up 8-)
The only game/bowl that would rival the media hype for that game -- Urban returning to bring the wood to the UF -- would be the actual national championship game.
This is the funniest thing I've seen all week. lol. Just went up there, in their house, put our feet up on the coffee table, drank their beer, made out with their women and said "SHUT BITCH, GO FIX ME A TURKEY POTPIE!"
Considering how poorly I felt after last week, just give me a decent bowl against a decent SEC team and I'll be as happy as a porcupine in a brier patch. We've plenty of national titles in the future. I'm going to wear my Ohio State University 2002/2014 national championship t shirts all winter, and love every moment it, baby.
This dunce has the charisma of a 3 day old skid mark. Does he suffer from concussion syndrome? Serious question. The shit is no joke, but every time I see him do a presser or anything that includes public speaking, I can't help but think he has some sort of undisclosed, unfortunate illness. Michigan/Ohio State University bullshit aside, something is not right with the man. Mark my words.
DJ, if you were on Reddit, I'd sticky you. This is how you get stickied. You're done the impossible; you've satiated my thirst of Wolverweenie tears.
I love you, man!
Lol
Reminds me of that UM fan that likes to come in here and try to convince everyone how the cupboards are so bare in UM. That the mighty JERMEE HERBER is doing all this with nothing at all. He sidesteps the indelible fact that Hoke reeled in top 5 and top 10 classes..EVERY..SINGLE..YEAR..Period.
Poor Michigan.
My dad tells me about it sometimes, but I think he's forgotten, too.
Disgusting. But nearly put me in fetal position, cackling. I approve.
Preach brother! The seniors could've taken the what appeared to be the far easier route, and didn't. Love those guys. Better luck in your next endeavor, Kalis.
Frantically adding Ramzy back to my Twitter account.
Absolutely, Ramzy. Concur.
Boom. Walk off, 3 run double.
Such is life as a modern day wolverweenie. Cue the "all time wins against high schools", "11 championships we awarded ourselves in 1890, 50 years after the fact" rhetoric.
Every other team that's hired him has more or less shown him the door, or asked him to not return. #HoneyMoon'sOver,bruh
I've one question for those meatheads at MGOBLOW; Who's got it better than us, BRO?
All UofM saviors are ran out of town in 3 -4 years. This one, savior number 3 or 4, has about two seasons left before they come looking for blood. #HarbaughEffect