Rob Reese
---
Member since 02 July 2014 | Blog
Recent Activity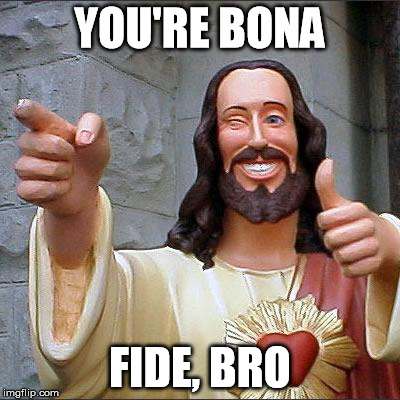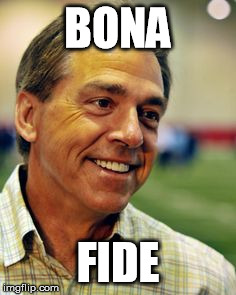 But...but....Devin Bona Fide Smith beat him! I bet if I search real hard I can find a quote from bona fide expert Devin Smith that backs my bona fide theory. I'm Bona Fide bruh-bruh. You bona fide?
Buckeyes are in the playoffs
No.
Nick Saban is an expert. A bona fide expert. How dare you little people question a bona fide expert. I just feel so sorry for all of you.
Since 2002, we're in a national championship game every 4-5 years. Think about that. I can name 126 FBS schools that would give their L and R testes, their first born and their gf to be a part of that. This isn't Michigan or some other garbage pretender. This is The Ohio State University and we're always in the conversation and always will be.
That's just kicking dirt in ESecPN's face.
I think there's a lot of truth to this. Sour grapes? Maybe. But he's got ESPN squarely in his sights with those tweets and thinly veiled insults.
My pleasure, man. The Golden Era isn't over, it's just beginning.
It looked like the TTUN players didn't want to tackle anymore towards the end of the game. It also appeared that our players continued to have punishing hits all the way until the end. Did anyone see the same thing?
Yessir. They quit.
I've never been to AA, and God willing, I never will. But having been to half a dozen UM games as both a student and alum, I've never witnessed harassment of UM fans aside from mutual, friendly barbs. "Michigan blows!" "At least we don't have sanctions and going to a bowl!" "At least we've won championships after space travel, helmets and women's suffrage!". That kind of trash; harmless. Of course, if that kind of banter gets to you, you should definitely not be visiting a rival's stadium in the first place, then. In fact, I sat in C-9 (their section in the Shoe) in 2012 and they were treated with embarrassingly gentle hospitality and sportsmanship. It almost made me ill it was so kind.
Obviously, YMMV. And it appears it greatly does.
Bump, for the most important thread of our season thus far 8-)
Thats pretty funny cuz I actually was with Jennifer last night.
I sure hope it was after me. But, was it K Ritter + J Lawrence at the same time? 8-)
C'mon, bruh; swing for the fences!
Seriously, is there any vetting of this stuff anymore?
Twitter has removed vetting and the vetting process from the American vernacular. I hooked up with Jennifer Lawrence and Krysten Ritter last night. My Twitter even says so.
Gained like 100 folololwers in abt 20 minutes.
It's absolutely Dantonio and Meyer. Michigan v Ohio State is pomp, pageantry and tradition. History will reflect on this time we're living right now, as "Dantonio v Meyer", nooooo question.
Dantonio finds the diamonds in the rough, and develops 2 and 3 star studs. Harbaugh inherited a team built on top 5 and top 10 recruiting classes and was a hair's width away from being a 5 loss team today -- 6 losses if he chokes in the bowl.
#42-13 #Who'sGotItBetterThanUs? #OhioStateDoes
This is a strong post. Don't forget, the allure of the NFL is going to rape the Buckeyes this offseason. Although, it should be noted, after 2013 season we lost 4 OL, our RB (Hyde), our starting QB for the season, our leading WR (Corey Borwn) and our two best defenders from a defense that left much to be desired (Roby and Shazier) and went on to do the unthinkable - win the damn national championship.
Thank God we have Urban freaking Meyer.
They knocked OSU out of the CFB playoffs without Cook, in OSU's own house no less. All programs lose Heisman candidates. Dantonio will be just fine.