rkylet83
---
Member since 17 June 2011 | Blog
Favorites
COLLEGE FOOTBALL PLAYER: Braxton Miller
NFL TEAM: Lions
NBA TEAM: Spurs
MLB TEAM: Tigers
Recent Activity
Mayfield will play. And we'll still win.
Our TE legacy is not utilizing them unfortunately.
The silver helmets full of Buckeye leaves would have looked epic that day.
Baker's pick vs Michigan was enormous after they had all of the momentum up 10.
I agree Boeckman wasn't great but he was better than Herbie. He also had the impossible task of following Troy Smith! I think putting Herbie on the list opened it up for a lot of QB's to be on the video!
Totally forgot Rex Kern...shame on me, but even more shame on the video!
Leaving off Pryor is beyond ridiculous...but no Todd Boeckman? He did have a better career than Herbstreit and he led us to a national title game.
This whole thing is getting ridiculous. The longer they drag this out the the worse it is for Zeke regardless of the result.
Like others have said...is an 8th grader coaching Michigan football?
I look forward to Pryor making the Pro Bowl next year as a New England Patriot.
Tom Brady throwing TD's to Terrelle Pryor? The hate would be off the chart!
Heaving up hail mary passes won't work as well in 2017.
Even after the shitshow that was 2016 MSU Football...they still can't be considered a trap game. Dantonio seems to prepare for our game more than any other. Since 2011 his team has had their best performance of the season against us almost every time.
Still going to lose to Ohio State.
Curtis Samuel TD run in overtime and the proceeding meltdown in AA as they watched their senior laden team and best chance to beat us go down the drain.
Wasn't Ole Miss ranked like #9 when they were 3-4?
Michigan loses.
Decided Schematic Advantage
This program needs to disappear yesterday.
I don't think anyone else stacked up prior to this game, but now its not even a question.
He should have gotten the black of the o removed some to lighten it for a better cover up. That just looks terrible...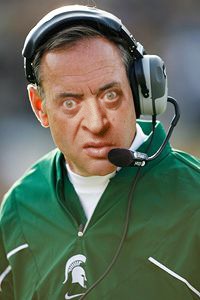 I've always liked the Patriots. I'll be rooting for them Sunday. I also laugh at the fact that Michigan couldn't figure out that they should start arguably the best QB in history!
JUST MAKES SENSE. When I hear "New England," I think stodgy people with an absurd fixation on the past and an inflated sense of self-worth, which makes it the perfect recruiting ground for Michigan
That was just a beautiful statement.