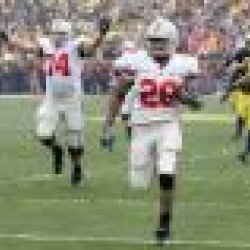 rkylet83
---
Member since 17 June 2011 | Blog
Helmet Stickers: 1,947 | Leaderboard
Favorites
COLLEGE FOOTBALL PLAYER: Braxton Miller
NFL TEAM: Lions
NBA TEAM: Spurs
MLB TEAM: Tigers
Recent Activity
He's dead, so I'm sure he didn't mind.
I did sir...he's my cousin
I agree that Pryor would have been amazing in Coach Meyer's offense. His passing was still raw (probably due to having a video coordinator QB coach) throughout much of his career as a Buckeye though. I like what I see from Gibson's arm more than I did with Pryor's at the high school stage.
Getting Gibson in my opinion would be even better than Terrelle Pryor. Not on paper/recruiting rankings, but just as an overall QB. TP was great in H.S. and Ohio State, but I actually think Gibson's skill set is much better; he just a bit smaller. Time will tell...
The Penn State uniforms look like Spaceballs ripoffs.
Great list. My list is as follows;
2006 - #1 vs #2 the stars aligned for an epic game. It was the high point of the Tressel era.
1970 - Revenge for 1969. The stadium looked insane that day!
2002 - After being undefeated and losing in 1993, 1995 & 1996 we finally got over the hump.
1972 - The good guys upset an undefeated Michigan team; arguably one of Bo's best.
2013 - An epic comeback bid get crushed on the final play.
I thought having Bane as a nemesis made Batman look pretty weak...I mean he's just a roided out jock in a gas mask right?
I park in the Dunham's or Sears parking lot on Michigan Ave. Its a quick walk towards the stadium and you can get out quickly and miss traffic.
I like Beggars Banquet. They are reasonably priced and usually not jam packed with drunken idiots on gameday.
I would avoid dorms, frat house areas, etc. You would have to go out of your way to get to them though.
Go Bucks!
I think the B1G is on the rise, but right now I have to vote PAC-12. Stanford, Oregon, UCLA, Arizona State, USC, Washington and Arizona are all great to good programs. 5 teams had 10 or more wins, 6 teams had 9 or more and 7 teams had 8 or more. They are a really solid conference.
This is really unfortunate. I hope he learns a lesson from this and doesn't end up somewhere really bad.
The next step for Braxton is to throw to spots and put more touch on the ball. Outside of that not much more can be asked of him. He's a great QB. He has made probably 50 more plays out of nothing than errors. He's been as clutch of a performer as I've seen since Troy Smith.
The 2014-15 Buckeyes need to have a defense that resembles the defenses of the early Tressel years. If our offense had a defense that could stop the pass and tackle in space we would have won the 2013 Title Game.
Before I could make any kind of judgment, I would have to see the regulations in their private lot. I can't understand why they would have a private lot for football players only, and enforce it so strictly knowing full well that players would be spending hours using it. If the ticket was for double parking or not having proper ID displayed or such than I could understand a violation. If not this looks like typical nickel and dime bullcrap that parking enforcement is famous for all over the country.
Wow, if he keeps growing he can just pick up the defensive lineman and throw him down the field or out of bounds.
It's really hard to rank them, because each Coach brings something special to the table. For innovation, I'd pick Brown. For motivation, I'd pick Coach Hayes. For game plan/recruiting I'd pick Coach Meyer. For consistency, I'd pick Coach Tressel.
I think he'll play corner mostly. Unless he is needed on the offensive side of the ball (Ted Ginn 2004), I see him being a great shutdown corner.
The New Hoker should replace the monocle with a donut or giant chicken leg.
I'd have to say it would be epic stupidity for him to put AFL on his resume if he never played. He had to know someone with knowledge from that league would connect the dots.
He actually kind of reminds me of a young Joe Montana when he runs. Very shifty and quick cut back for a tall guy. I thought his highlights were great. He has good mobility and a great arm. Good pickup.
Seriously, why does a super talented kid throw it all away. Its really sad. I hope he lands on his feet somewhere else. Wow, I had really high hopes that he was going to be a monster this season. We REALLY need some good news and now.
I just watched some highlights...wow! Phenomenal touch and ball placement.
Trap or not, one thing for sure is Cincinnati will challenge our defensive backs all day.
Damien Harris reminds me a lot of Carlos Hyde. I'd love to see him in scarlet and gray.