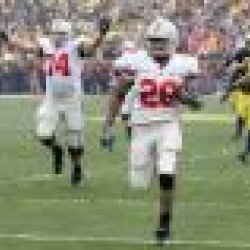 rkylet83
---
Member since 17 June 2011 | Blog
Helmet Stickers: 4,951 | Leaderboard
Voting Record: 219 / 3
Favorites
COLLEGE FOOTBALL PLAYER: Braxton Miller
NFL TEAM: Lions
NBA TEAM: Spurs
MLB TEAM: Tigers
Recent Activity
How has he earned it over Cardale or J.T?
It's absolutely possible. Remember for the vast majority of last season we had a freshman and sophomore handling the ball at the mesh point.
I'll take scoring more points and gaining more yards, than 3 and outs and playing field position if it only means a few more fumbles.
HB, but he'll play more QB than anything. When he comes in, teams will have to completely change back to loading the box and gearing up to stop the run...leaving guys open downfield often if he passes. I typically don't like two QB's but you cannot keep talent like this on the bench.
Based on what I've read it seems like he'll be headed to the good guys. That said, it's always good to looks around and make sure you're making the correct choice for yourself. I'm excited to see if we'll be getting another Bosa!
Probably Herman. Fickell will be forever and somewhat unfairly judged by 2011. If Herman is wildly successful at Houston and elsewhere I would be shocked if he didn't get the call when Coach Meyer decides to call it quits or move on to something else.
Is it me, or are we REALLY making a huge emphasis on recruiting in Michigan...more than ever? Either way it's awesome to see us taking the fight to their backyard!
This win is seriously almost as great as the national title game! It's just so great that it continues to eat away at them everyday. The gift that keeps on giving the whole year!
That 1993 squad might have been Lou Holtz's best. Beating that Florida State team, even at home was incredible. Boston College always seems to be a spoiler team; like a certain team up north.
Had we obtained a real offensive coordinator under Coach Tressel we probably would have won another title under him.
Talent wise, the 2005 team was stacked and probably better from a pure ability perspective...but they did not perform like the 2014 team did and that's all that matters in the end.
Nebraska's 1995 squad was the best I've ever seen, and statistically they were off the charts better than anyone else that's played in the modern era. It would be very difficult to emulate that; especially with the changes in offenses today. Their worst game was a 35-21 win over a ranked Pac-10 opponent. The eye popping stats and achievements were simply remarkable.
If we could go 15-0 I think it would probably vault us up there, but I'd gladly take another 14-1 national championship!
I think everyone can agree that regardless of whether Braxton wins the QB job or not he'll be on the field.
Don't bet what you can't cover.
Oh...the fall out from that loss is the gift that keeps on giving. It is seriously eating away at them every single day. Think about the fallout if Alabama were to lose to us again?
I thought it was interesting, but felt a bit rushed. Not a lot of bluster or fireworks which is a trademark of the show.
We know we're good enough to; it's just a question of staying healthy and being physically and emotionally ready for the moment late in the season.
MSU will be. I don't think that they'll beat us but I do think they'll get by Oregon early. That should setup a monster atmosphere in Columbus!
Hoke turned around both of those programs. He started 4-8 and ended 12-1 at Ball State. He then went from 4-8 to 9-4 at San Diego State. Same with Rodriguez. Neither of them are in the same league as the elite college coaches today, but they certainly aren't terrible. Accumulative record doesn't mean as much as progression. Both coaches left their places way better off then when they inherited them. Michigan has a culture problem that they need to fix or Harbaugh will be just like them.
I disagree, Hoke and Rodriguez have been successful everywhere else they've been. Why would they all of a sudden stop being good coaches? Michigan right now is like the man/woman who's gotten divorced twice and keeps blaming their spouse...maybe it's you Michigan!
They recruited well as far as star ranking is concerned, but I think they didn't evaluate talent all that well. When I watch their players I don't see the type of athletes that we have or the type of athletes MSU has. Harbaugh is a good evaluator and recruiter, but the reason why I say 4 years is because MSU has already established themselves and Michigan has a long way to get the talent, develop the talent and change the culture that has eroded over the last 10 years.
MSU owns Michigan right now. I don't see that changing for a while. It'll be at least 4 years until they get on equal ground talent wise.
I think in the mind of Michigan fans the pickle and girlfriend letter thing is. Perpetual 10 year olds.
Seriously, how annoying have Michigan fans been since the got Harbaugh. They're so hungry for any win that claiming their coach is cooler is something to boast and be proud of! Meh, I'd rather win football games.