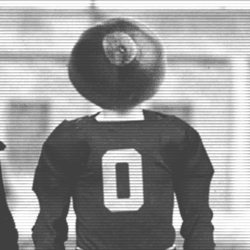 rider1
---
Member since 30 August 2010 | Blog
Helmet Stickers: 272 | Leaderboard
Recent Activity
I am uncharacteristically ambivalent about Q. Go, stay, i don't care. I never "got" the guy. Sometimes spectacular, he often disappeared in games. Never sold out on D...I don't know how to feel about him. Loved D Thomas...
Not a fan but Roy Wiliams deserves some consideration. His winning % and tournament record matches up with anyone mentioned.
Marcus Hall has come a long way since his sophomore year. Warriner's impact can't be over-stated. I'd love to see him in a Brown's uniform. The UM game incident was unfortunate for him; I'm guessing as far as on the field, I might have reacted exactly the same. I wish him the best.
I guess I'm old school but I can't effing stand these teams with no football tradition acting as if. I detest Oregon more than Michigan in the big scheme of things. Clemson is a footnote in the history of college football. Good God are they irrelevant. I hate them.
8 weeks since having arthro & a major tendon removed from my ankle-just now going partial weight bearing. Surgery is nothing-recovery is a bitch-sitting around with my foot propped up above my heart, not fun. Invest in Netflix or some such. Keep your head up- March Madness is on the way! Take care.
Is it just me or is Rich Rod likable again? I hope he becomes extremely successful.
In addition to Ferns, the OVC has produced some good football players. Tim Spencer and the Moxley bros come to mind.
Don't forget about Keith Byers, 3176 yards, 46 TD's, 93 ypg. He was amazing.
They're still selling tshirts, posters, etc. in Boone from the last game. Go Mountaineers!
Thanks, great article! I appreciate a well written interview.
Thanks for the educated response!
We get Boyd, we don't get Brax. Things happen for a reason.
I know nothing about wrestling. In your opinion, what kind of success will Nick Tavanello have? He was a great high school wrestler and I wish him the best. Thanks in advance.
Amen on the QB comment. Blackledge nailed it last night, inconsistent QB play was responsible for Brown's downfall. Seeing Case McCoy last night made me value our guys even more. How can you NOT land a decent QB every year in Texas? Kenny Guiton is way better than their starters.
Seemed to me that the passing efficiency went down with the temperature and weather conditions.
If we are so slow, how are we going to have many players who will compete at the next level?
11 Baylor bears currently in the NFL, 47 Buckeyes. Brandt is an idiot! I like what Briles is doing and I respect their football team, but would LOVE to see them on any field.
Upvotes for the BTILC quotes! Love that movie.
Knock the ball down! What the heck- well coached 8th graders know this. I like Richt, but it is hard to feel sorry for UGA today.
butch jones $$ shocked me the most!!
Feel terrible for Bogard. Keep your head up young man!
Voted no. I hope they can turn Baugh around. Would rather focus on the O line with our schollies. Hubbard, brown are options... If UFM identifies one, I'm great with it, if not, meh... Make it priority 1 next year. A bit surprised with Gesicki's choice with Brenneman and 6 total tight ends at PSU, but hey, good for him. Hackenburg seems like a star in the making and they utilize their TE's very well. Baugh was supposed to be a game changer when we signed him, give him some tough love? In Urbs I trust. Go find a power forward (BB) that can stretch the field and develop him.
Keep your head up young man- AND get well soon.