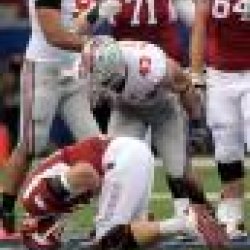 Rfahncke
---
Member since 21 June 2011 | Blog
Helmet Stickers: 161 | Leaderboard
Recent Activity
I call for a mandatory Quarantine! Keep them away from the starters!
Beth Mowans is awful!
AWFUL!! AW-FUL!
AAAAWWWWFFFFUUULLLLL!!
mute and radio it is...
No big deal....Urban was gonna break that sh*t anyway!
I have this poster proudly displayed at home for any hater who dares to question the call!
Lax is really exciting to watch and its cool for The Bucks to be making some noise. I hope they can bring it home!
Cue never-ending ESPN breaking news story in 3....2....1....
I'm going to go ahead and assume "Xenia" was an "I can't find crap else that starts with an X, so I'll mention this crap hole of a town most people try and pass through at warp speed and try to sugar-coat it" type thing.
I understand the sentiment here, but remember, we used to have the matte or satin finish and now we have the metallic. Nobody complained about that move. I think, looking back, we'd see it as a natural thing to do.
These are two-Heisman worthy!
Have you earned your buckeye today?
Audra has!
This is awesome!
My wife is going to be PISSED! One of our good friends is getting married that day. Two years in a row she's been excited for this and will have to miss it again.
Sorry. Late to the AC accolade party.
Or because His turnover per possession ratio is ridiculous.
Or his lateral quickness is absurd.
Or he ALREADY owns the OSU steals record.
Or he can solve a rubix cube in less than a minute.
Or his GPA is >3.8 in pre-med
Or he's arguably the best on-ball defender we've ever seen in the NCAA at his position.
Or all of the above...and more.
or he's white. Smh.
Thats EXACTLY what this reminded me of. Lol!
Lol! I still have that ridiculous hat stuffed away in an old storage bin somewhere.
That's class. Those kids will never forget that and will respect him in the future for it. Are we sure he's going to Wisky with that attitude?
As a Cincinnati resident, it's more like....
#pooruglyredheadedstepcousinwithalazyeye
...I'm in full support of this. Hope it happens.
I'd bet the house that these helmets have at leasta few buckeye leaves on them similar to the way Oregons chrome helmets have wings in them. Just a hunch. If so, it will be one badass hunch!