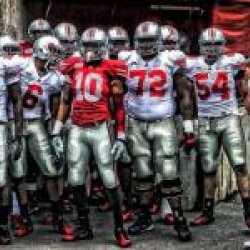 RenegadeBuckeye
---
Member since 26 April 2013 | Blog
Helmet Stickers: 230 | Leaderboard
Recent Activity
I'm sorry to report: 9Route, like the cake, was a lie.
Portal reference?
That pic doesn't look real...I'm calling bullshit.
Not to mention, these kids aren't cutting weight like a wrestler or a UFC fighter would before they step on the scale. We all carry around a ton of water weight. That being said, I don't care how much he weighs, how much stronger did he get? Beach muscles don't win championships.
But wait...there's more...
Pfft...just more progressive propaganda during an election year.
Gallery: CNBC's worst states to live in
8. Ohio
The Buckeye State's industrial heritage has left a mark on its environment, with some of America's dirtiest air and one of the worst records for toxic releases, according to the EPA. Ohio also has relatively high rates of diabetes and obesity. People still like to visit, though. Some 357,000 international travelers made Ohio part of their itinerary in 2012, according to the U.S. Commerce Department
Ohio is now going to be attacked by the prog media just because Cleveland will host the RNC. Lame...so lame.
The fireworks are just a temporary fix until Brandon figures out how to fill "The Big House" crust with cheese...then you'll see his greatness.
I was thinking about doing a hype video and possibly highlight videos of each game this season. I know some fans like them and others don't. Do players even care about this kinda stuff?
Just a bit of hyperbole with the recruiting genius comment. Quite honestly, if you consider AG as a mentor, then you really can't be taken seriously.
Hoke said that next season he will be "front and center" with Nussmeier and defensive coordinator Greg Mattison, as both will be alongside him on the sideline.
Apparently Hoke's coaching prowess is so massive that he needs Nussmeier and Mattison alongside of him just to keep it from spilling over his belt...or maybe that's something else. Either way, good luck with that.
Texas has blown it a lot recently...(insert joke here)...and it doesn't sound like the beginning of the Charlie Strong era is going over so well either. Maybe UT and UF can trade their HC's. The former HC-in-waiting, Muschamp, goes back to Texas, and Strong becomes the Urban disciple that will return UF to their former glory under Meyer. Everybody wins.
Also, Dino will never leave Sparty. As long as there are talented athletes with marginal academic ability in Ohio, he'll always have a fresh supply of recruits. (This will be a learning moment for me. My mind tells me to delete this sentence because of a potential backlash...but my mind also doesn't give a shit...it's kinda like the left twix vs.the right twix thing, but not really).
Sparty currently owns the score of 29-6 on the ugly helmeted ones.
I bet he looks awesome in scarlet and red.
If I'm not mistaken, the first time "Buckeye Swag" was played by the band was @ Sparty after a victory...I'd love to see a repeat performance under the lights.
I'll donate every penny I have on the behalf of Matt Brown.
Just curious...who would Baker have to battle for playing time against at either UF or tOSU?
Well make up your mind dude...did you get drunk to watch the WC, or just because the weather was nice?
You should be more ashamed about getting drunk in the middle of the afternoon just to watch soccer. It's nothing but a third world pussy sport, child's game.
I think the person that drew the yellow stripe down the middle of the helmet might have parkinson's...so let's be nice.
It won't be long until Homeland Security is busing refugee children from Detroit across the border into cbus.