RedsBuckeyeBoy
---
from Rayland, OH
Member since 13 September 2012 | Blog
Favorites
SPORTS MOMENT: 09/28/2012 PNC Park in Pittsburgh, PA: I personally witnessed Homer Bailey toss the 15th no hitter in Cincinnati reds history. I hadn't even planned to go to the game, but a friend gave me tickets since he couldn't attend. Never thought I'd get to see a no-no in person!
COLLEGE FOOTBALL PLAYER: Joey Galloway
COLLEGE BASKETBALL PLAYER: Scoonie Penn!
NFL TEAM: Pittsburgh Steelers
NHL TEAM: Favorite hockey team:Emilio Estevez's Mighty Ducks
NBA TEAM: None. College ball for me, please!
MLB TEAM: Cincinnati Reds
SOCCER TEAM: Real football is primarily played using your hands
Recent Activity
Nope. Princeton claims 28 national championships, but those all came before the current system too.
Has there ever been a more divisive pizza than Dicarlos? People either love it or hate it, but there's really no in between.
Yep. Browns the crust and gives it a bit more crunch while adding a touch of flavor. (I think I may have a problem involving olive oil, pepper, and oregano. I eat it on a lot of things.)
This, on a pizza pan drizzled with olive oil (and a little more on the outer crust), oregano, black pepper, and Parmesan cheese. Bake it at 405° for 24 minutes.
I mean, you know, when you have to eat frozen pizza.
I found this flowchart about whether or not someone should tweet a recruit. I suppose it works just as well for current players too.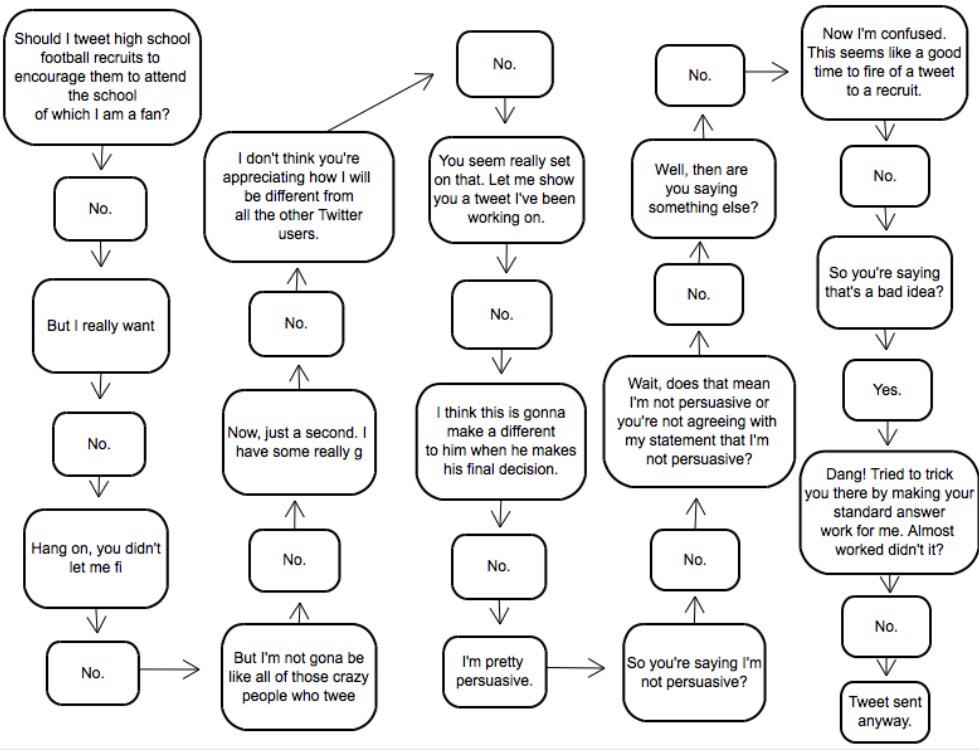 There's no way that any Browns fan believes that any of their draft picks (especially a QB) will pan out. Is there?
His style was so ruff neck, that he changed the future of the game. (I'm probably one of about 8 people that had this game for SNES.)
"Wait, Ohio State won a national championship?"
- Veerrry Casual Fan
Jim Harbaugh believes in developing a "meritocracy", so there's nothing wrong with any of this.
If I take my contacts out, it looks like the stands are filled with orange-clad fanatics!*
*The University of Miami, showcasing quality football for those individuals that require corrective lenses, but refuse to wear them!
What did Joey Bosa ever do to you?! Why would you wish becoming a brown upon him when he could go to any of the other 31 NFL cities and become a star?
I'm also going with Pace. There are a lot of guys to choose from, but none of them are the hulking block of humanity that is Orlando Pace.
I propose that we put THE in charge of Big12 expansion!
That's completely understandable. I guess the good news is he was charging it at the time he took the screenshot.
In fairness, the phone of a high profile recruit is probably utilized quite often with texts and calls from coaches, friends, and family members all wondering where they're going to go to school. Heavy usage will drain a battery pretty quickly. Nice catch on that though. I hadn't even noticed it...but now that you pointed it out, I'm asking myself more questions. Why doesn't he have the battery percentage turned on? Why does he have orientation lock turned on? What's his wifi password? Oh, no! I think I've caught the OCD!
Well, don't I feel like a:
Long Live Mark Davis (1954-Present)
Yes, I know that isn't a picture of Mark Davis. It's Dick Van Dyke. Right now, I feel like a Dick (Van Dyke).
Well, I guess it's nice one, Mark Titus. HA! (I'm too old for twittering- get off my lawn, you whippersnapper!)
"He apparently likes liked the area so if they relocate outside of Cali, I could see them going there. Plus it is well known that Davis is was not the best businessman in the fold which was one reason why the chargers got the nod in LA over the Raiders."
R.I.P. Al Davis (1929-2011)
They may be more similar than you think. I heard that Dantanio is planning to practice shirtless this fall and he's also been searching for teenage boys to sleep with. I think Dantonio and Harbaugh are becoming besties...
Lorbach recorded a Trillion. 1 minute played and zeros across the board for the rest of the stats. HA! Well done, Johnny!
How is he a senior already?
Congratulations to Alabama on winning the CFP. With 4 championships in the past 7 years, they've added more trophies to their trophy case than there are teeth in the mouth of a typical Alabama fan! Well done.
That was pretty bad, wasn't it? Oh well. It's not like them scoring 18 (or 16 or 10 or however few) in a half will prevent me from tuning in to watch them play Rutgers Wednesday night. I'm still a fan, after all. I just suppose that my fandom has changed a bit over the years. The more seasons I watch, the more I enjoy the highs (beating UK was pretty amazing) and the more I can shrug off the lows (this season has already had a few, with a few more to come I suspect).