RedsBuckeyeBoy
---
from Rayland, OH
Member since 13 September 2012 | Blog
Helmet Stickers: 2,024 | Leaderboard
Voting Record: 3190 / 44
Favorites
SPORTS MOMENT: 09/28/2012 PNC Park in Pittsburgh, PA: I personally witnessed Homer Bailey toss the 15th no hitter in Cincinnati reds history. I hadn't even planned to go to the game, but a friend gave me tickets since he couldn't attend. Never thought I'd get to see a no-no in person!
COLLEGE FOOTBALL PLAYER: Joey Galloway
COLLEGE BASKETBALL PLAYER: Scoonie Penn!
NFL TEAM: Pittsburgh Steelers
NHL TEAM: Favorite hockey team:Emilio Estevez's Mighty Ducks
NBA TEAM: None. College ball for me, please!
MLB TEAM: Cincinnati Reds
SOCCER TEAM: Real football is primarily played using your hands
Recent Activity
I love the Reds and the Buckeyes. This seems like a great idea to me!
Pete Rose is a miserable, pathetic pile of human garbage, but the Hall is incomplete without baseball's hit king. Let him in.
I have the same symptoms, Johnny!
Oh no, it's spreading and I don't even remember being bitten!
pssst! Hey, kid!
Tell me your picks and I'll play them. If we win, we can saw the autographed floorboard in half.
Congratulations!
I lost a friend to addiction last May. He had been doing well for 8 months before he relapsed. I've never met you, but I'm proud of the work you've been putting in. Don't ever let your guard down. Don't ever talk yourself into thinking that something is okay when you know it isn't.
The nerve of some people! Don't they know that it's only acceptable to chat up a co-worker while you're both standing at the urinal?
Do they have decent big men? If so, we're boned.
A little place called the Ohio Stadium Parking Lot is the site where champions drink!
Every kid in Ohio grows up dreaming about the chance to drink for the Buckeyes!
He'd better be up at 5:30 every morning and working until midnight every evening. How else does he expect to ever challenge Urban F. Meyer and the reigning National Champion Buckeyes of Ohio State?
My kids, 8 and 4, just watched The Sandlot for the first time a couple of weeks ago. When they like a movie, they tend to watch it about 500 times. If they ask for "Frozen" one more time while we are finally starting to escape winter's grasp, I swear I will.....probably let them watch it again, but I definitely like that it is turning to spring and they want to watch The Sandlot now.

It was definitely this guy:
He matches the description and everything.
Do you mean Tracy Jordan (Tracy Morgan's fictional character from 30 Rock) or Michael Jordan (the 52 year old newly anointed billionaire)? Because I agree either way that he wouldn't help.
The "experts" all seem to be picking Cincinnati to finish dead last in the central. That sounds crazy to me, though I am an extremely biased Reds fan.
I just look at all the injuries to key players last year combined with the Reds going 22-38 in 1 run games and think they have to do better. 38 losses by 1 run is insane. No other team in baseball had more than 30 such losses. The average MLB team had 24 1 run losses.
Assuming Votto and Bruce are healthier, replacing Heisey/Ludwick with Marlon Byrd, and thinking the bullpen is much improved (rebound years by LeCure and Hoover and the addition of Badenhop and Gregg), I can't imagine them not winning more games in 2015.
I know they traded Latos and Simon, but they have viable rotation candidates (Cingrani, Desclafani, Inglesias, Maholm, Marquis). Latos was hurt most of last year and Simon had a great first half but was below average in the 2nd half. I'm thinking they're a WC team in 2015.
Buckeyes win big as the entire state of Wisconsin falls into catatonic shock the moment that the football team shows up to the game. Scientists will be baffled initially until they realize this is simply a defensive mechanism for the complete and total ass-kicking delivered in the B1G Championship.
3 days later, Kaminsky wakes up and softly utters "Are they gone now, Mummy?" That's right, he'll be so scared that he will spontaneously develop a British accent!
Shhhhhhh! You're going to get fired if you don't watch it!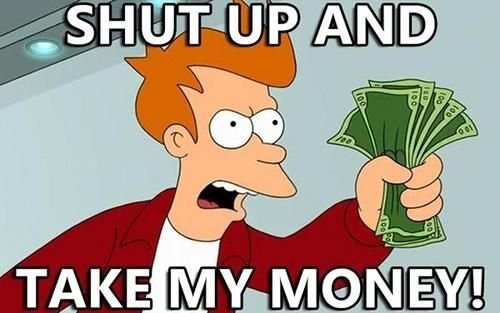 You're at 26 up and 10 down at the moment. (I upvoted, for the record.)
I've been burned on 11W in the past for not using sarcasm font. I almost used it with "Old Man McGuiness" just to be safe.

I don't use twitter, but my neighbor Old Man McGuiness tells me that it doesn't take all day to compose a tweet. "It's not as time consumin' as draftin' a hand-written letter!" he always says.
Leave it to the best sports site on the Internet to remind us that sports are a background spectacle in the game of life. I had never been so proud to be a tiny part of this great community.
I think Urban has a new secret weapon when it comes to recruiting. He only goes after guys that do the shruggie after making a big play.
You don't need a tough OOC schedule when you play in the only conference in America that determines one true champion!
Great point, Hodge! I've only ever associated the bystander effect with crimes, accident, or disasters but it certainly could help make sense of that opening play.
I was losing my mind on that opening kickoff. Screaming "GRAB THE BALL!!! JUUUUUUMP ON IT!" My wife (not much of a sports fan, but she knows the basics) looked at me like I had horns growing out of my head and said "Are you all right? The announcers didn't even react. Are you sure it isn't just a regular touchback?"
I couldn't believe how no one in the game or in the booth even mentioned it. (I think the announcers said something about it well after the fact, but nothing in the moment.) Even the guy from Alabama that picked up the ball did so with no urgency whatsoever. He just handed it to the ref. It was mind-numbingly absurd. I thought every kid that has ever played any level of organized football knew that simple rule. How could so many on such a big stage be completely oblivious to what was happening?