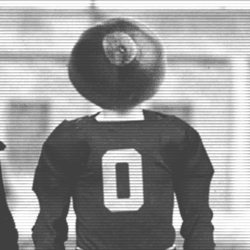 RedQueenRace
---
Member since 02 September 2010 | Blog
Helmet Stickers: 272 | Leaderboard
Recent Activity
It's Log ...
from BLAMMO!
Yep, at least partially. Legally the onus is on the driver. But from a common sense POV it is on both.
When I am driving and approach an intersection with a green light I still slow down and look to make sure someone isn't blowing the light, whether they brain fart or are being chased by the cops, as a T-boning is going to ruin my day and maybe my life. Having the law on my side doesn't make the result better.
I have seen it stated "One wants to be right, but not dead right."
Langford had over 120 yards but I'm pretty sure about 60 of them came on 2 carries. One of them (his longest, IIRC) came very late in the 4th quarter. MSU did not pound the ball at the D-Line successfully at all.
There was definitely talent. This team played in a league that put 3 squads in the Elite 8 and at least 1 in the final 4.
Despite their flaws
But it had three prolonged field goal droughts totaling more than 12 minutes.
That seems so unlike them. Don't they usually do it in one fell swoop?
Which one? The one that exists or the one that doesn't?
I like how the announcer hesitated about the Loving "foul" after the replay and then went with it being obvious.
I wonder what the record length for an intra-team game of HORSE is.
So, were there any PSU fans there and did they storm the court?
Yes. Give Amir a pass at the knees.
Ohio State is 208th in the country at offensive rebounding, the offense's worst category outside of free throw shooting.
'Nuff said.
I don't recall any real "chucking" of 3s. I thought LSJ had good looks. He has always been streaky but is obviously in a nightmare of a slump where virtually nothing is falling for him. ADV had some good looks that didn't fall as well and some nice moves to the paint but just didn't finish. But overall, they aren't going to be able to work the interior when they can be left open for a jumper with little fear they will hit it..
I hope you're right but it looks like playing zone and attacking the interior works and the pieces aren't there to do much about it. I don't blame Matta for that with all the early departures. Also he has been in the mix battling for top talent that could have made the difference but lost to the blue bloods. Can't fault him for that either as in years past OSU wouldn't have even registered on the radar of many of these players. It's hard to not suffer a down year, even for the elite programs. This just may be one for OSU. I think the future looks promising and they might suddenly click or find something that works but if it doesn't happen it isn't the end of the world. I had a bad dream once about the football team going 6-7 but I woke up and everything was nowhere near as bad as I thought..
Those who can score can't/won't play defense.
Those who can score are also turnover-prone. I caught myself holding my breath several times when Q made moves into the lane while dribbling. It often looks like he is about to take a trip and leave the ball behind.
So, will Matta get his 20 wins this year?
They start to pull it together, miss a few shots and then it seems the wheels come off everything.
After the last 3 games and the Huskers first half layup practice it wasn't even frustrating any more, not even when it looked promising and they faded late.
22 points but 5 turnovers for Q.
Just too many silly TOs these last 2 games.
Notice how surprised Amir was by the pass? SMH.
Sparty 11 of 19 from three. OSU 4 of 18.
Better free throw shooting or just one more 3 would have won this in regulation.
You think he actually reads?
Finally. A throw over the middle.
The scoreboard doesn't say that the Gator's picked up 14 points from special teams (blocked punt and kickoff returns for TDs).
Maybe they can send Lewan to give lessons on class.
BBall Bucks up big despite 'Q' scoreless, 25% FT and 16.7% 3-point shooting.
For the Florida native, it's déjà vu all over again.
This could be wrong but I am pretty sure I read somewhere that Hyde is originally from Cincinnati and was sent to Florida to live with his grandmother to keep him from falling in with the wrong crowd.