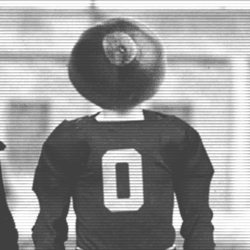 RC
---
Reynoldsburg, OH
Member since 03 October 2010 | Blog
Helmet Stickers: 200 | Leaderboard
Favorites
SPORTS MOMENT: Being at the Rose Bowl Game in 1997
COLLEGE FOOTBALL PLAYER: Chris Spielman
NFL TEAM: Denver Broncos
NHL TEAM: Blue Jackets
NBA TEAM: Chicago Bulls
MLB TEAM: Kansas City Royals
Recent Activity
Jesse Palmer was a QB at a major college program and (briefly) in the NFL. And yet he STILL had to go on TV to find a woman. Your opinions are invalid.
Well if ESPN said it, it must be true.
He didn't leave the sideline. He was heading onto the field with the offense. If you'll notice, Braxton was also on the field.
Ruined his NFL chances for flipping the bird? Manti Te'o faked the death of a fake girlfrend and got drafted. Get a grip.
Chris Gamble, Tyler Everett, Malcolm Jenkins, Antonio Smith, Devon Torrence, Travis Howard, and Ryan Shazier beg to differ.
He did NOT leave his feet. Watch again.
Apparently you only watched the play once. Watch it again. His feet never left the ground.
If karma exists, he will tear an ACL.
And you're probably not going to see it on ESPN if it, in any way, sheds a negative light on an SEC institution.
The only thing I down voted was your picture above that was basically gloating that Gee was fired. While I disagree with pretty much everything else you have said about the incident, I would not down vote you just because I disagree with your point of view.
Don't ever change Mr. Gee. Screw the PC Police and just keep speaking your mind. Also, Dennis Dodd is a tool.
So they fired one coach that lost in the first round of the tournament to hire another coach that lost in the first round of the tournamant...to a lower seed. Brilliant!!
Tonight they are, but they are playing WAY over their heads. Can't count on that again. This is a combo of them playing their absolute best and Buckeyes playing their absolute worst.
Duke or Louisville just earned a bye into the National Championship game.
Saw it. He's an idiot. Rex Chapman is nearly as dumb. And for good measure I'll throw Gottlieb in there as a moron, too.
It shouldn't be a long shot, they should definitely be a #1 seed.
I guess Dantonio's precious "gentelman's agreement" doesn't apply to the hiring of coaches.
I'm also a huge KU basketball fan. Yes that was a charge at the end, but ISU was the beneficiary of their fair share of favorable calls. I also didn't have a big problem with the dunk, I never do. It's not like he did back flips on their floor after the game.
Less than 4 hours before that tweet he tweeted "I just hope we can snatch Ezekial Elliott away from Ohio State." Apparently Elliott got worse at football in just 4 hours time.
No, Karen Holbrook was an embarrassment.
Because sports writers NEVER level character-assassinating allegations without being 100% sure.
George Dohrmann concurs.
Was the kid out of line? Yes, he was. But he didn't follow it up and start barking back at the player or anything. He immediately realized his mistake and didn't seem to argue about being kicked out. I understand kicking him out of that game, it had to be done so nothing escalated later and to set an example. I just think it would be a little harsh, considering his follow up actions, to ban him for the season. Just my opinion.