Rav747
---
Member since 14 January 2011 | Blog
Recent Activity
And the mat I was talking about
http://www.yelp.com/biz_photos/detroit-coney-grill-tempe?select=eWUHurZN4gT-Oi7YLV477w&utm_campaign=www_photo_share_popup&utm_medium=copy_link&utm_source=(direct)
Thanks, mate and anytime.
Here ya go : http://www.yelp.com/biz/detroit-coney-grill-Tempe it's about 10 mins from the airport
their fries were amazing! And yes, def wear the gear. Ha.
Glad my wife and I agree on the flowers side of things. On our first valentines day I got her a dozen rose (freaking 45 bucks) and she said, "I hate roses" . Umm.. You better freaking like them damnit! **i thought in my head**
Exactly! Glad we think the same. I used chipotle and you gasoline. Lol.
Worst ts is when I was standing there there were other guys just watching others pick. I saw two guys pick the same card because the pervious guy picked it. Didn't read the inside or anything. Lol
I just don't get the point of it. I'd rather write something. Don't really want to do that either, but it's less than freaking 5 bucks! Last year I got a simple anniversary card 3.99. Jesus Christ! I was like damn, that's half my chipotle burrito
Anyone else hate giving cards?
Flyknits are freaking amazing! I have free 4.0 super comfy but too soft of a sole. Really want fly knits, but i need to get Romeleos first.
I mean.... * italics*
Still can't believe how many women (some are really attractive) kiss them lips. Fack!
Wife and are huge foodies. So museum hop, then food truck hop and lastly Netflix n Chill. Not necessarily in that order.
That's awesome! Glad to hear it :)
Slightly off tangent : I don't get where we come off pretending our shit doesn't stink. Just like any big fan base you will have the good fans (where you can hangout with them, talk smack and at the end of the day shake hands and walk away) then there are the fans I hate to be around. Don't be fooled beacuse they are also among us and they come out on threads of why we didn't blow out teams 59-0 for every. Single. Game. My wife and I went on a road trip this past Dec and stopped in Phoenix for the night. We were starving and as usual we yelped it. Right across the street there was Hotdog spot with rave reviews, so we headed there. The staff was really friendly and as I was about to pay I looked on the floor and there was an Ohio State mat faded and scraped. I jumped of it and asked why is the mat here? The cashier said, "the owner is a huge Michigan fan". then I look around and the whole place is colored in yellow and blue. I looked at my wife and she laughed and told the cashier that I am an Ohio state grad. We get our food(ya ya I know most wouldn't sit in a place like that) and the owner stands beside me and says, "we don't server buckeye fans" and laughed. I responded, "i don't blame you when you guys suck so much" and laughed. We make small talk and he walks away taking care and greeting the rest of his customers. He came back around and asked if "everything was good" and I said it was "ok" and smiled. He said, "hey in that case make your own dog" i was confused. He then asked me to follow him and did and I made me own dog. I ate it and it was amazing! After I ate he came back to me and said, "i can't stand the buckeyes, but I want you to be happy with what you had as you walked outta here" As we walked out he yelled "go blue" and responded with "go buckeyes" So, ya, i would hang out with him again and talk shit to him, but shake hands at the end of the day. That's just me though. We are all people at the end of the day. Enough hatred in this world. That's my hippie rant of the day. Ha Oh yea #TGIF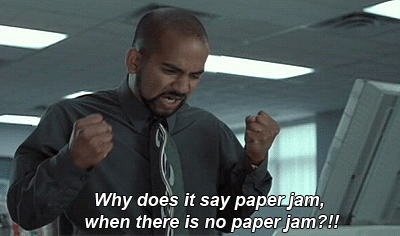 I did the same. Ha
Too soon..
Now that is a tee shirt I would buy
Good day to be a Buckeye!
Yea, my z3 has been super durable thus far. I've dropped it a few times and no issues. Then again, I feel the specs are great but the feel quality of the phone is cheaper.
Her s3 battery life is terrible. 4-5 hrs of use is all it can handle. And yes, the phone is getting slower by the day.
Do they have a live stream for ohio state?
Calc 1 was my wake up call and I was done after that. Lol
How do you like your s6 edge ? Wife is up for an upgrade and she's very anti apple(no clue why) and she currently hates her S3.
Not a fan boy of either systems. For me it all down to performance and price. I have both and like them both.
As far as phones go I like iPhones but I am not willing to pay a dime for. Same thing goes for Samsung. Both phone were both in the past that were either free or a penny.
I love my current phone(sony z3) and might have to fork out retail price for the z5 down the road. After almost a year and a half of ownership it has great battery life (a day and half), take better pics then the more popular brands, especially under low light, and still performs fast. I'm pretty much sold.