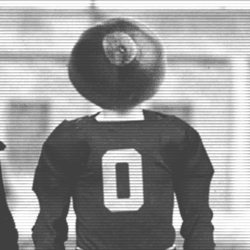 raiderred
---
Member since 25 June 2013 | Blog
Helmet Stickers: 256 | Leaderboard
Recent Activity
Great post man. Couldn't agree with you anymore
I love Buckeye basketball as much as the next guy but it's hard not to say Wisconsin is the favorites for the big 10 next year. They return seven of their top eight players from a team that made the final four and was a two seed in the tournament. I do think Ohio State will be better then Michigan now though
Here's the link
http://www.umhoops.com/2014/04/15/nik-stauskas-glenn-robinson-iii-declare-nba-draft/#more-61123
I thought TP was a five star coming out. He definately was for ESPN I don't know about rivals
Thanks for the write up Mike. Could you tell me the results of the games?
Such bullshit. NCAA screws us again. What a surprise.
Every single play they booed. I have no respect for them
On the stat table you list thompson as a senior. Hes only a junior this year
I thought we were in good shape with Terry Beckner Jr. but you don't mention him.
I'm pretty sure it was a six man class with JD Weatherspoon, wasn't it?
I thought I read somewhere Trevion thompson canceled his trip?
Why is michael thomas listed? Thought he was redshirting?
But also Mickey Mitchell has his brother already there. I'm not trying to be really negative I just was saying I hope we can get a transfer because it's very slim chance we get him to commit.
Yeah but all those guys are from the midwest other then shannon scott. He's clearly favoring Kansas and he is from Texas. I'm just saying Ohio State is a top school for all midwestern products in basketball. They do not go out and get the top prospects from anywhere they are guys who are from the Midwest that are top prospects. Sorry I'm being realistic unlike you
Hopefully we get a transfer because I doubt were getting Turner with all the top schools competing for him
Myles Garrett or JuJu Smith would be superb gets. Great job as always Birm and thanks
Love the bball coverage also
Yeah I think he has one more younger brother. I don't know if he plays any sports nor if hes as big as his brothers
I think his freshmen year which is more impressive
Why don't they do it during night games? It would awesome and people would be more passionate of doing it then for a not so great opponent. The effect on recruits and opposing players would be substantial