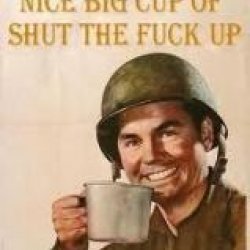 puff daddy
---
Southside (via Paradise Island)
Member since 17 January 2013 | Blog
Helmet Stickers: 224 | Leaderboard
I grew up a poor white boy in a small village in Kenya.
Favorites
SPORTS MOMENT: when the bobcat went after brutus
Recent Activity
not everyone can shoot like hopson. kid plays with passion. odds are if the shot has not happened by now,its not gonna happen. and the boys got med school to think about too.
agreed. with boren's mentality and toughness,drafted or undrafted,he'll make a team.
if's its not rock bottom--then its off to the NIT
lets just be very mindful of that well tuned,high flying, hard nosed blue collar buffalo team.let's get by those crafty veterans.PEOPLE PLEASE.
keep are eye on the prize. and also we got the memorial golf tour,gotta, aaaaa, use those designated toilet areas.
come on urban,i'm your wife...don'ttreat me like sue paterno,we need to be more transperent
biggy was rather small
so poison IS urban meyer. How's it going mr.urbs?what's garrett and barrett doin. hey,i rymed.
1.do you like scarlet and grey eggs and ham?
2.do you have any NCG pre-game traditions?
3.on a traditional1-10 scale how good is chris spielman in the booth?
4.if you could choose your game day anouncers,who would you pick?
5.if you had to race in a potato sack race,wiith winner to get watson,who would your partner be?
where's honey badger gonna go?not top 5
this is all pre-combine--should be alot of movement afterwords.
really intrigued to see if anyone comes out of combine with increased interest in boren
joe knew about victim 2.
i'd fire mcqueary off my staff,for not kicking sanduskys' ass and calling authorities to crime scene.
penn st. allowed sandusky to opperate his habitual molestation at penn states satellite behrend campuss near erie, pa. for 8 years.
penn st should have death penalty----------------
i hope the courts do not throw out the penn st case against ncaa,and bring in the cameras to display the utmost ignorance in sports history.this aught to be great to watch every day.
this is why you get a strength and conditioning coach to work the livin crap out of these guys so they don't have any energy left to become felons.the students that actually PAY to get an education should feel safe going about thier business
clowney should go with 20 mil. policy-what would his guarantee $$$ be?
good stuff...good stuff yea.
it's my mom...from our sea world trip
happy vd day mommy!
for sure,the best chance,1st chance(or should)
the precious bowls will have a fit. i like the idea.but i'm a rational person who has no interests($) to protect,keeping these cheerished bowls going has long seen it's day.
i'd put A&M in front of ND
great story. loved watching pepper play(as aq pro too).
just a side note that should have been included in story is Boren transfer back to the motherland.
everybody should go to the garfield and bedfors hts BB game,hell of a rivalry
the one fact is this.We win-no problem. Our track record is 0-2 in our most recent trips,and blowouts at that. we lost numerous times in conference to keep trophies out of the case as well.
arragance is the one thing that pisses me off about fanbases of other teams. lets not go down that path.
i love whats happening here and we have a great group of coaches.
meyer is aware of the competition and where we need to be.SEC is a crapshoot every year as who represents them.I hope were up to the task.
another aspect of lasts years team was not having that presure of being eligible. all they had to do is go out and play.Next year they will have that.
I hope it is bama.But i sure as shit dont just want to wear the lead in matchup t shirt of the event.i want to wear the championship shirt.and i don't want to be out of a game halfway through the 2nd period.
love the blues clues hodge
i got grey box whip lash this week.
chugga chugga, get on the train,seats our goin fast!!!