Poe McKnoe
---
Cleveland Ohioer
Member since 30 August 2010 | Blog
Helmet Stickers: 478 | Leaderboard
Favorites
COLLEGE FOOTBALL PLAYER: Ted Ginn
MLB TEAM: Mets, Red Sox
Recent Activity
This video could have easily have been titled "LOL CJ Barnett WTF".
I've been gone for a while, when did M Man go off the deep end?
If I remember correctly, the hitter must have been plagued with the same after effects.
Dominic Jones, who served eight months in a workhouse for sexual assault in April 2007 while at the University of Minnesota
Good thing he can just have the front office buy players now. Much easier.
Wouldn't be easier to ban recruits from having social media accounts?
Yea, pretty sure the ball was not tossed at Woody.
But I'm sure he had a few choice words for the Ohio State sideline. Probably whatever the 1970's version of "suck it" was.
My personal favorite was blitzing Roby. Typically fine with this, but he blitzed from 10 yards off the line of scrimmage. It gave MSU an extra 10 yards to pick up the blitz, which they successfully did. It makes no sense.
Jameis Winston would complete 99.5% of his passes against this defense, so we dodged having to experience that.
I go to the Washington Post for definitive CFB answers.
Tressel was a villain who stole without deception. He used the front door and left the same way. He looted good and bad Michigan teams without discrimination.
LOL
I think we know who the culprit was! Check out the stickers on the fenders. I love it!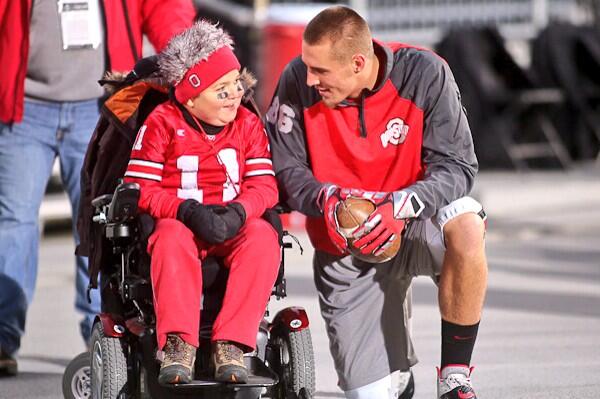 Those players should try making the games more competitive first, then worry about noise level.
Also,
CBS college football analyst Gary Danielson believes No. 19 Florida is "the most underrated team in the country right now."

Don't be fooled by a mistake-filled 21-16 loss at Miami or an offense that has scored just 40 points in two games, warns Danielson, who has called SEC games since 2006.

"They are an elite team that turned the ball over," Danielson said in a notes package released by the network. "That can happen to any team in any football game.
Guy obviously knows what he's talking about.
Apparently Dohrmann was rejected by another highly regarded magazine and took it to SI as his second choice...
Brendan Bigelow rushed for 160 yards and two touchdowns on just four carries.
LOLz I remember that.
It'd be nice to turn the table, and maybe Dontre Wilson can be that person.
CFB headed by the Commissioner of CFB
I think you left out the Lars Anderson bio.
Senior Writer at Sports Illustrated. Working on The Storm and The Tide — a book on the T-Town tornado and Bama dynasty. Adjunct Prof at 'Bama. Resident B-Ham.
Professor at Bama and Alabama resident? The dude's been cleaning up NASCAR storylines and doing CFB season previews. SI calls in the big guns when they want to uncover rigged raffles. GQ already did a fluff piece on Saban, written by a Bama fan.
Even the Alabama fan base—of which, full disclosure, I'm a lifetime member—holds Saban in a kind of wary embrace.
If you want to latch your wagon to Hall's horses, go ahead. I just don't see it.
Decker got introduced to the QB more than the snap...if that give you an idea.
Turner Gill don't work here no more.