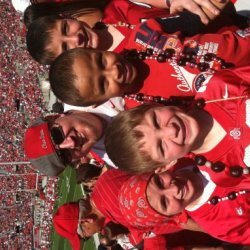 pjtobin
---
Sparta (via Marengo )
Member since 04 September 2012 | Blog
Favorites
SPORTS MOMENT: My dad yelling at Ted jr from row 5aa. He was acting like a school girl.
COLLEGE FOOTBALL PLAYER: Braxton miller
COLLEGE BASKETBALL PLAYER: Craft
NFL TEAM: Dolphins
NHL TEAM: Bluejackets
NBA TEAM: Lakers
MLB TEAM: Braves
SOCCER TEAM: Crew
Recent Activity
My son wrestled for the first time today. He won his first match! It was awesome watching it. My heart was racing for him. Such a great sport.
Do any trades? Maybe some tattoo work??
(Sarcasm of course)
A happy ending was the cause of a unhappy ending.
I have encouraged a few teens to check 11w out. I think it's a great way for them to learn about other kids their age that are being recruited. Not just football either. It's cool to show them our many other high caliber teams. I don't think sports passion has an age limit or requirement. I can't tell you how many times my three boys have watched highlights. They absolutely love the Bosa flip. And when they're pretending to be a buckeye ( one does his best Zeke with the shirt tuck) I know I'm passing on a family tradition. There is no better place to get information or a OSU fix than here on 11w. I can't wait until they start reading daily.
What in the world is going on?????? This is crazy. Where is Zeke ?
Im just glad no one was injured or killed. Losing friends and family members because of ppl driving impaired is not something ppl get over very easily. I disagree that it could happen to anyone on any given night. It only happens to those who make the choices to let it happen.
i thought automatic car washes were sweet.
Arkansas vs. Tennessee should be interesting. It will come down to who wants to lose the most. I'd hate to see Burt get fired. Hope he gets a win. And I would love it if Georgia could pull it off.
I don't think that they were in the wrong. I would hope that no signs like this will be aired. I have felt that a few have been questionable this year. It's one thing to bash a coach or team on 11w. It's completely different on national television. While writing this comment I thought about some of the things I have said about hoke, or Bert. Some even bashing their health, or lack thereof. I don't think it's much different. Other than the televised part. These people we poke fun at are real. And struggle the same way we do. And I'm sure their families and friends would be hurt the same way. I know I'm going to be a little more cautious about my "jokes" from now on.
I try to not hand em out often. But that was definitely down vote worthy.
Do you go into the restroom with the mindset that you're going to use the restroom?
Walk for cover! That was funny!!
I never attended any college classes. I have done work on many of OSU buildings. So i guess I didn't really lie on the survey?!?
My boys wouldn't get Adidas gear because they sponsored ttun. They wanted Jordan's for school. They think Jordan's are cool. I can see kids being excited about wearing his stuff. Hopefully our Buckeyes get it next.
I've been 419 my entire life too. Is there really distant lands beyond Marengo ?? What is this cell phone in which everyone is talking about???
A hunting guide here in ohio. I love to hunt. To be outdoors. But I truly love helping others get a chance at a big tom , or a trophy buck.
I've never seen a wolf in ohio. Please get some pics! I personally would keep feeding it. But I wouldn't try to trap or kill it. Or walk it!!! If it's a coyote don't hesitate to rid your property of it. I hunt a place that has a beautiful red fox. Her den is less than 50 yds from one of my tree stands. Watching her is more fun than seeing her on my wall. I think you might find that to be true for your wolf too.
Slow cooked , wrapped in bacon, back straps from a young doe. A heaping pile dipped in egg, rolled in ritz crackers, fried freshly caught bluegill. Fresh sweet corn with salted butter. Big salad with ham, bacon, egg, sunflower seeds, and cottage cheese. A loaded baked potato. My aunts baked beans. My other aunts pumpkin roll. My sisters banana pudding. No bake cookies. Buckeyes. Peanut butter cup icecream with whipped cream. Sweet tea. Cherry coke. And a fanta grape.