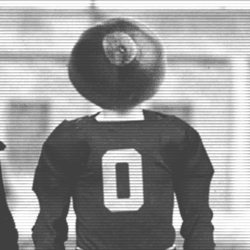 Picksixx
---
Member since 16 September 2012 | Blog
Helmet Stickers: 33 | Leaderboard
Recent Activity
Awful shot selection on the last shot. Proud of how the team fought back.
In the end it really only matters come March but would have liked to see a much better performance. Offensively we have no idea what we're doing. It's basically been our guards putting our head down and throwing up a shot against two people. And Amir being Amir. Horrific ball movement too
We have about as many turnovers as the number of times our defensive backs don't look back for the ball on a long pass.
You could bring a shank into the paint and the refs wouldn't call it. Goodness.
Horrific ball movement and shot selection
Izzo believes Sparty has never committed a foul ever.
-Amir is lazy and has hands of stone. I cringe every time he touches the ball.
-Outside of a couple of times we didn't rotate defensively on a couple of perimeter shots I thought our defense was fantastic.
-10 turnovers. That's the reason why we're losing. Can. Not. Turn. The basketball. Over.
Great road win. A couple of thoughts:
1. When Ross is assertive on the offensive end and active on the defensive end like he was today, that is the difference between OSU as a top team in the Big Ten and a sweet 16 team and a final four/national title contender. The team defense and the ball movement have been fantastic alll year and willl continue to be there. If Q is assertive like he was today, OSU has a great chance to go to and win at Jerry World in April.
2. Craft was classic Craft today. Great on the defensive end, scored when he needed too, and got his teammates open looks. He's never going to be a great outside shooter and we don't need him to be. He does so many of the small things well on and continues to make everyone on the team better. Also continues to be a great leader.
3. Ball movement was excellent today like it has been for most of the year. This was not the case last year at times. As long as they continue to move the ball like they have the Bucks will get good looks. Best ball movement I've seen since the 2011 season. Very encouraged. Even though we missed some shots I thought we got great looks today. They'll start to fall more as the season goes on.
4. Scott I feel like his finally finding his shot. I feel like it was a confidence thing for him and now it's starting to click for him. Loving has a nice stroke as well and I think his playing time will continue to go up.
5. One thing I'd like to see some improvement on is rebounding on the defensive end. I know we run out some small line ups often which leads to a size disadvantage on the boards at times. However they still gave up way too many second chance points and was really the only reason we didn't win by more. If we can at least cut that rebounding margin in half I'd be ok with it.
Winning on the road in college basketball is always tough even against average to below average teams. Kansas lost to last place TCU last year and Michigan lost to last place Penn State last year as well. Never take a road win in college basketball for granted. Great win. Let's take care of business at home against Nebrasketball to set up our first huge test of the year at the Breslin Center. Go Bucks!