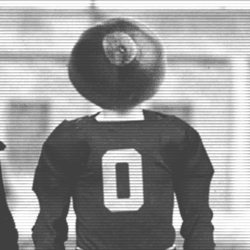 PhillyBuckeye27
---
Member since 02 July 2012 | Blog
Helmet Stickers: 203 | Leaderboard
Favorites
COLLEGE FOOTBALL PLAYER: Eddie George
COLLEGE BASKETBALL PLAYER: Jim Jackson
NFL TEAM: Bengals
NHL TEAM: CBJ
NBA TEAM: Who cares
MLB TEAM: Cincy Reds
SOCCER TEAM: Arsenal
Recent Activity
I'm impressed you still think they will even make the tourney.....this isn't a tourney team.....
I don't think this team will win another game this season. We simply aren't good.....I'm torn - should I walk the dog or watch this train wreck?
Ross's demeanor on those foul shots sums up this basketball season.....16-0 run for IU and 0-6 from 3 point land....this game is going to be a blowout very soon.....
0-5 from 3 pt land....keep shooting 3's guys - I see no possible downside!
The definition of insanity is doing the same thing over and over again and expecting different results....IT'S INSANE THAT THIS BASKETBALL TEAM STILL EVEN ATTEMPTS A THREE POINTER - LET ALONE CHUCKS UP 12-15 PER GAME.....WE CAN'T SHOOT!!!!! Drive to the basket.....
AMEN - Better yet, bench him and put in Loving! Loving is the future - LSJ is taking away playing time!
You know, I have been saying FOR TWO YEARS BY THE WAY, that it is simply stunning to me that LSJ plays, LET ALONE STARTS, for a team like Ohio State. The dude is HORRENDOUS.....and no, before you all pile on, I couldn't do better, never could, never will - so save that silly retort.....And every time I say that he stinks and shouldn't even be on this team - I get about 10 downvotes.....Now I read the boards and everyone is FINALLY coming around....welcome to the bandwagon!
It baffles my mind how a team as lousy at outside shooting continues to chuck it from 3 point land. Can you imagine how bad this team would be without Ross? We would win 10 games - tops.....
We have four more games this yr - 2 reg season, 1 big ten and 1 NCAA - I could legitimately see us going 0-4 in those games.....we have the mental toughness of a cheeto.....
My wife is a PSU grad - I'm sleeping on the couch tonight! I FEEL SHAME!
I'm actually hoping for the NIT - we may actually be able to win a couple games.....NCAA we are a 7 or 8 and out after first game....
The bright side of this game is we may only have four games left this year to watch this team TRY and play hoops. Two more regular season games, one game in the Big 10 tourney and 1 game in the NCAA.....I could see this team going 0-fer in those last four.....we simply aren't good - AT ALL!!!!!
You could take both these teams - all 20 some players - and not come up with a very good team. Jeez are both these teams awful!
Are we insane for expecting something different from this team? I think they are what they are - which frankly isn't that good. They can't rebound, can't shoot, play with zippo emotion etc etc etc.....
Anyone have Doctor Who on speed dial - I would like to borrow his time machine? Can we send Thad back 3 yrs to re-do that Trey Burke / Shannon Scott decision?
I have said it to everyone who will listen - it still amazes me that LSJ starts at a place like Ohio State.....cue the downvotes!
Holy crap - Bucks missed a wrap around goal just like LSJ misses a dunk.....
It's official - Thad is sick of Amir's lazy attitude too.....PLEASE MYLES TURNER - PLEASE COME TO OHIO STATE.....PLEASE!!!!!
Ohio State vs. the Cheesedoodles hockey game is on NBCSN - that's my fallback if this doesn't improve.....
Yes it does - yes it does....then again, that shouldn't be an excuse. These guys are in game 27 (or is it 26) - they should know they can't knock down anything consistently from beyond 10 feet....
We are O FER from 3 - keep firing em boys - I'm sure we have another 2-20 game in us tonight! DRIVE TO THE DAMN BASKET!!!!!! Craft scores 7 driving to the hoops - lets not stick with what works - lets chuck up a bunch of 3's - fake out Illinois.....good thinking!
He does it EVERY SINGLE GAME - OVER AND OVER AGAIN! I know, he is our # 2 scoring threat - MEH!
The fact that LSJ is the #2 scorer on this team this season sums things up. Dude has been the most inconsistent player in a Buckeye uni in the past 30 yrs! He has 4-5 good games a yr - lets hope tonight is one of the 4.....sigh