Phillips.449
---
Member since 01 March 2012 | Blog
Helmet Stickers: 2,057 | Leaderboard
Favorites
SPORTS MOMENT:



Holy Buckeye


'90 World Series


Octagon MMA fights in the "common area" in Morrill Tower (caught on tape)


OSU Intramural Ice Hockey Champs Winter '01


My 1st Marathon (Cincy Flying Pig 2013)




NFL TEAM: Bengals
NHL TEAM: Blue Jackets, Capitals (2nd)
MLB TEAM: Reds
Recent Activity
Sorry for your loss SGTMDX! You and your family are in my prayers.
Then we could chant B1G B1G B1G at every non-conference game.
I was fine until you mentioned it NFISCHER! DARNIT
My jaw dropped. I compare this to someone cheating on their significant other. How does one have the time or patience for this? In fact I don't have time for one wife and one 11W account (ask my wife, she will agree).
I just spit my coffee on my laptop.
This reminds me of the following Desmond Howard pic....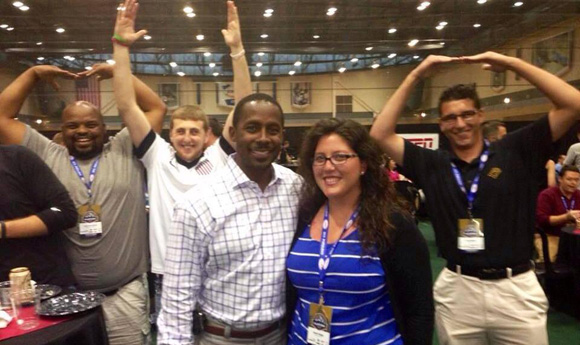 I am glad to hear she isn't in an Oklacoma after the incident.
Sweat and sand. That can't be comfortable. While I am sure the rest of the work is freaking tough, I would think that would be one of the worst parts.
I have done many stupid things as a youngster. I am guilty and embarrassed to admit getting married in Cincinnati on September 21, 2002 (OSU vs Cincinnati), was one of them. I hear that was a good game. :(
This will sound like an excuse but at the time I believed that I had two choices, the weekend of THE GAME and UC due to the dates available in the fall at the venue the beautiful Mrs. Phillips.449 wanted. (so really one option). I wish I had read this article back then and had been wiser. I could have moved it to the spring and my entire family (mostly UC fans) would have been happier. Apparently I wasn't doing them a favor by scheduling it so they didn't have to watch their team get blown away by "big brother". Lucky for me the good guys won and it didn't ruin every anniversary for the remainder of my life.

Hey kids please listen to Ramzy! He knows his sh!t!
You may be doing your friend a favor. Maybe they are cheap and wanted to pick a time when they knew many of their friends wouldn't show up and rack up the bar bill.
It does! My friend was 1/4 2003, but I was in the wedding and the rehearsal dinner was on Friday the 3rd. I will never forgive them for that. While we got to watch the game, I had to pass up SEVERAL options to GO TO THE GAME! I remember them telling us about the wedding date vividly that summer. They literally said "The only issue we will have is if OSU goes to the National Championship". I have been angry about this ever since.
Yikes. That had to be messy. I hope he recovers from this. It would be a horrible way to end a talented young man's career.
I was at the game Cassady's jersey was retired in 2000. That was a sweet experience! I always wondered what took them so long to retire #s.
Why do you think we have a locker for Lebron? :)
<i>They are in the SEC, that is better than going undefeated in any other conference.</i>
WTF did I just watch? I think Chief just found something worse to watch than than Prancercize!
Nothing wrong with getting drunk at 9 a.m. to go to a noon game, taking a nap and then getting drunk again that evening. I dont mind.

Fixed it for you APACK. :)
Well we can all tell Sammy Silverman did NOT produce that AARP The Magazine cover!
Happy Birthday to you too Estrada! I believe it is Jessica Simpson's birthday as well. I made some "chicken" (of the sea) salad for lunch in her honor.
Fun fact, Urban Meyer and Phillips.449 share a birthday! Happy Birthday UFM from BRP!
"I think Devin had a pretty good spring," Hoke said. "He (became) more consistent on a daily basis, I guess is the best way to put it."
This seems to be a comment that is lacking in confidence. I like seeing "pretty good" as words that describe their quarterback who may or may not be starting for them. Compare that to the verbiage UFM uses to describe Braxton!