Phillips.449
from Cincinnati, OH
Member since 01 March 2012 | Blog
Favorites
SPORTS MOMENT: "Holy Buckeye"
NFL TEAM: Bengals
NHL TEAM: Blue Jackets, Capitals (2nd)
NBA TEAM: N/A
MLB TEAM: Reds
Recent Activity
I wish this "news" was revealed just before the Bengals' 1st round pick.
Next weekend's spring game
Damn, it's already here!
+1 for you, I would have spelled "Genious" wrong.
Ward is one of those players I would have loved to have on my team. I hated him though. :)
I am surprised he doesn't want to go to his home town Rams.
Three-star DL Tyrsten Hill committed shortly thereafter, obviously.
#KARMA
I was hoping to see this soon. BOOOOOOOM!
Just got as bottle of that last weekend! I can't believe I have not had this prior! Great beverage.
I was going to bring up the same thing. $2.3 million will get him a 2 bedroom loft where he is going.
This made me laugh uncontrollably. +1
I reccoment pressing play on this and scrolling through to look t all the .GIFs it is WONDERFUL
NASCAR does it, why can't the NCAA?
He is in....he wore shoes for our coaches!
Yep, I binge watched it over 2 days a few weeks ago. I couldn't stop watching. You can't make this sh!t up!
Back when I was a young intern, I had a boss run down the hallway yelling "I will fire the 1st person on my team that responds to that email thread". It was a 20,000 person company and therefore 3 hours of entertainment!
The "neat shaming" annoys the crap out of me. I always ask for a separate glass of ice if I am in a bar/restaurant drinking it so I can control the amount put in (which is very little). Drink it how you like it DAMNIT! BUT,for your own sake, please don't spend $80 on a bottle to put it in coke.
Kudos! This is certainly a HUGE accomplishment!
I had their ginny-bourbony stuff on Christmas eve this year. It made me want a bourbon :). TOTALLY agree a couple of ice cubes. I prefer to not water it down but chill it just a bit. You get a similar effect with a drop or two of water to open it up. Some folks like it with more water (bourbon and branch).
This picture cracked me up!
Reminds me of the "DO NOT REPLY TO ALL" emails I get at work when someone sends an email to the entire organization.
as long as Urban Meyer remains employed at Ohio State.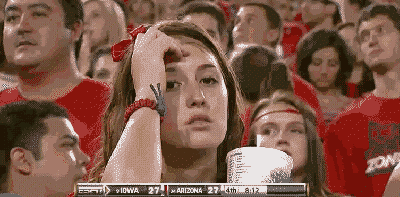 I did not realize Carr finished "in the red" against us. THANKS AGAIN COACH TRESSEL!
My vote is for your gif. I am dying over here!