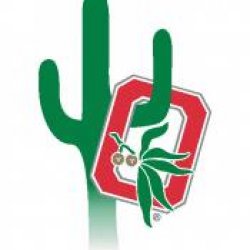 pcg396
---
Scottsdale, AZ (via West Liberty, Ohio)
Member since 02 April 2013 | Blog
Helmet Stickers: 23 | Leaderboard
Retired Buckeye alumnus (BA, Ph.D.) soaking up the sun in Scottsdale.
Favorites
SPORTS MOMENT: Anything John Havlicek did (e.g., "Havlicek stole the ball!")
COLLEGE FOOTBALL PLAYER: Smooth Jazz Kenny G (currently under construction for 2014/15)
COLLEGE BASKETBALL PLAYER: #17 Hondo Havlicek
NFL TEAM: Who plays the AZ Cardinals on Sunday?
NHL TEAM: Blue Jackets
NBA TEAM: Cavaliers
MLB TEAM: Reds
SOCCER TEAM: USMNT, Liverpool FC, Kilmarnock FC, Stuttgart VfB
Recent Activity
Messi will be too busy filling out tax forms to attend.
Great 'real world' advice, DJ. Well done.
Every morning I spend more time reading Eleven Warriors web columns than my daily stock charts. I'm poorer - but much happier.
Funny how seeing the end of an dismal NFL career can elicit fond memories of college. OSU has moved on from the Tressel/Pryor debacle and so should TP. On the other hand, Lord Jim might consider bringing TP to YSU as his consigliere. Now there's a match.
Love it! Always be closing, UFM.
Please. Nevins is a lawyer; he dances to the tune his employer is p[l]aying. Nothing new here, DJB, except off-season empty space. Get back to us when you can confirm Tressel's second miracle.
The lengths Tressel acolytes will go to defend their fallen idol is astounding. If your questionable scenario is, in fact, true, it would have been a relatively simple matter for Tressel's attorney to back channel with the NCAA relative to the federal investigation and mitigate his client's liability. Sorry, but, per the 'choices' of the new YSU prez are concerned -- what you see is what you get.
It's not about the number of bad decisions you make; it's about the type and magnitude of those decisions. Lying to your superiors and the NCAA is bit more than merely a poor decision. It was premeditated and, in Tressel's case, breathtakingly hypocritical. Good decision, HOF.
Clearly, it's not about a Ph.D., per se; it's about a 'doctorate.' And YSU is now the fourth D1 institution without a 'doctor' at the helm. A new trend in higher education? Hardly.
Good, albeit unpopular, point, MTROTB. Amusing to read the strained endorsement by YSU's Faculty Senate representative. However, given the college's academic reputation, it probably is a good fit.
As appealing as it is to many Ohioans, it's highly unlikely the faculty at YSU would allow a non-academic 'celebrity' to take the reins of their institution. Tressel would no doubt raise some money for YSU, possibly even influence favorable legislation, but he's unqualified to be its president and won't get the job.
Just one of many reasons why OSU is much better off with UFM at the helm of the program.
Excellent points, Buckeye_Chick. Apparently lies and hypocrisy should be overlooked as long as they are perceived to be less egregious than those of prior inductees. Brilliant.
Agree. His agent and publicist need to get their story straight before TP sends out another pr tweet.