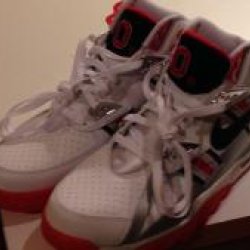 PAWEST1202
---
Al Khobar, Saudi Arabia (via St. Louis, MO)
Member since 30 November 2013 | Blog
Helmet Stickers: 122 | Leaderboard
Favorites
SPORTS MOMENT: 2006 #1 vs #2. I was sitting in C-Deck. The noise and excitement were so great that the 'Shoe was shaking and my ears rang for 24 hrs. The best part was that the next day I had an interview and I was so hoarse that I could barely talk however my interviewer was also hoarse from being at the game. Buckeye love runs strong and needless to say the interview went well
COLLEGE FOOTBALL PLAYER: Beanie Wells...That stiff arm was something that dreams (and nightmares) are made off
NFL TEAM: Unfortunate for my well being...The St. Louis Rams
MLB TEAM: St. Louis Cardinals...Go Redbirds!
Recent Activity
Ice Bucket Challenge Submitted by the Men in Scarlet and Gray
Ohio State Football: Meyers' ALS Ice Bucket Challenge http://t.co/tsDBlktOom

— Urban Meyer (@OSUCoachMeyer) August 16, 2014
If you go to this link you can find a map and driving directions to the field from the Ohio State Athletics Website. It is close but it is more secluded than the WHAC.
Thanks for sharing the video. It has been awhile since I have done a formal tasting. The part the stuck out to me is paying respect to the whiskey while you are drinking it. The whiskey can take over a decade to create to perfection and a number of environmental conditions could destroy an entire batch.
On my bar at home I keep an Oban 14, Scapa 16 and the Auchentoshan Three Wood
I'm generally a scotch guy but Bulleit Bourbon is good stuff. When I make it back home, my buddy and I sit on the porch, light a pipe and enjoy some Bulleit
Looks like Bo is ready for the Circle Drill
I was looking for some Korey Stringer Highlight film from Ohio State and ran across this gem from youtube (Thanks Youtube uploader David Baugh). The quality of the video is not great but the quality of the player jumps off the film
Mike "The Situation" and the entire Jersey Shore experience is something that I wish could be erased from American Pop Culture history
I did the same thing last year. Check out this link. It should give you all the info you need
His attitude and willingness to work should be the determining factors on whether or not he is allowed to come back to the team. There have been countless articles written about the family atmosphere of this team. Family does not end a relationship after one mistake. Punishment is required but if he is willing to make amends and put in the work to regain his credibility then why can't he come back.
Coach Mick must be Dr. Abraham Erskine and "juice" must be the super soldier serum that turned Steve Rogers into Captain America
A school with multiple rivals is a school with no rivals
I cannot speak for the entire fan base but I fully disagree with your comment. If this situation happened at Ohio State I would want all university affiliated employees that helped cover it up to be immediately removed from the university. The value of Ohio State not just built on more that Rivalry Wins and Football National Titles. It is built on the Students, Alumni, Professors and Staff and there contributions to the world. Actions like this destroy good will and reputation that takes decades to build.
Waters trying to change the culture was addressed in the report. President Drake and the OSU Administration made a decision and I cannot believe that there is anything else to be said that would change it. There have been so many high profile stories recently of sexual harassment and rape handled improperly by university staffs all over the country. Ohio State cannot be perceived to being even close to that category. Additionally, President Drake has been on the job about 1 month and his reputation in Columbus and Nationally is still being formed.
Squirrel Master, I come to this site everyday for the quality of the product presented not necessarily the quality of each individual piece. You are right to say that it's a free blog site and I am not expecting perfectly constructed articles from those trained in the art of journalism. I read 11w because it resembles a more informed version of the conversations that I have with my family concerning the Buckeyes when I visit Xenia, OH for Thanksgiving.
Ross' commentary is like my cousin who is a Youth Football Coach, DJ's rants are like another cousin who is a US Army Servicemen turned Long-Haul Trucker but has generally been quite a story teller and never shied away from a little irreverence. Jeremy/John recruiting are like my cousin who played at Akron but has friends throughout various high school and college programs throughout Ohio. The conversation in the comments resemble the back forth across the table from family members who have varying degrees of affinity to Ohio State. There are even a few Michigan Fans.
11w is great. The writing is very good but what makes it great is the full package the represents our eclectic Buckeye Family.
It is a right of passage at Ohio State to get a ticket from T&P and get towed by Shamrock. Even if you had a pass, there was no guarantee that you could find a spot and had to roll the dice by parking on the street. I had a CP pass for 3 years and at least once a quarter, I had to park somewhere on the streets around south campus and it usually resulted in a ticket.
"Ohio State was meant for me." No better words spoken.
I was born and raised in St. Louis but I bleed Scarlet and Gray. The homer in me has been pulling for EzE since he committed. Hometown pride over takes every time he has a little bit of personal success. Hopefully, next season will be filled with an overwhelming amount of those moments that contribute to overall team greatness.
It is amazing how something as simple as a small black strip of tape on the helmet can be such a great motivator. I remember being surprised that Apple wasn't one of the first to lose it but like he said in the video consistency was his issue. In an age where recruiting stars create outsized expectations, that stripe serves as a great check on ego. I hope all the guys deal with adversity the way Apple did. He worked hard, reflected on his problems and had a plan to get better. I love it. Maybe I should do something like this with my new staff members
He threw a 100LB flower pot through the window? That is serious drunk-strength
It's not common where I live. Even though Chipotle is a national chain, I didn't have it in St. Louis when I was growing up and now I live overseas. Going to Chipotle takes me all the way back to Freshman year in Park Hall