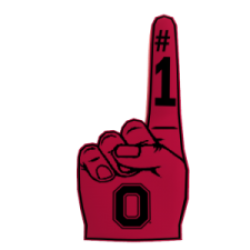 Patriot4098
---
Alamogordo, NM (via Columbus, OH)
Member since 12 November 2012 | Blog
Helmet Stickers: 235 | Leaderboard
I grew up a Buckeye in the heart of Lion country, PA. My Brother-in-Law is an OSU graduate, so I visited his graduation in the 'Shoe when I was very young. Even then, I loved what I saw. That was the beginnings of what became my adulthood man-crush on anything Ohio State. Fortunately, I can actually call Columbus my home, as I moved there with my wife and kids in my early 20's! And now, I'm military, so we currently live in the sunny Southwest.
Favorites
SPORTS MOMENT: Watching OSU upend Miami's world in the 2002 National Championship game.
COLLEGE FOOTBALL PLAYER: X-Brax
COLLEGE BASKETBALL PLAYER: Aaron Craft
NFL TEAM: Steelers
NHL TEAM: Penguins
Recent Activity
You'd rather have some one want you dead than discriminate against you?
Oh, good call on Nancy Botwin.
No Walter White in the 10's?
But he's not lovable.
Nebrasketball and Iowa lose out + we beat Sparty = 4 seed
It's possible from a MLB or DE, but the stats would have to be enormous. Said player would probably have to be THE superstar of a top 3 defense on a team playing for the NC. And possibly do that two years in a row just to get enough recognition to make a run in the second year. DEFENSE just isn't sexy enough.
As someone who teaches on a daily basis, I agree heavily. There's more to this conclusion than you or anyone probably gives credit for.
Yep, we would be relishing in an Orange Bowl win over Clemson if it had happened.
Good info isn't always good news... ugh.
Not gonna lie. I love the way Blake Griffin plays. He lets his game do the talking.
Samuels is a little bigger and faster. Dixon is a bit more polished. Tough choice. Here's hoping the world doesn't forget about Jalin Marshall.
Loved Meech's tweet, but I'm a little surprised we haven't heard any scorn from the staff on this one. Self admittedly, I'm not a twitter fan though, so I don't have any idea how common something like this is.
I wont lie. This number swap tracking and analysis impressed me. +1
Hah, I was in the backseat and not flying anyway. Combine that with me puking from upwards of 6 G's and I lose enough cool points to not share it with the world.
I dunno. BCS Bowl games were kinda big-game criteria. Maybe not AS BIG as the big games you mentioned, but nearing that realm.
I got a selfie like that, but no AIM firing off the wing.
Maybe. #toughquestions require #toughanswers. I don't know that I'm deep enough to ponder upon these things. hah
By all means, take a look. I am a new to Android (still miss Blackberry), so its quite possible that I am doing something wrong. May not have anything to do with the gallery or the website! Could be user error! hah
I was speaking more generally. The whole site doesn't seem to roll well with my Note 2. The gallery won't load anything but the first picture, but that's why I have a laptop. Truthfully, no complaints from me. I'm just happy to be a member. The content is first-rate, regardless of any quirks that come from using my cell phone. I'm not as picky as my comment may have been portrayed. I don't want you to think that. I'm nothing but grateful for the work you guys do. The new site really does look amazing, and you have every reason to be proud.
Yea, second tier isn't the wording I'd use. Maybe second choice? He's not the type of QB that UFM has looked for, but the other 80 percent of the country running a more traditional offense has this guy on top.
At least this argument makes sense. With that said, adapt and overcome! Stop whining about how hard it is our how hard it could be. Let the players and coaches play their game and the refs can step up their game.
But is it really going out on a limb if you're right? #toughquestions
Don't know that 'mobile friendly' is the wording I would use. Site still looks cool though. There's just not much that's mobile friendly about it.
I gotta be honest. I'd rather have In-N-Out, than him be some kinda superstar on the court. If a seat in the student body is preferred over a seat next to one of Matta's assistants, I say go for it. I think pretty highly of this young man, especially now.
I get it. Stoops is an Ohio guy. KY is fairly close. Ohio guys hate all thing from TSUN. PSU is probably looking for higher caliber, just like us. BUT how can any Ohian who knows anything about Kentucky want to give up 4 years of their life to live there. Indiana, Illinois and Purdue need to step up their game. No. SERIOUSLY? ! Kentucky...