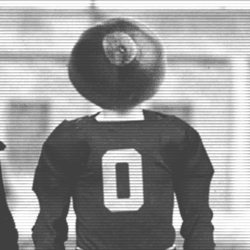 pamemake
---
Member since 30 November 2013 | Blog
Helmet Stickers: -69 | Leaderboard
Recent Activity
Couldn't agree with you more. Finally, a real fan.
That's awesome. Hey...since you're talking history, how's the Michigan victory of 86-0 over Ohio State compare?
Then why are you commenting on something so unimportant? Obviously, you're hurting.
Buckeyes play the softest non conference schedule known to man. You can't respect a team or their record when they fold under the pressure from a decent team. 24-2 is not elite when your schedule is marshmallow. Get over yourselves.
Integrity. Without it, you cannot be sitting in a Pres. chair.....unless the chair is in Ohio. No other place would take this man.
Go1Bucks-before we start...here's some tissue for your tears. You assume I'm gloating? YOU must be really hurt inside. If you want someone to "wish they were us" , you have already admitted you're less. Nicely done. I don't think anyone would want to wish they were a lower tier anything. Time for you to "Man-Up" or quit using Woody Hayes quotes on your signature line.
Let's be honest here. The teams that dominate are both from the Great State of Michigan. This is not popular to say on this board, but when you look truth in the eye, you see clearly. OSU has been dominated and now is talking of past glories like an old man on the porch in his rocking chair.
If you're inside Ohio borders, you want Tressel in the HOF. That's it....that's where it ends. Tressel's not getting in and rightfully so. Ever since Woody punched that kid in the throat, Earl Bruce has been your only shining star and you ran him out of town. That's your legacy in a nutshell.
There are 8 legit teams that could win this all. Both teams from Michigan can win this thing. MSU however, is playing like MSU now. They are my pick to run the bracket. I think the writer here is right on the money. I'm taking Michigan over Duke in a "pick-em" game but losing to Louisville and then Louisville losing to Michigan State. It's good to be a college sports fan in Michigan.
If Michigan lost to Wofford, would it be worse than losing to Dayton? Oh wait.........
To all of the fans who jumped on the 2012 Michigan boards when Ohio beat them.....Karma bites really hard when it comes around...I mean H.A.R.D. Dayton? Buckeyes program will have taint on it for years moving forward.
They look like winners to me. Maybe that's why you're coming up with hating material.