OurHonorDefend09
---
Chicago, Illinois (via Youngstown, Ohio )
Member since 02 December 2011 | Blog
Helmet Stickers: 1,768 | Leaderboard
The Ohio State University, Class of 2013
Favorites
SPORTS MOMENT: The 2002 National Championship
NFL TEAM: Cleveland Browns
NBA TEAM: Cleveland Cavaliers
MLB TEAM: Cleveland Indians
Recent Activity
Great player, better person.
Expecting Braxton, JT and Cardale all back next year, wouldn't a redshirt next year be just as valuable?
Burn it if you need to. Win at all costs.
DEVIN SMITH GONNA RUN REAL STRAIGHT AND REAL FAST - ALLLLLLLLLLLLLLLL DAY.
He's definitely a different beast to take down. I hope Jalin gets about 20-30% of the snaps at QB with some passing options, though. That would allow Samuel to get some touches at H back and would throw lots of speed on the field. One could argue this offense could be even more dynamic in terms of style if Herman gets creative. So bummed for JT though, he might have moved to my favorite OSU QB of all time this week. Pure class out of that kid, he'll definitely be missed next week.
I hate when coaches on either side whine about lopsided games and running up the score. If either coach has a problem with it, take it up with the Athletic Directors since they scheduled the game.
You can't avoid playing the game, it's already scheduled. Go try and win by as many points as possible because that's the objective of the game.
Can't stand Herbie, but I thought his comments about FCS football were pretty accurate.
I'm not really sure that coach's backlash was justified other than him trying to stick up for his team, which I guess I can support.
I'm pretty sure I understand why he doesn't wear a headset now...
Rushing accolades aside, EzE has been most impressive as a blocker this year. He came up absolutely huge in the Penn State game protecting JT.
Love this dude.
A chance to play Bama and then Oregon/FSU is making me ridiculously giddy.
Three big games to go though, regardless of the talent level of the first two.
Just gonna enjoy him while he's here because he's eligible to leave after next year.
Love what this kid brings to the team as a player and a person.
The beauty of winning 84-0 is that it doesn't matter if no one watches, their eyes will pop out of their heads when they see the score on the ticker.
Not to mention, that would be an 84-0 victory against the team that beat the potential SEC East Champion.
Jalin be like:
This is why other fan bases hate us. I don't care if "other fan bases do it too," fucking stop.
I think a lot of that conservativeness had to do with the o-line really struggling. It's really hard to get things going as a team when your offense continuously has short drives due to the QB and RB getting stuffed repeatedly.
What would really be clutch is an FSU loss. I don't think the committee can justify putting 2 teams from a conference in (except maybe SEC), especially two from the Big 12, which doesn't have a championship game.
Using this theory, FSU and the ACC are gone, one of ASU/Oregon is gone, one of MSU/Alabama is gone, and one of TCU/Baylor is gone.
WHICH MEANS YOUR BUCKEYES ARE IN THE PLAYOFFS (as long as no one jumps them).
I think his torching of a top 5 defense in the nation (AT THEIR PLACE), shows that no team is safe from JT.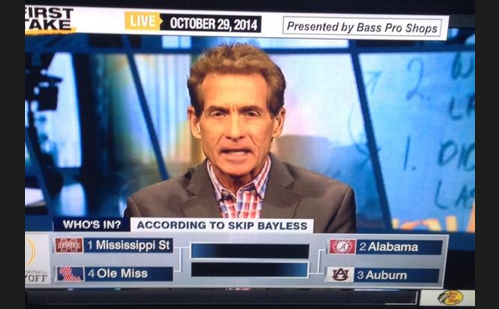 WHAT BIAS?
You beat me to it. I don't see any scenario in which Braxton transfers.
However, I do see one of these options happening (in order from most likely to least likely, from my perspective):
A) Braxton isn't able to throw any more due to injury; therefore, accepts a position change.
B) Comes back healthy and competes for the starting job (most likely leading to a dual QB system)
C) Leaves for the NFL in hopes to just get picked up in the late rounds
Who's ready to donate to a kickstarter to pay actors to film this as a movie?
I'm assuming I should make a thread calling for the offensive linemens' heads considering they haven't played as well as the 4 NFL caliber players they replaced?
Gimme a break. The problems caused on offense are because the oline is struggling, but it will not remain that way. Have faith.
Considering they've sucked for eternity, I'm not really sure why she's so upset over one loss.
I don't know if he's referencing this, but Michael Floyd had 2 or 3 DUIs while at Notre Dame.
and since when does jail time = definitely guilty? Especially in the sports world, we know that's unfortunately not true.
andddddddddddddd the wheels are falling off in Ann Arbor
I think ASU is a pretty dangerous team and will knock ND out of contention at the end of the season.
For now, those projections look to be solid, but there's plenty of chaos yet to come.