otrain2416
from Akron
Member since 11 January 2012 | Blog
Helmet Stickers: 12,826 | Leaderboard
Voting Record: 4299 / 173
Favorites
SPORTS MOMENT: The Game
http://youtu.be/iwuXzK5Mehs
http://youtu.be/gUk7KbaiTPw
NFL TEAM: Cleveland Browns
NBA TEAM: Cleveland Cavs
MLB TEAM: Cleveland Indians
Recent Activity
Airbuckeye I'm guessing you were the pilot of the drone solely off of your name
I'm going to go with the former SEC East Champ Indiana
The ones that are really disappointing to me are Bosa and Marshall because I had viewed those two more as leaders
Awesome hopefully he'll take advantage of the opportunity he's given due to the poor choices of others.
I saw this too. I guess they saw him live at their camp and evidently liked what they saw.
How did the OL/DL guys perform? Didn't hear a lot regarding Barrow, Cooper, or Hall in 1 on 1s. Any other sleepers you liked in that category?
I can't wait for Urban to reply to his message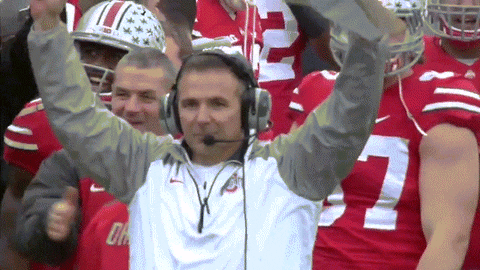 We played well in Texas last year :)
Cardale was 10/17 118 yards 2 TD in mop up duty coming into the game. It's one thing to say you knew he'd get the job done and win, it's a little adventitious IMO to say I knew he was a superstar at the time.
The best part of this play IMO is watching our wide receiver Evan Spencer at the top take out 2 LBs cracking down
In the medias defense at the time who would have thought Cardale our third string QB would have the monstrous break out game he did?
The one thing that hurt Nebraska moving to our conference was recruiting. In the Big XII they were able to go into Texas and recruit well because many of their games were played in the area. The appeal to pull Texas kids and go play out east is not as strong.
Baugh actually has looked very good every time I've seen him play. He had some off the field issues early that held him back. As long as he stays out of trouble in my mind there's no reason he won't be the #2 TE this year.
I love fishing nice catch
Can't fault a kid for camping and trying to get better by going up against good competition
That kid couldn't ask for a better position coach
I'm a big Honda fan owned a few and one of the more reliable brands with great gas milage.
competition breeds champions
No clue, but sounds like he put on a good show and made an argument he should. My guess is we're full as of now at OL and Wohlabaugh has his spot. Haven't heard a lot about him recently because he didn't camp, but gotta trust Urbans offer.
Soak in the knowledge!
For those who don't want click
Terrell Hall- DE commit Physical Specimen
One of about eight Ohio State commits who chose to work out Friday night, the 6-foot-5, 251-pound Hall was dominant during the one-on-one portion of the event and wreaked havoc on an otherwise solid group of offensive linemen. He wins this award, though, because physically we were hard-pressed to find any player who looked the part more than Hall from a size and frame perspective. The 6-foot-5, 251-pound prospect has little or no excess weight on his frame and already looked like many of the Buckeye's current defensive ends who were working the event. -
Darnay Holmes-DB Super Standout
It was a very strong group of defensive backs Friday night, and the best of that bunch was Holmes. A five-star prospect ranked as the No. 11 overall player in the 2017 class, Holmes made the trip in from California with three others including his future teammate Keyshawn Johnson Jr.. The top defensive backs have a presence about them and that is certainly the case with Holmes. He seems to play bigger than his 5-foot-11, 185-pound frame suggests, and that's because of his awareness and early play recognition. He then has the skill set to exploit that advantage and allowed very few catches throughout the night.
Patrice Rene-DB Shut-em Down
A Rivals250 member, Rene has had an up-and-down off-season, but he ended it on a high note Friday night. He is down 10 pounds since the end of spring and looked more explosive and fluid than last time I saw him. At 6-foot-2 and 200 pounds he is able to bully wide receivers at the line of scrimmage, but he also showed the recovery speed and blanketed wide receivers throughout their routes. Rene is set to announce a commitment on Aug. 8 with Ohio State, North Carolina, Rutgers and Virginia Tech all still in the mix.
Kevin Jarvis- OL Underclassman Achievement
Jarvis has already made a name for himself with three early offers from Illinois, Rutgers and Toledo, and he posted a very strong showing playing among several highly-ranked and highly-touted prospects Friday night. He showed a devastating first-punch -- even staggering Rivals250 2016 defensive end Jonathon Cooper on one rep -- and played with good athleticism and technique. At 6-foot-5 and 315 pounds he could project to guard or tackle, and worked at both positions Friday night.
Luiji Vilain- DE Smooth Operator
This award usually goes to a skill position prospect, but on Friday night Vilain was as smooth as any of the guys catching or running with the football. He breezed through one-on-ones, registering easy wins against several offensive linemen who hold Power Five offers. The 6-foot-4, 240-pound defensive end still has room on his frame to add weight. That will help him at the point of attack without sacrificing much, if any, of the explosiveness he shows.
Craig Jones- DB Sleeper Alert
The only offer listed in Jones' profile is from Central Connecticut State, but the rising senior showed he could be preparing to make a late rally in the recruiting process with his play at Ohio State on Friday. The 5-foot-11, 175-pound prospect was unafraid to match up with the top wide receivers at the event and got the best of many of them. He recorded an interception while covering Rivals250 2017 prospect Ambry Thomas and was lockdown on the corner all night long.
Javonte Richardson- ATH/WR Best Hands
There is still a question which position the 6-foot-4, 205-pound Richardson best projects to at the college level, but he likes to work out at wide receiver in camp settings and once again showed out extremely well there. The reason he wins this award is because Richardson attacks the football out, away from his body and was very sure-handed on Friday. He also has plenty of top-end speed and his route-running is coming along. Maple Heights may need him at quarterback this fall, so he may not even play wide receiver, but he certainly projects high at that position in college.
Markese Stepp- RB Best Feet
It was an impressive-looking running back group with a number of big name prospects from the 2016 and 2017 class. At 6-foot and 205 pounds, Stepp was one of the most physically impressive looking kid in the group, and he is only a rising sophomore. Beyond his outstanding size, though, Stepp showed explosive speed and outstanding change-of-direction ability. He runs a little high and can smooth out his stride, but that will come with time. He is certainly a prospect to watch in that 2018 class
Gavin Cupp- OL Body Guard
This award goes to the offensive lineman who best protects his quarterback, and on Friday night that was Cupp. His appearance in Columbus was a surprise because the three-star offensive tackle is committed to Michigan State. Where his recruitment goes from here we will have to wait and see, but his game is certainly continuing to draw rave reviews. Cupp flipped back-and-forth with Jarvis at the left guard and left tackle spots. Wherever he lined up, though, the 6-foot-6, 275-pound lineman played light on his feet and dominated the point of attack..
Richard LeCounte- DB/S Ball Hawk
A Rivals100 member in the class of 2017, LeCounte has spent a lot of time this off-season playing safety, but at 5-foot-10 and 179 pounds cornerback still looks to be his position of the future. He was very noticeable in one-on-ones Friday night because of his playmaking and celebration skills. On one rep he made an interception without looking back at the quarterback -- tipping it to himself. He then proceeded to reel off a couple back flips in celebration of the interception.
Baron Radcliff- QB Best Arm
It was not an overly deep group of quarterbacks, and that allowed a player like Radcliff to stand out. At 6-foot-4 and 215 pounds he was one of the bigger quarterbacks in attendance, but it was the zip he had on his passes and the way he spun the football that caught our attention most. The rising junior still needs a lot of polishing with his footwork, but he can get put the ball on-target with plenty of zip and could be in for a breakout season in 2015.
Even if Marcus stayed and add in Bennett crazy to imagine that they could have been better than they already were
I'm still bummed about Spence. Watching him and Bosa wreck havoc last year would have been so much fun