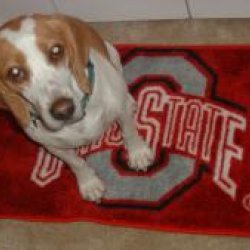 Otown Buckeye
Orlando, Florida (via Dublin, Ohio)
Member since 23 November 2012 | Blog
Helmet Stickers: 220 | Leaderboard
Favorites
SPORTS MOMENT: 2006 GAME
COLLEGE FOOTBALL PLAYER: Mike Doss
COLLEGE BASKETBALL PLAYER: Aaron Craft
NFL TEAM: New York Jets
NBA TEAM: Cleveland Cavs
MLB TEAM: Cleveland Indians
SOCCER TEAM: Paris St. Germain
Recent Activity
Southwest Direct....$99 BUCKS (See what I did there) each way.
My "friend" married a girl from up north. I love him like a brother, but I question this decision often.
I only have 49 state quarters
I never blame any Gator coach for arrests, I live in Florida, have been to Gainesville and believe it is a culture issue, not a coach issue.
I got married on a Thursday since my wife insisted on an in season wedding. We lost to Penn St-2005
We spent 3 days of our 11 day honeymoon in Columbus-a victory over Sparty-the John L Smith meltdown game
I am a Cicerone (Certified Beer Server) and I have never tried, nor will I, Bells or Founders
My dog Archie (pictured) always drinks from the Victory Chalice
Singing after every game, win or lose, is non negotiable, IMO.
I went to college, and still live in Florida.....I loved coming home to my friends at the dorms, drinking uber amounts of Natty Light, and burning the roof of my mouth off on some Catfish Biffs pizza.
Would be nice if there is a roster update like in years past. XBrax=99
Can't help but think Jurgen overthought this and removed the "it" factor from the squad. Donovan was always around the ball in US matches and had a knack for knocking in a big goal. He will be missed.
Richie Giachetti "trained" Iron Mike for that fight. Pretty solid not having and endswell ready to go, but the dude had never been touched. IMO, if that's Kevin Rooney, Tyson doesn't lose that fight.
if he goin do it then, he better do it big then #2pounds
I'm going with Can't Guard Mike all the way through point B and I'm going to be pissed off when I get there too.
Been ripping in Cali for 2 days. GO BUCKS
The most appropriate "throwback" style for this year would be to commemorate the 45th anniversary of the 68 title team. Helmets would translate fine here.
The key to us running cover 4 is having press man in the field to negate the outside receiver. Roby makes this happen. Otherwise, it's dink and dunk all day.
On a positive note, the 49 yard run by Jordan is about 15 yards longer than any running back last year.
Is there anything like this going on in San Francisco for the Cal game?
Can you imagine.....all us Ohioans stuffing into the San Francisco In and Out Burger come mid September? We're going to scare those people to death. #doubledoubleanimalstyle
UCF vs Akron-I'm a UCF Grad
The next time Johnny Football loses a half-it will be to his first ex wife.
Trying to read this and concentrate on work-forgot the cover on my TPS report again.
Plenty of trolls. None of them had Mr. Winky.
If this money was staying in state, it would be far less, as travel expenses eat up a large portion of this money. That being said, We should never, ever have scheduled a 1-AA opponent....not even for Youngstown St.
I moved to Florida to go to college. I mostly hit it from the back. And it was usually dark. And I was usually hammered.
I'd like to see that smile 15 times this fall
Being a Tennessee fan is easy. They can wear the Orange gear all week. They can wear it Saturday's to the game, Sunday to Hunt, and the rest of the week to pick up garbage.