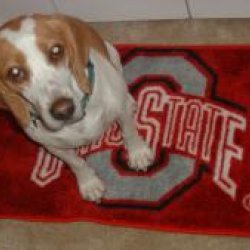 Otown Buckeye
Orlando, Florida (via Dublin, Ohio)
Member since 23 November 2012 | Blog
Helmet Stickers: 337 | Leaderboard
Favorites
SPORTS MOMENT: 2006 GAME
COLLEGE FOOTBALL PLAYER: Mike Doss
COLLEGE BASKETBALL PLAYER: Aaron Craft
NFL TEAM: New York Jets
NBA TEAM: Cleveland Cavs
MLB TEAM: Cleveland Indians
SOCCER TEAM: Paris St. Germain
Recent Activity
Clearly not Dublin....the men handle the business there.
I couldn't agree more. My (single) Mom worked her ass off to keep me in great schools and a nice neighborhood. As a result, I work my ass off and earn everything I've got. Isn't that what being a Buckeye is? Being proud of where you came from, working hard, getting a great result?
He's part of the family and he's working his ass off....Props to Kosta, GET SOME!
At UF (I know, I know, stop the UF comparisons), Urban had a guy named Trey Burton who could play just about anywhere offensively. I'm thinking Jalin Marshall could really contribute in this type of hybrid role in lieu of a dual qb situation.
If Tee Martin and Matt Flynn can win it all.......
Solid 5 day weekend for the Florida Crew in B More. No wives allowed. GO BUCKS
It's a clear red outsold. shoe is solid all around. I don't wear them outside the house.
I haven't even worn my Scarlet and Gray Bo Jackson's yet......
I would praise Odin that Archie can afford to go Krogering.
The combination of injuries/lack of noise makers has me a bit nervous 16 days out. It's been a very quiet camp.
We need a win in Florida for recruiting, I'm a UCF grad, and they have the hot name, so UCF.
Georgia Tech....to play in a major media market and close to home for several Buckeyes.
TCU. and then we buy all their bill boards.
Boise, but only at home or a neutral site, never on the blue turf (Dangerous and no reason recruiting wise to play there)
Games are realistic, winnable, can easily be set up, and won't cost the athletic department a fortune. And unlike most (not all) of the teams above, they would be willing to play in CBus.
Currently holed up at some beach resort in Costa Rica. Surrounded by hookers gambling and Imperial Cerveza. All I can think of is getting to Baltimore. GO BUCKS
He could commit to my daughters elementary school and get more academically than Auburn.
I didn't even read your thread but your screen name is kick ass. Lots of late night burned tongues at that place. Upvote for you!
I'm 37 and drank a 40 in 4.29 minutes.
I was married during the 05 season, Penn State week, which we lost 17-10. Also, I was married on a Thursday. I don't mess with sacred days.
I'll never claim to be an authority on Rock and Roll, but putting Foo Fighters and Nickelback in the same sentence is like putting "teeth" and "penis" in the same sentence. You just don't do it man.
Southwest Direct....$99 BUCKS (See what I did there) each way.
My "friend" married a girl from up north. I love him like a brother, but I question this decision often.
I only have 49 state quarters
I never blame any Gator coach for arrests, I live in Florida, have been to Gainesville and believe it is a culture issue, not a coach issue.
I got married on a Thursday since my wife insisted on an in season wedding. We lost to Penn St-2005
We spent 3 days of our 11 day honeymoon in Columbus-a victory over Sparty-the John L Smith meltdown game
I am a Cicerone (Certified Beer Server) and I have never tried, nor will I, Bells or Founders
My dog Archie (pictured) always drinks from the Victory Chalice
Singing after every game, win or lose, is non negotiable, IMO.
I went to college, and still live in Florida.....I loved coming home to my friends at the dorms, drinking uber amounts of Natty Light, and burning the roof of my mouth off on some Catfish Biffs pizza.
Would be nice if there is a roster update like in years past. XBrax=99
Can't help but think Jurgen overthought this and removed the "it" factor from the squad. Donovan was always around the ball in US matches and had a knack for knocking in a big goal. He will be missed.