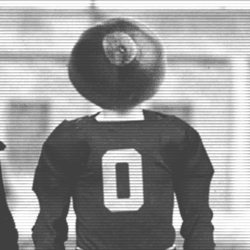 OSU_undergrad
---
Member since 25 August 2012 | Blog
Helmet Stickers: 333 | Leaderboard
Favorites
SPORTS MOMENT: Wisconsin game 2011 storming the field
NFL TEAM: Colts
Recent Activity
Thanks! Just making sure this isn't like a 2022 game or something like that....
Sorry guys, I'm confused. Were there any dates or potential seasons given? It's not this season is it?
If Harvard and Dartmouth and other private schools are on the list, then surely Notre Dame could be too. Notre Dame definitely receives enough funding to be on the list if those other schools do (and I'm not even sure funding is the only criteria for being on this list).
I would much rather see Craft w/4 fouls or even ADV instead.
I hate looking at their players celebrate....it just makes me so insanely angry
Hahaha, "Terrist." What does that even mean?
I really wish Bert was still in B1G so Urban could beat his ass...
*Maize and blue fedora...
Fuck Taylor Lewan...he does not deserve to get drafted. But since he will I hope he gets absolutely destroyed, and then ends up in jail somehow. It makes me so mad that a fuck like him gets an opportunity to play in the NFL...just hearing about what he said makes me wish injury upon him and I don't care if that's not okay.
Wow that was one of the shittiest endings I have seen in terms of officiating and offense by both teams. But we beat Wisconsin at their place and hopefully we can build on this win with something cleaner.
That article on grade inflation is very interesting considering the biochem and other hard science departments try their best to keep a C average, especially at the lower level classes. I have only had one majors class curved to a B, and another to a B-, but only because performance was off the charts compared to previous years.
Loving has played better on both sides and shown more energy all night. He deserved to be in.
We finished on a 20-3 run because of our defense...
To everyone who's said it before...does this team suck now? Do we not deserve our ranking? Next time let's wait till the end before determining the quality of the team.
Cause we're playing our younger guys with high potential...like bell and Powell.
Stop complaining about time and be happy we scored...jeez.
Why would you ever ask the question? Just look up his fucking stat line and satisfy yourself.
What you said isn't dialogue, it's being an asshole. Dialogue is "Roby's not looking too good today guys." What you said is being a douche. And when you're a douche maybe you should try to at least spell a guys name correctly as to make the douchiness of the comment impervious to criticism.
Maybe you'll spell his name correctly next time douche...
Shazier first, followed by 5 other Buckeyes
Takes a lot more energy to form tackle...and it can hurt a lot more
D-line can't do much on screens...and the o line is doubling them on runs. For some reason LBs are non-existent on the run...