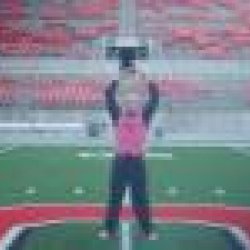 OSUStu
---
Member since 30 August 2010 | Blog
Helmet Stickers: 7,086 | Leaderboard
Favorites
SPORTS MOMENT: 2003 Fiesta Bowl
COLLEGE FOOTBALL PLAYER: Mike Doss
COLLEGE BASKETBALL PLAYER: Evan Turner
NFL TEAM: Pittsburgh Steelers
NHL TEAM: Pittsburgh Penguins
NBA TEAM: The NBA Sucks
MLB TEAM: Pittsburgh Pirates
Recent Activity
Uh, dude he got seed money from investors. That money doesn't go into his pocket.
Egads! Politics...also,
Kasich is a native Pennsylvanian.
Ugh. I hate the Pats...but any chance for Kenny G to be successful is good with me.
You are entitled to discriminate against anyone you want as long as it is not a protected class under law. Ohio State students do not, as a group, have that protection.
Interesting take by Ramzy on last year's defensive coaches being screamers and trying to use that motivate as opposed to our coaches under Tressel that were more "technicians" and concentrating on fundamentals
Throw in Eddie Rickenbacker for good measure. And Thomas Edison. And Ransom Olds because what a great name that is.
I would like to also nominate his namesake Tecumseh.
Four man bracket for the worst Ohioan?
| | | |
| --- | --- | --- |
| Jeffrey Dahmer | | Charles Manson |
| | | |
| Ariel Castro | | Desmond Howard |
So, this is not cool. Get back soon Vonn! Obviously, he has real potential to be a difference-maker on the D with more reps and practice.
You are right about turrets, but I could have done without the "tribute" in the first place. The Wexner Center is a real deconstructivist eyesore in my mind and is really low on the user-friendly scale.
Is it currently being examined as to whether or not the players are "owners" of such business ventures as video games and jerseys? That was not my understanding. I think this situation is more akin to the relationship between publisher/author, record label/musician, or agency/model. Generally speaking, the former profits from the latter's image or work but the latter is not at risk for losses. The issue is more closely "do players have a right to be compensated for their likeness, image, and reputation if they are used for the purposes of business activities."
It seems to me that the only people that would be at risk for business losses would be those that are partners or investors. Players cannot be those things, and I don't think that is currently under examination for change.
That son of a bitch McQueary! I had big money on Rutgers and the points.
I have it on good authority that Hoke is on a diet. See? Just one piece of cake:
Quiet now. Just ahead is the extremely rare "reasonable Penn State fan" in its natural environment.
Ninja Black Sox is right. They were fast enough that you could repeatedly run between the bases until the computer made a throwing error.
Baseball Stars was great in part because it was one of the first (if not the first) sports games to have battery backup and a memory chip so that you could save created players and teams.
The cover photo and first two sentences of the "giant virus" link. Scare tactics much?
A mysterious giant virus buried for 30,000 years in Siberian permafrost has been resurrected.

The virus only infects single-celled organisms and doesn't closely resemble any known pathogens that harm humans.
Man, it would be great to see Hyde, Shazier, and Roby work their way into the first round.
Edit: I see the permatalics has returned.
I actually find myself wondering if the Oscars event itself will end.