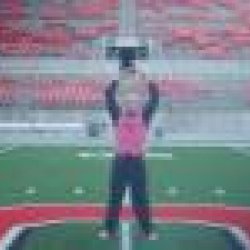 OSUStu
---
Member since 30 August 2010 | Blog
Helmet Stickers: 7,671 | Leaderboard
Favorites
SPORTS MOMENT: 2003 Fiesta Bowl
COLLEGE FOOTBALL PLAYER: Mike Doss
COLLEGE BASKETBALL PLAYER: Evan Turner
NFL TEAM: Pittsburgh Steelers
NHL TEAM: Pittsburgh Penguins
NBA TEAM: The NBA Sucks
MLB TEAM: Pittsburgh Pirates
Recent Activity
He is just playing dumb, right?
Really, way to hand CBJ the game.
Looks interesting:
I think they will definitely consider one of the top CBs if available. But I will be very surprised if they pick Roby in the first round.
This will be his eighth year in the league. I guess he doesn't suck that bad. Several years among the top return men in the league certainly should count for something.
Might as well be Mgobutthurt.
What type of sick SOB downvotes a baby?
This was a forgone conclusion. The light definitely came on for Cam last year. Congrats to him! Go Steelers! (ducks)
I think Ted Ginn deserves an honorable mention, especially when you consider his return game.
I know you said 1980-now, but I can only think of one other name to add to add to the all-time list: Paul Warfield. I would probably slot him in at #2.
Edit: forgot about Dante Lavelli. He would probably be on the list as well.
So how many National Championships does Bama have now? 26? I think they forgot to claim Princeton's 1870 championship.
Seriously, you want to talk about flopping Dubinsky was all over that too. But CBJ played the better OT. Credit due.
MAF actually played better than the three goals might indicate. Really only one of them was a weak goal.
Pace vs. any two other players!
Okay, seriously, I would take Pace over anyone else.
I will be rooting for my Pens tonight, but I am happy to see the Jackets in the playoffs. Hopefully we will have a good series. I would love to see a nice rivalry develop with some fans I can respect.
I will happily donate a stamp if you'd actually like to mail this.
Men's white pants are so Spring 2012.
Which is really a senseless concern. Some players have always had (and will always have) more money than others to spend on other things. Should we be concerned about that? Why should we now be concerned about our poorer athletes (or larger, hungrier athletes) having additional spending money?
I have one of those trophies as my kitchen countertop.
I don't know if this is should be a big worry. The rule says athletes can have unlimited food not money for food. I take this as they can get unlimited food at dining halls, training table, and possibly restaurants that accept student meal plans.
The spring game program listed him as cornerbacks coach for whatever that is worth.
Sounds like I saw what everyone else saw. Apple.
The crowd was pretty sure Branson won straight up in the first race. Was Dontre the third contestant in the final? I couldn't tell.
The only player I can remember being impressed with was Eli Apple. Seemed like they tried to go to his side a lot and he held up. Of course, QBs were missing the open receivers all day.