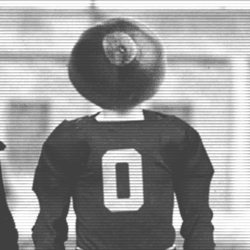 osupolo
---
Member since 18 August 2013 | Blog
Helmet Stickers: 283 | Leaderboard
Recent Activity
My other vote was for Apple
That's impressive.
Edit: I just remembered a GREAT story about him. I met a female student who said she hooked up with him. Well he slipped her the shocker and she asked what the hell that was. He replied "sorry, I've got big fingers".
Last year tOSU had their game same day, same time as a certain team up north. The good guys got bumped to replay "live" at 3:30. You could watch it live via BTN online though.
Would it be scarlet and red?
I am eager to see what the QB's can do too. That is why I love the spring game. I can wait for mid April.
I drove through Atlanta coming back form the Outback Bowl in January of '02 and it started snowing a little bit. The total accumulation was less than 1/4" and people were driving like there was a sheet of ice on the road. Luckily there were three of us and we used the car pool lane.
Are the sharks ill tempered?
between the Orange Bowl and the weather, I needed that. Thanks Bo.
Hoke's head is way to big for that body. Seriously, it's like an orange on a toothpick.
Clemson may have seen some good backs like Hyde this season, but not a back like Hyde with a o-line like tOSU has.
If Miller leaves then hopefully JTB can capture the starting job just to keep up the trend of red shirt freshman winning the Hiesman.
Mike Elko from BG. BG won a MAC championship by containing Jordan Lynch
Sounds like he was. Hopefully urban will hire Bowling Green's D coordinator to replace Withers.
Completely agree with the gloves observation. He has sub-par passing games the last two seasons in games where he wears gloves.
This just reaffirms what I always thought about El Guapo. You can't stop him, you can only hope to contain him.
There are some good football games on this weekend but it will feel incomplete without tOSU playing.
I bet they make more than you think.
tOSU + Urban Meyer = wins
I agree. He's a rugby player, he knows how to run the ball.
Lipper, the two near turnovers that you mentioned above took place before we went up by 17 with a couple of minutes left in the 3rd quarter. Having two close calls is precisely why Urban wanted to go to Tresslel ball with the lead and time remaining allotments.
I think if Bert were still there instead of Anderson, Myer would have been less apt to taking foot off the pedal.