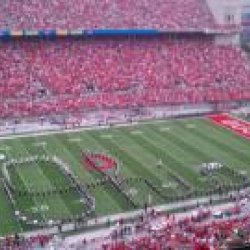 OSUNeedles
---
Member since 25 June 2011 | Blog
Helmet Stickers: 357 | Leaderboard
Voting Record: 5 / 0
Favorites
SPORTS MOMENT: 2002 National Title. 40 yard line upper deck.
COLLEGE FOOTBALL PLAYER: Eddie
NFL TEAM: Bengals
NBA TEAM: Used to be Bulls until they drafted Pube Head
MLB TEAM: Reds
Recent Activity
This years winner of the Bam Childress/Taurian Washington Award for Spring Game MVP!
That's a pretty good choice... I might die of old age by the time I get all the meat from the crabs!
My brother and I never understood why there was such a big backlash about the pass interference call at the end of OT. Everybody in that stadium seemed okay with the call... Then... we got our DVD of the game a few months later. Fouts was the one who made that the shit-show that it became.
Hey... I graduated with that guy! Perhaps a congratulations text is in order!
Stay strong. What you are doing is not easy. I have no idea who you are in the real world, but I am insanely proud of you.
Married in Vegas... Came home to Columbus and had a reception in the back yard. Bonfire, burgers, hotdogs, and the 2006 OSU vs Texas game projected. Whole reception cost about $350... Loved every second of the day and every second of my life with my wife since.
I have all of the 2002 games on VHS... It is the only reason that I still have a VCR hooked up in my basement (and because I refused to buy any of the digitally remastered versions of the Star Wars movies... I will be DAMNED if I will allow Greedo to shoot first in this house!!!).
I worked as nurse in the Hematology/Oncology department at Children's Hospital in Columbus. I always enjoyed seeing the athletes come through and visit the kids. The happiness it brought to the kids was amazing, but the amazement on the face of the athletes was even better. Those were some of the toughest, most resilient kids I have ever met. You could see the athletes appreciate things a little more after they had sat next to a bald 6 year old who had tubes coming out of their chest, but yet was still laughing and thrilled to meet anyone wearing Scarlet & Grey. There were some who came on their own time and developed close relationships with some of the kids (some who didn't make it through their treatments). It was humbling watching these young men deal with something like that... They were watching young boys fight bravely, like men. It was very humbling and life in perspective. Thank you for the story and reminding me of some great boys and girls that I knew.
Thankee sai! (taps chest 3 times)
It appears that the Athletic Department ignored the giant sign above the South Stands that says, "Pay It Forward." Some dude said it... I can't remember who... I have always thought of the Spring Game as the Athletic Department paying it forward. It was my trial run to make sure my daughter would make it through a real game without me having to duct tape her to a bleacher. It is a time to get down closer to the field. It is a time to think what it might be like to actually be talented enough to have played on that great field while not having a heart attack about the game that is happening.
If they can't see the value in the future fans, they are definitely missing the boat.
Quickly flipping through the game breakdowns for the year, 10 of those 34 TE catches were also in the 3 games that Kenny Guiton was the primary QB. That leaves 24 for the other 11 games of the year. A difference of 3.33 vs. 2.18 catches per game for Kenny G vs Braxton. My memory told me that Kenny was better at finding the underneath receiver, but I was curious if the numbers agreed. This was in no way in depth research, but at least a starting point if anybody cared to take it further.
That NIT game is easily my favorite basketball game I have been to in the past 10 years. Whether it is nostalgia or that the environment is really that much better, I am not certain. I have a feeling that half of us in the stands that game were also there to prove how much better of an environment there was back in the good ol' days... With that said, the Schott has certainly helped recruiting and provided revenue to the university. I have seen 4 or 5 concerts in the Schott that I can say, with confidence, would not have taken place on campus without the new arena being there. Love the Schott for what it provides, but miss the hell out of the loud, old, dump that provided so many great memories.
People must not have been able to feel the tremor in Columbus yesterday. I heard a rumble and felt my house sway a bit in Pickerington. I don't think it was felt much farther away than that.
I agree that this is the year to win. I would much rather replace a couple wide receivers and a RB than 4 starting, senior, offensive lineman. It is amazing how undervalued a good O-Line still is in college football. I was amazed that Alabama didn't lose an early game for that very reason this season.
Yep. Didn't have our Heisman level RB for 3 games. Didn't have our Heisman level quarterback for 3 games. Lost a team captain, senior safety for the year. Dressed 3 scholarship LBs for this game (I think). Other teams get exceptions for these kinds of things... OSU gets punished for not being impressive enough.
The Media Department has a 28 game winning streak...
You mean Scarlet and Red?
Montana had a year of "Wyatt" pop in there. I also had no idea that "Liam" was the new "Michael". Very bizarre.
Best one since the Video Game Tribute that won Waters the permanent job as director. Dude is crazy.
http://www.youtube.com/watch?v=ngjcAvg6TYg
Gamble, Baby, Gamble!!!
I was in C deck for that one. My girlfriend and I bought scalped tickets and nobody knew we were at the game. After that play, about 15 people tried to call us (This was an era when you called people on their phones... How bizarre).
I forwarded the timecube link on to my boss and demanded that I be paid for 32 hours per day, and that I will not accept a penny less because he has been ripping ne off for years based on the evil teachings of.academia! He said I was crazy, and I told him that he needs to come stare at my belly button so that he can see that his beliefs are founded on lies!
What's funny is that I think there were only about 30 comments, but that was a TON back then... I was just a reader then & hadn't made an account yet...
I said it 10 years ago... If the NCAA wants to be taken seriously about their enforcement of infractions, they can't simply be reactionary. They needed to create a group of investigators who rotated through programs and looked at athletic departments, did interviews with players, employees and boosters; and actually looked for violations! They have had plenty of money to make this happen for years, but they obviously don't want to know the truth and want kids to be able to quietly abuse the system without the money coming out of the NCAA's pocket. NCAA should be to college athletic departments what JCAHO is to hospital systems. If not, then they need to admit that they don't actually care
Yep... His "heisman moment" they kept talking about is also known, in coaching circles, as "a horrible decision."
Scotty Doesn't Know?
http://www.youtube.com/watch?v=WFCOa4tjHeo